The sun would eventually break through, but the morning started overcast and drizzly at The Three Oaks Farm in Rixeyville, Virginia.
No matter a little rain and nip to the air. Rosy-cheeked and bedecked in a heavy sweater, vest, and leather apron chaps, Terry A. Corbin is ready to start his day.
A large white horse named Jose 'N Grey (Baby G for short) stands haltered and ready inside the barn as well. Another horse, Gambler's Golden Flame, awaits its turn. Time for a new set of horseshoes.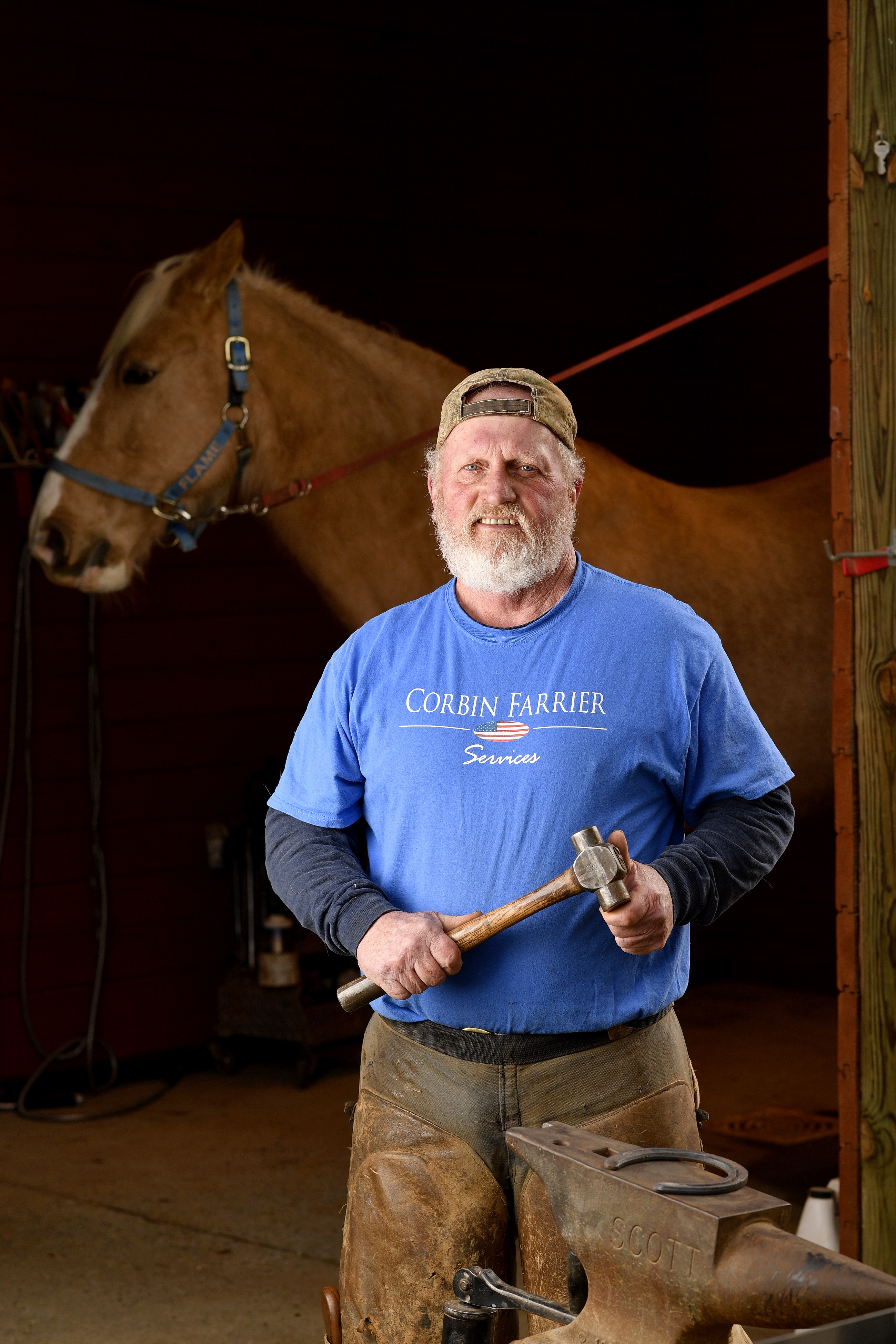 Corbin is a farrier, and his profession dates back to early Christendom.
His tool-filled Stonewell Bodies truck (custom-made especially for the trade) holds a variety of metal horseshoes, hung by size. There are dozens. There's an array of heavy tools and the recognizable anvil stands nearby.
"Each hoof will require a different size. You have to tweak each one," Corbin says as the steam rises from a hot horseshoe plunged into water to cool it off. Then, there's some pounding on the anvil as the shoe is specifically shaped to the hoof of this particular horse.
It takes a lot of practice to twist hot metal to a specific shape. A horse's front hoof angle (the angle between the front hoof wall and the ground) should be roughly 50 degrees. Yes, Corbin uses a hoof angle gauge.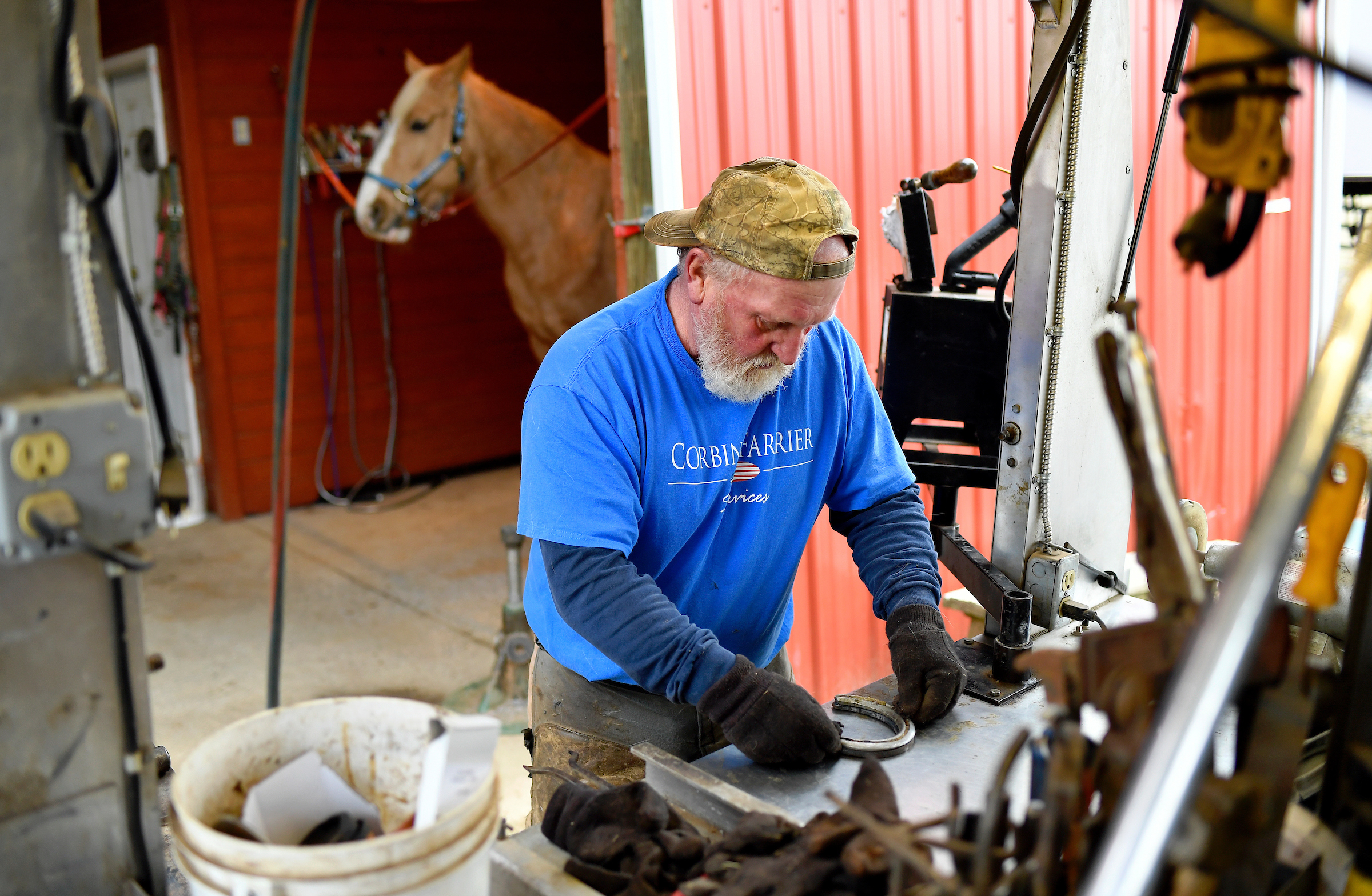 Corbin's deft handling of the tools of his trade has ancient roots. History shows that horseshoes existed in cultures ranging from the Celts to migratory Eurasian tribes. During the Roman Empire, farriers were on staff. Their job was to keep those cavalry steeds shod and sound, whether at home or on military campaigns. Farriers not only tended to the horses' hooves but their overall health, as well. They were held in high regard and often exempt from routine military tasks and from going into battle.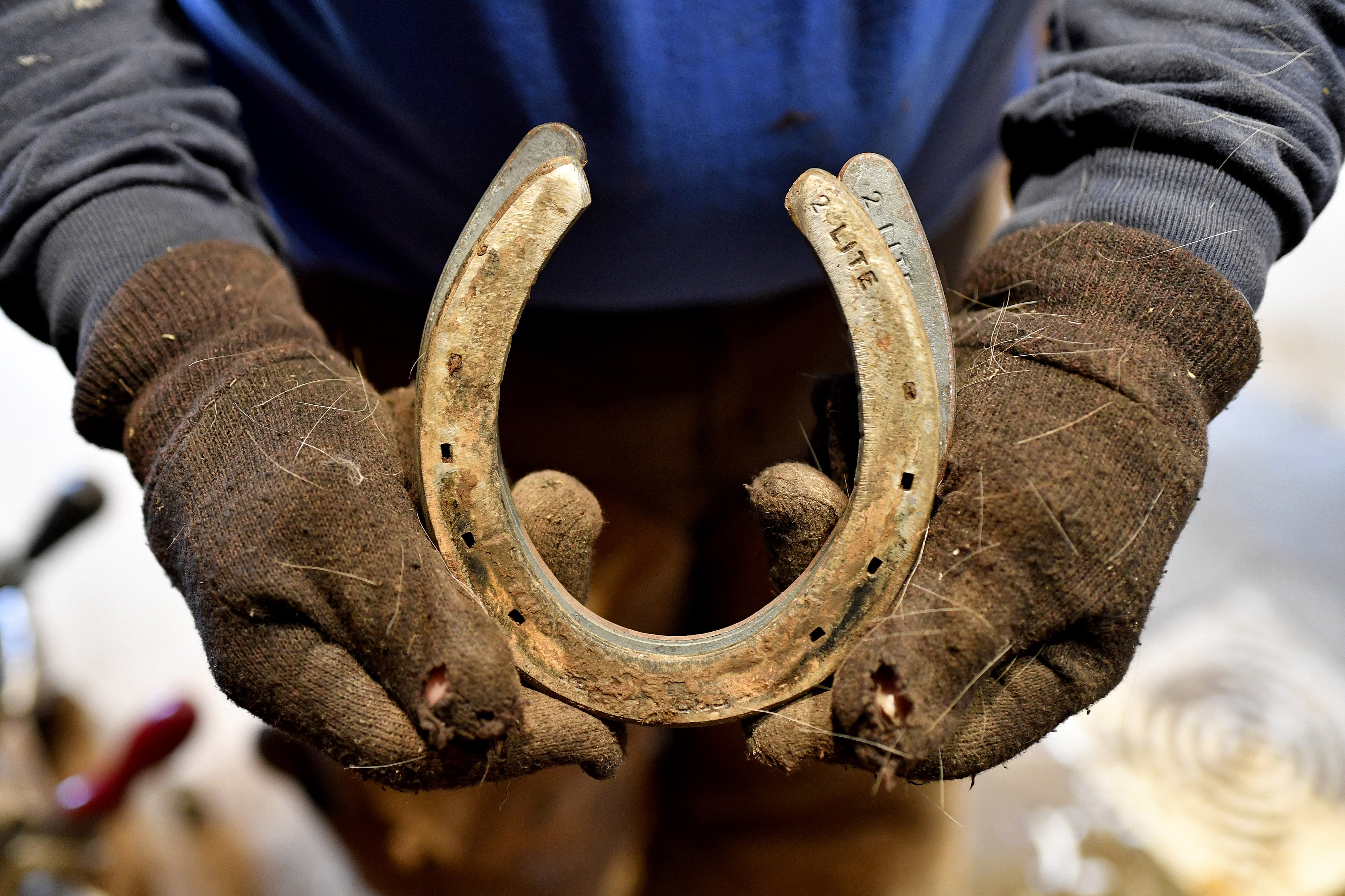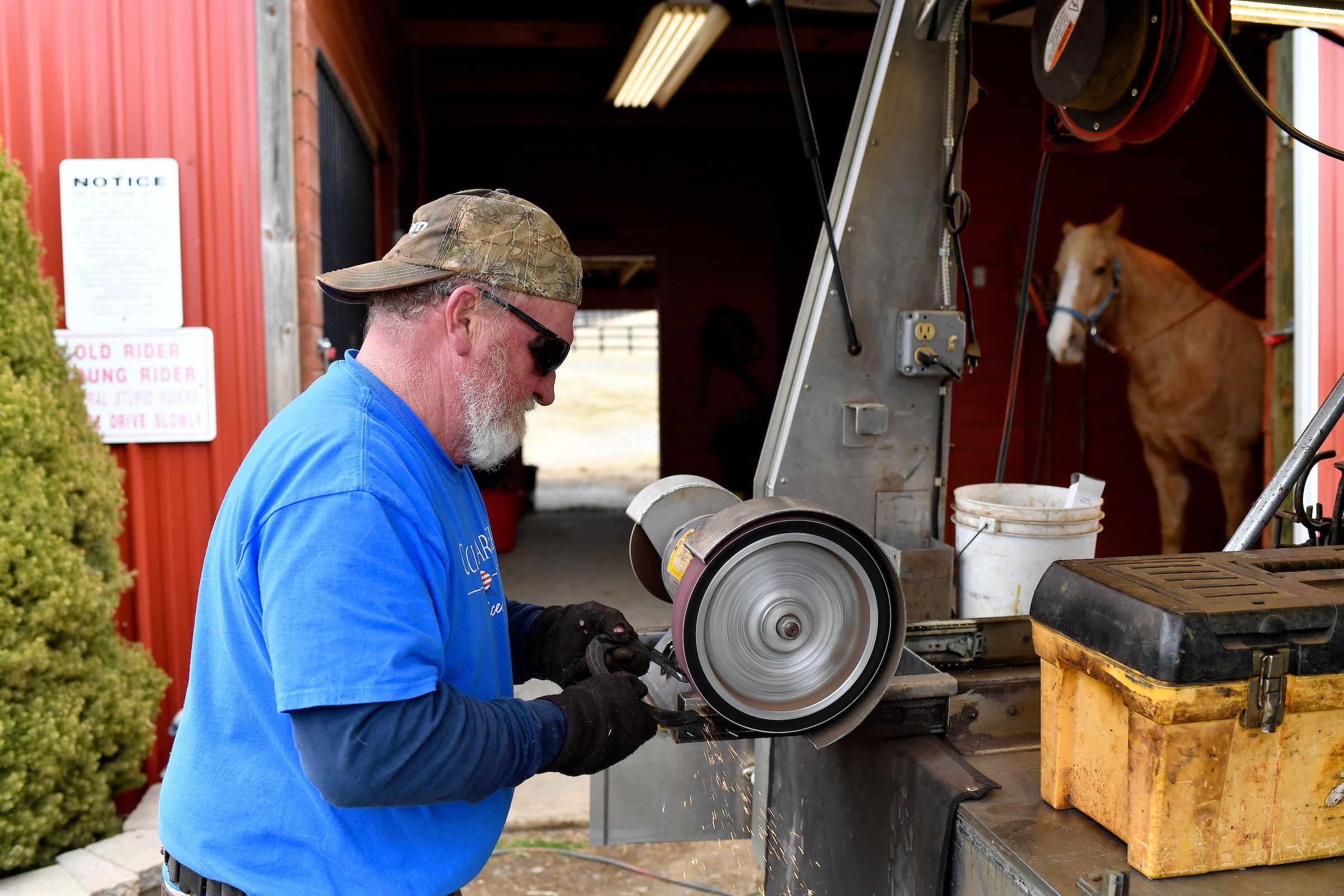 These centuries-ago craftsmen play a vital role in the horse industry today. Being a farrier requires that you wear many hats: forger, welder, toolmaker, shoemaker, anatomist, physiologist, and "horse whisperer."
Their craft, if done well, ensures that horses' hooves are prevented from injury and unhealthy wear and tear. A farrier's work prepares a horse for the race track, the show ring, a riding lesson, or a pleasant walk through the woods. Whether for work, sport, or pleasure, the horse's fitness depends on its footing.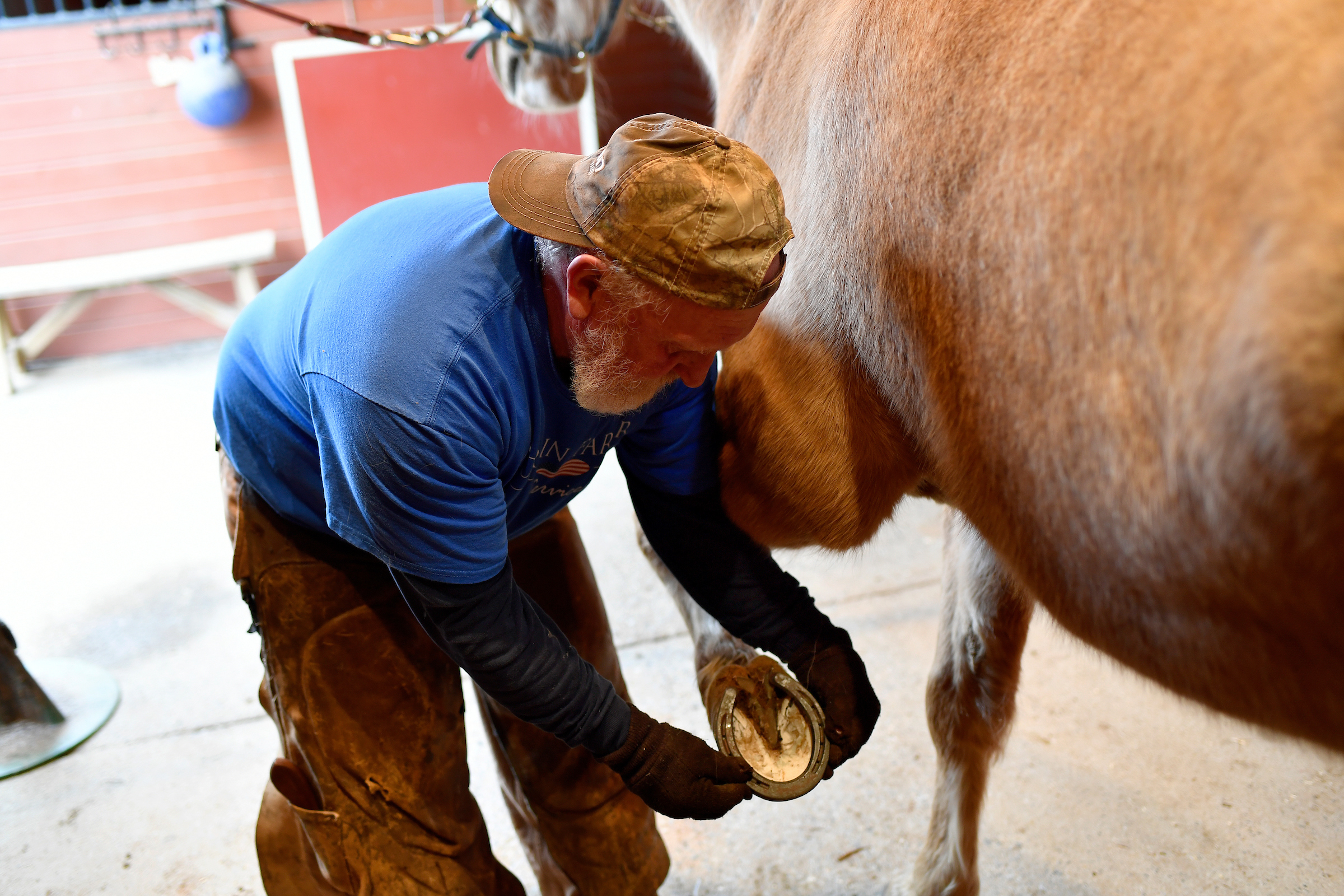 Horse Heaven
"I've been around horses all my life," says Corbin, 64, who was raised on a farm in Culpeper, Virginia. He was one of nine children.
Corbin chuckles as he recalls his early youth when he and several of his siblings would sneak over to the neighbor's farm to play around.
"They had plenty of horses, all kinds of horses," he says. "We'd go over there and ride them.
"One day, the neighbor drove over. I was about 9 or 10 at the time. He wondered if I and my brothers would want a job working on their farm, helping with different things. That's how I started working with horses."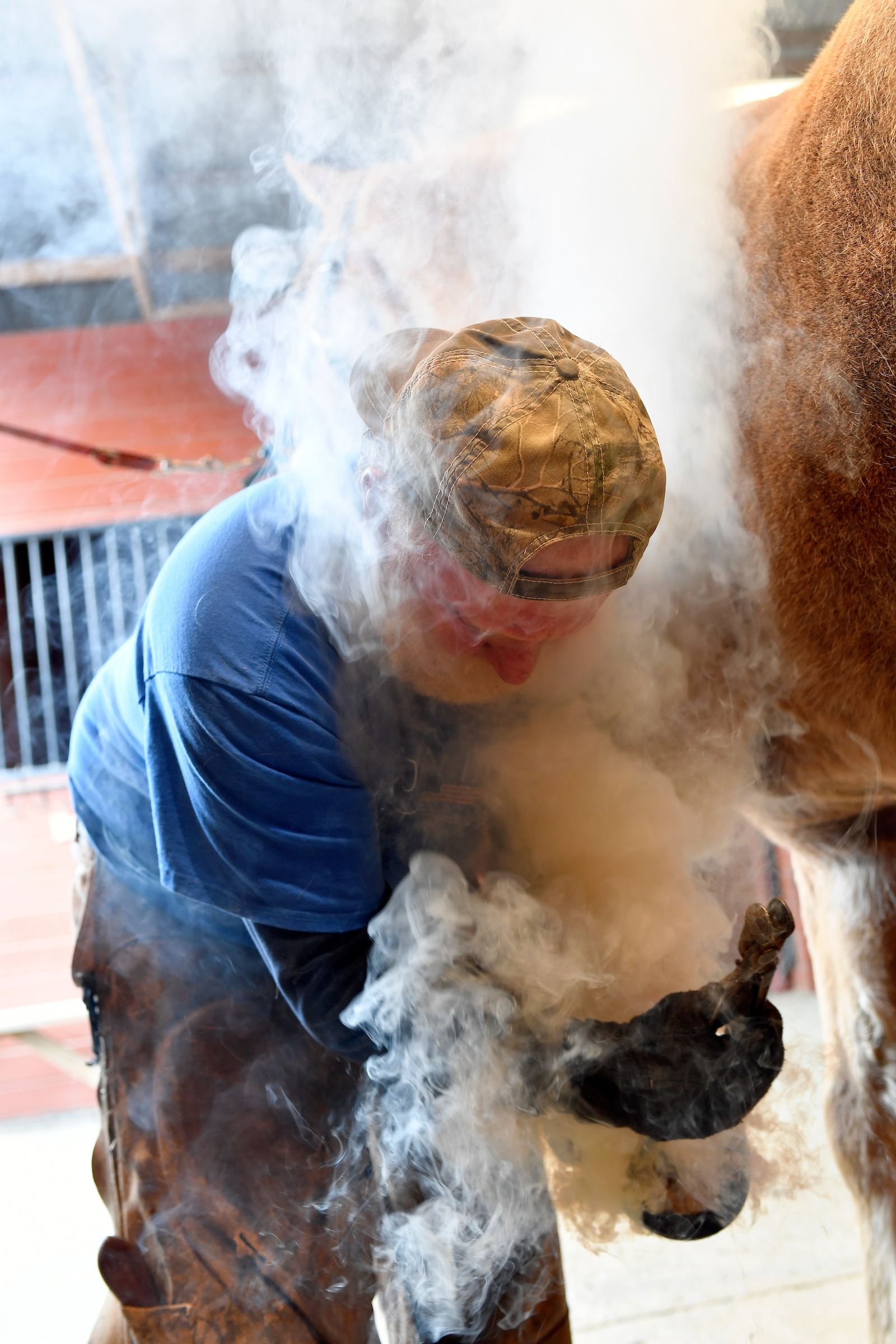 Corbin chuckles again remembering well when the neighbor started to pull out of the driveway, stopped, and shouted back.
"Oh, and I'll let you ride the horses—no more sneakin'."
In addition to the work on the neighbor's farm, Corbin's grandfather would bring wild ponies to their place to be broken.
Corbin credits his wrestling days at Culpeper High School as great preparation for his present-day career. He was an all-state champion.
"Being a wrestler, it helps," Corbin says with a laugh. He has to deal with all kinds of horse personalities and the strain on his body.
He didn't immediately launch into being a farrier, but his varied work paths would take him there.
"College really wasn't for me," says Corbin, who, after a year at Virginia Commonwealth University, returned to his rural roots, took up carpentry, and got heavily involved in construction work, repairs on rental homes, and eventually farm management.
Corbin was always working closely with the farriers and would take any opportunity to accompany them in their trucks to help however he could. While not official, it was an apprenticeship that gave him hands-on experience.
After years of helping other farriers, Corbin decided that he had found his vocation and avocation. He enrolled in the Danny Ward Horseshoeing School in Martinsville, Virginia, to get his certification.
He learned from one of the best. Danny Ward died in March 2018 at the age of 73. In addition to being the owner and operator of his horseshoeing school, he was a third-generation farrier known for his superb abilities and commitment to education. With more than 50 years of shoeing, Ward hosted the Eastern Farrier Conference for four decades. He wanted to share all that he knew for future generations, writing nearly 100 articles about farriers for trade publications, including the American Farriers Journal.
Corbin Farrier Services
"I truly love what I do," says Corbin, who has been at this trade now for more than 20 years. "I want to be as good as I can be. I treat each horse as if [it were] the only one I am working on today."
Corbin's wife, Tena, has his full support and is also an animal advocate. Dr. Tena Boyd is a veterinarian at Old Waterloo Equine Clinic in Rixeyville.
His passion for what he does has its own challenges.
"The most horses I've worked on in one day was 11, that was too many. I was very tired by the end of the day," Corbin says.
For nearly 12 years, Corbin has been shoeing the horses at nearby Three Oaks Farm. Susan Smith's farm spans over 300 acres, and she's been riding for some 50 years.
Smith owns Tennessee Walkers. She has won national and international championships.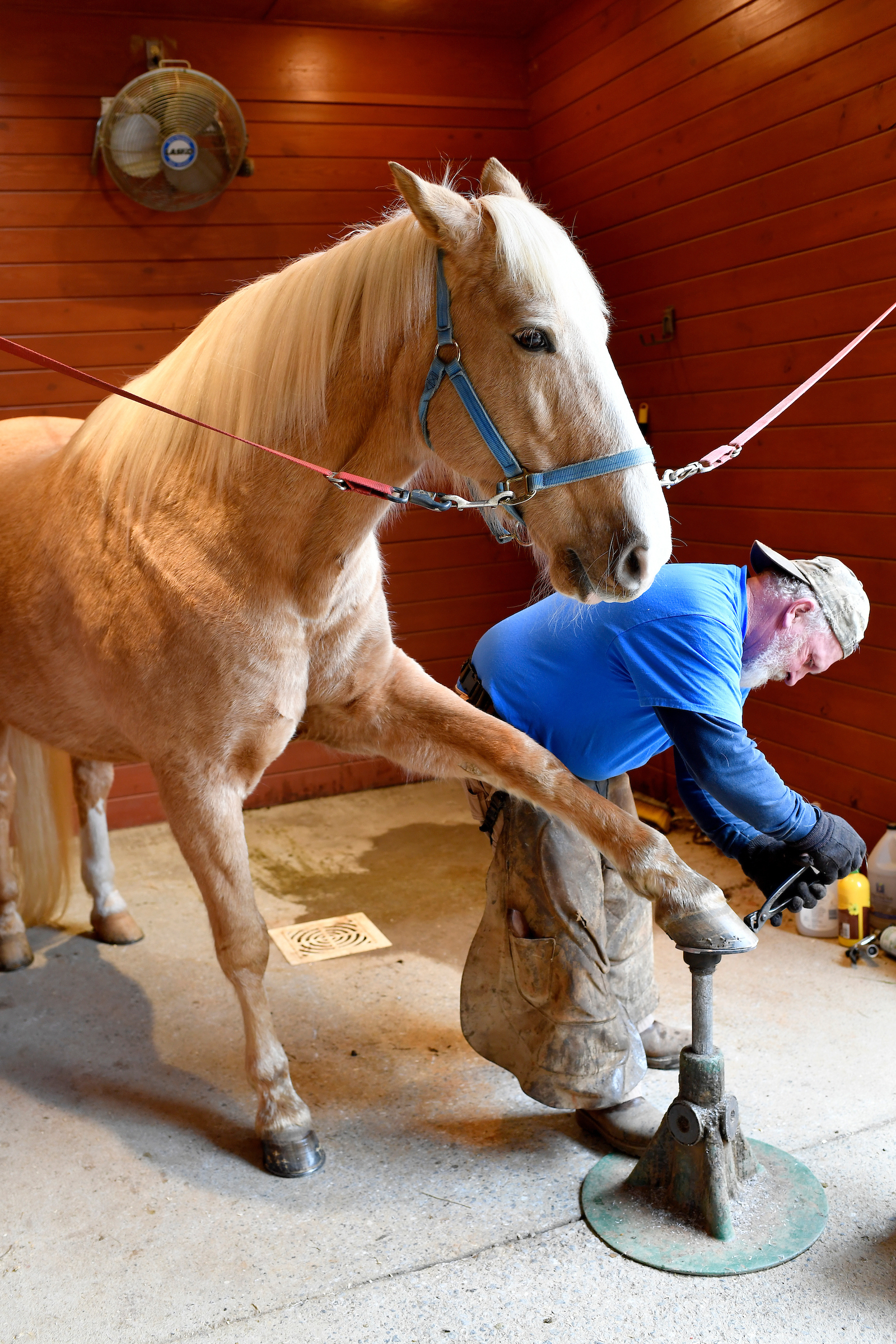 "Terry's a really good person. He's honorable, he's ethical, and his level of experience is astronomical," Smith says. "Terry's got incredible horse savvy. He understands horses and can often sense when something is going to happen."
Smith credits Corbin's professionalism and comfort level with horses as the reason he's able to work on them by himself. In most cases, the owner or an assistant is necessary when shoeing, as not all horses are keen on the process and willing to stand quietly.
"Yes, I've been kicked," Corbin says when asked. "I was trimming the back foot and got kicked clear across the stall. I broke my ankle trying to catch my balance. I was in a boot for a while, but it didn't slow me down much."
"It's a brutal job, the physicality beats you up," Smith says. "That's why there is a lot of turnover in the profession. It's seven days a week."
Corbin works from a large calendar filled in with clients for months ahead. At this point in his career, he limits his traveling to a 30-mile radius from his farm.
Corbin works hard at his craft and has garnered a stellar reputation. When asked how many clients he has, he just smiles and says, "Too many."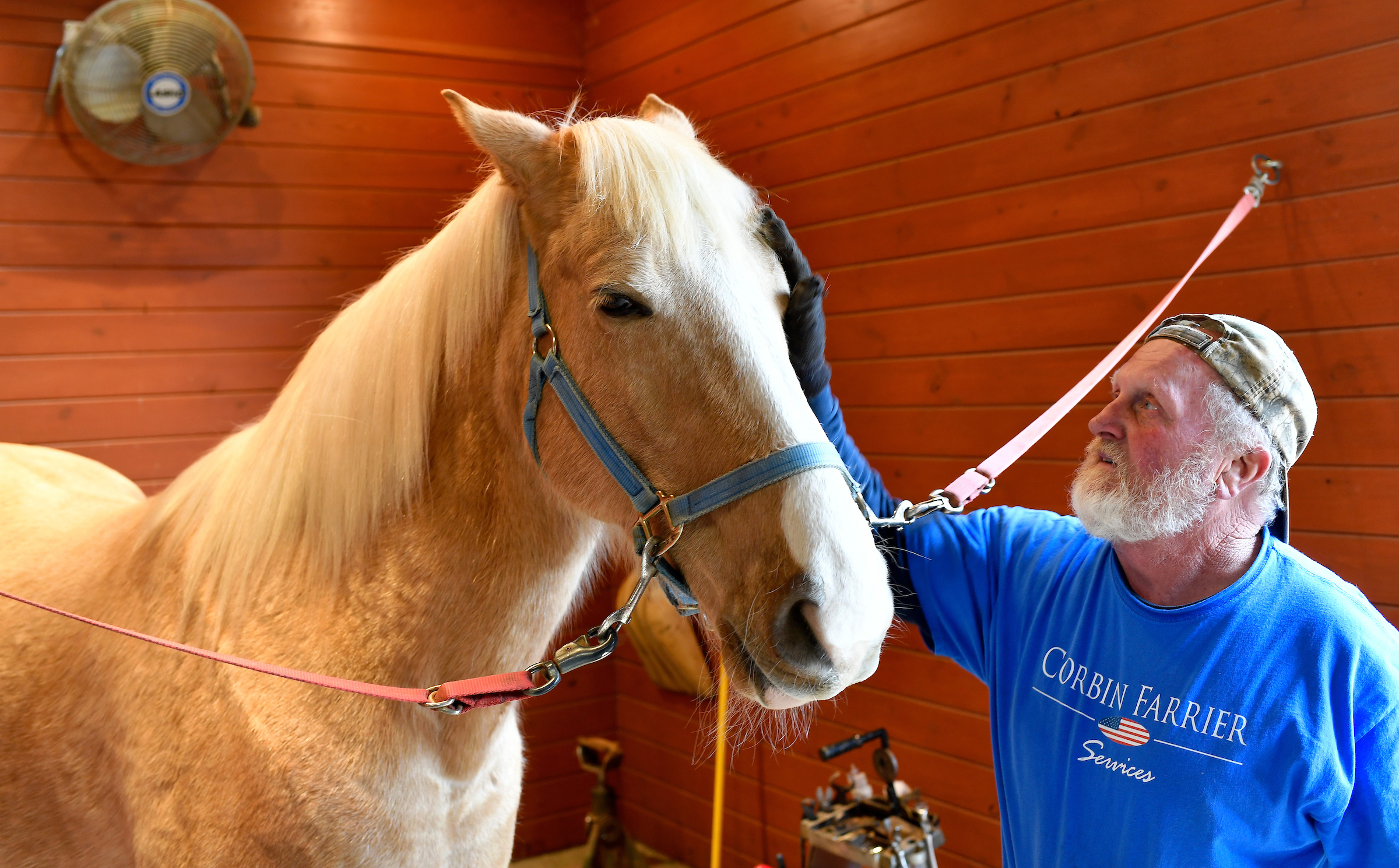 Healthy Hooves
Good farriers are tough to find and in high demand.
According to TheFarrierGuide.com, there are more than 25,000 farriers in the United States. With an estimate, according to the National Horse Council, of some 9.2 million horses, it isn't easy to see the disconnect and why a farrier's services are in constant need.
Horses require their hooves to be regularly trimmed and a set of new shoes every four to eight weeks, every six weeks on average.
"I have a lot of friends that trim their horse's hooves to save money," says Smith. But if you have a horse, you have to have a farrier, because it won't be 'if,' it will be 'when' you encounter a problem—like needing to drain an abscess—that you'll need that farrier on speed dial."
Prices vary from farrier to farrier, but on average, you can expect to pay anywhere from $50 to $200 or more for a trim or a full set of shoes.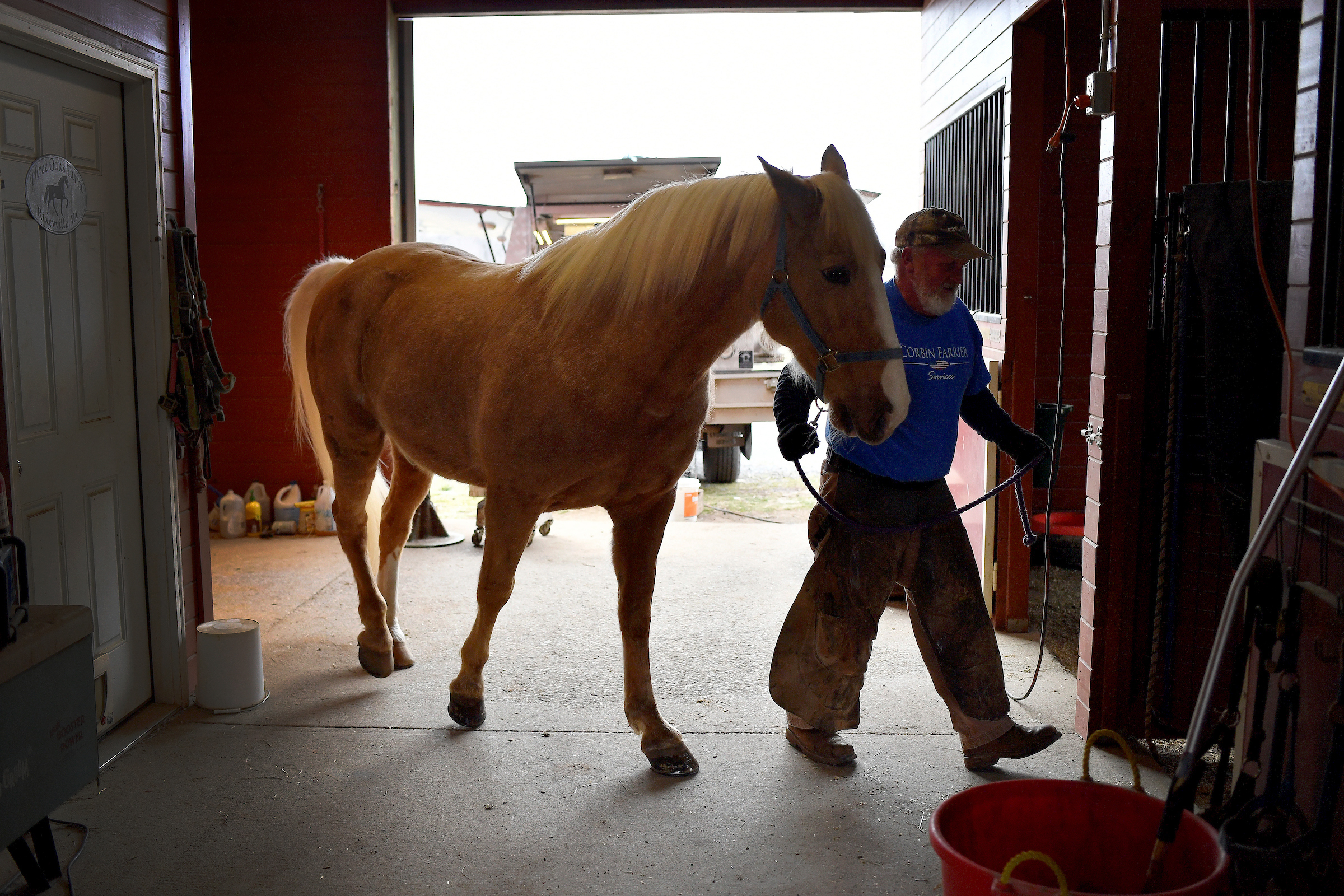 Working on race or show horses can cost more than pleasure horses. Depending on the area, farriers can easily earn more than $100,000 a year, and often upward of $200,000.
While newer tools and materials have improved, the farrier craft has remained largely unchanged. Knowledge, tradition, and craftsmanship, a sense of preservation, and a keen respect for horses have been handed down from generation to generation.
Farriers carry on a centuries-old craft. Their skillset remains a needed and strong one.
Loving horse owners need faithful farriers, and Terry Corbin fits the bill and more.
"I know I came to it later in life, but why would I want to do anything else?" Corbin says.
There are way more horses than there are hours in a day, and he's not a man who likes to say no. He has a full list of clients and dozens of horses that he knows by name and personality.
Retirement?
"No, I'll never retire," he says with a smile. "Just slow down."