Does it make sense to feel sorry for a woman who dumped her lover many centuries ago when he was banished from court? It seems I'm not the only one, as a bystander mutters exactly what I am thinking: "Oh, poor Cécile!"
I wondered if the Marquise de Montglas would have thought twice about having an affair had she known that she would be derided for years to come in a rather unflattering wall painting by Roger de Rabutin, Comte de Bussy, in his castle in Burgundy. The painting, "Levior Aura," depicts Cécile weighing less than nothing on a balancing scale forever and everyone to see. 
Exiled by the Sun King Louis XIV for writing "Histoire Amoureuse des Gaules," a satiric account of court love affairs, Roger de Rabutin spent much of his 17 years away embellishing his home and hiding messages in the castle's artworks. The revengeful painting of Cécile in the 17th-century Château de Bussy-Rabutin is one of more than 300, mostly portraits, including generals, warriors, and court ladies, for which the castle has become famous.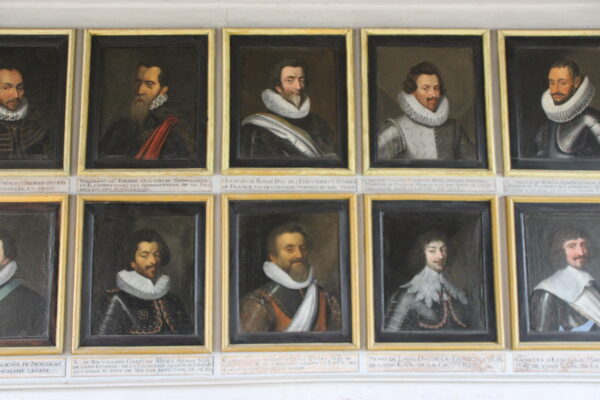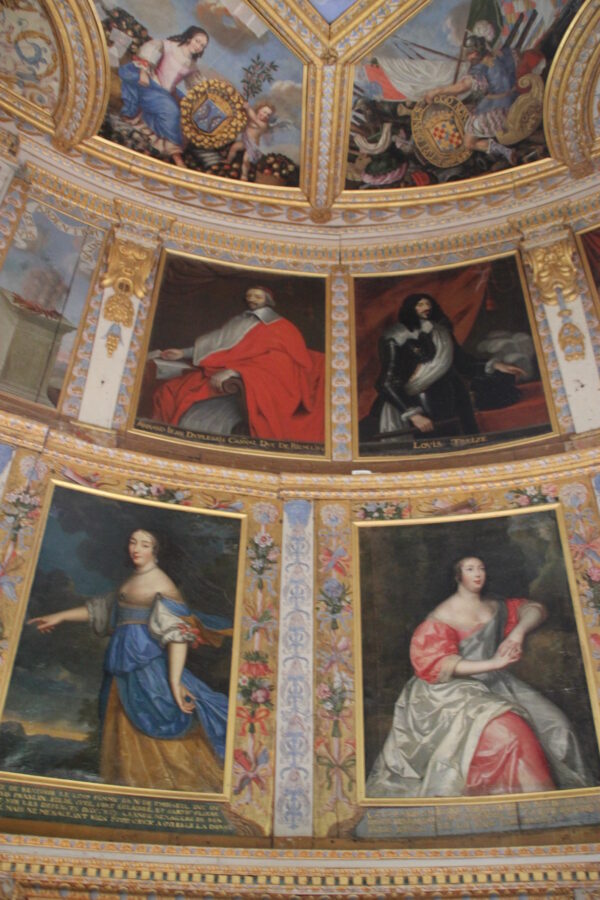 There are more châteaux in Burgundy than any other region in France. Nearly 100 castles, medieval strongholds, and manor houses of every architectural style dot the landscape from Vézelay to Cluny. It's impossible to see them all, but many have been converted to small luxury hotels, such as Château Sainte-Sabine where the serious-looking maître d′ skillfully balances my plate through the restaurant and appears as if he were about to put a diamond in front of me, a real treasure.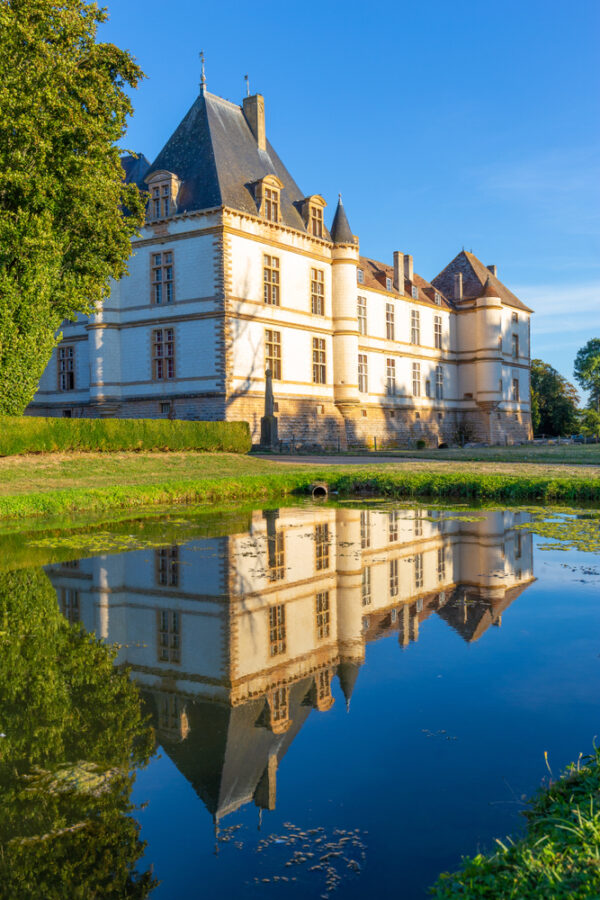 I swallow, hesitate, for a split-second question my choice of entrée, then tuck into my first-ever meal of snails. Until recently, I would've never thought about eating creatures that roam my garden, though looking at the sorry state of my radishes, which they like to gnaw on, maybe I should.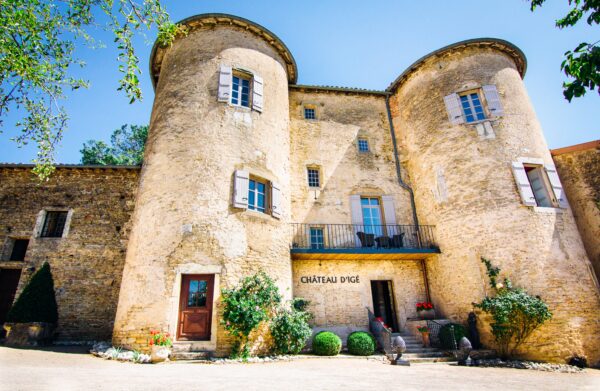 But do the locals really eat snails or is this something for posh restaurants only? "Oh, no," laughs Véronique Beigenger, who works for Burgundy Tourism. "My whole family goes snail hunting. It's strictly controlled in terms of the timing and the size of the gastropods, and it's really messy preparing them. But there are countless recipes with herbs and butter, cheese, or wine, and they're just delicious."
From the outdoor terrace at Château Sainte Sabine, I can see the imposing silhouette of the medieval Châteauneuf-en-Auxois on a rocky outcrop. The fortified village surrounding it still stands guard over the road from Dijon to Autun. The reign of the Châteauneufs ended in tragedy in 1456 when the last heiress, Catherine, was burned as a witch for killing her old husband, Jacques d'Haussonville.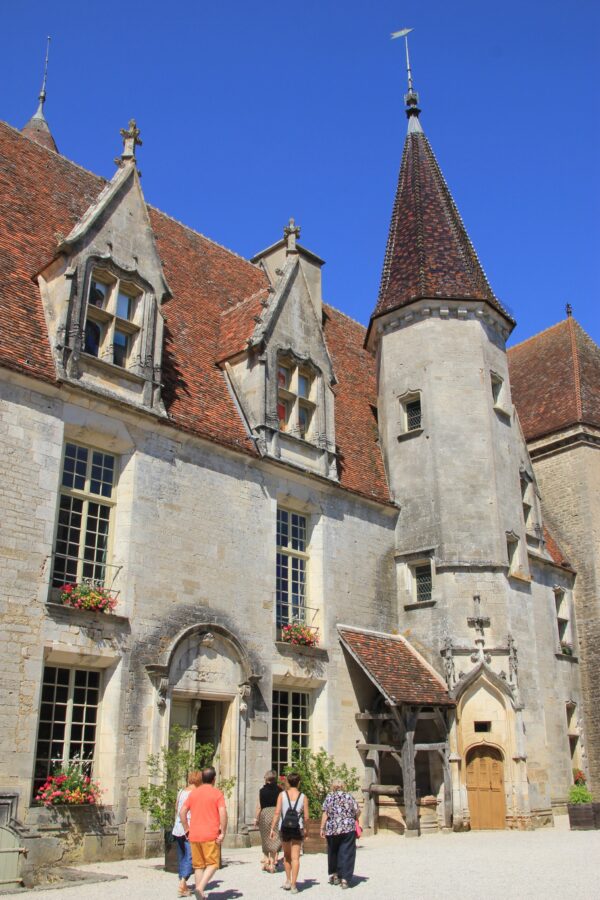 "She poisoned him with local gingerbread and was only found out because a naughty servant also had a helping. Two deaths looked rather suspicious," says guide Alena Vacek. While the castle doesn't have much furniture left, as noblemen traveled with their entire household in the Middle Ages, a beautiful collection of 17th-century tapestries is exhibited on the upper floors.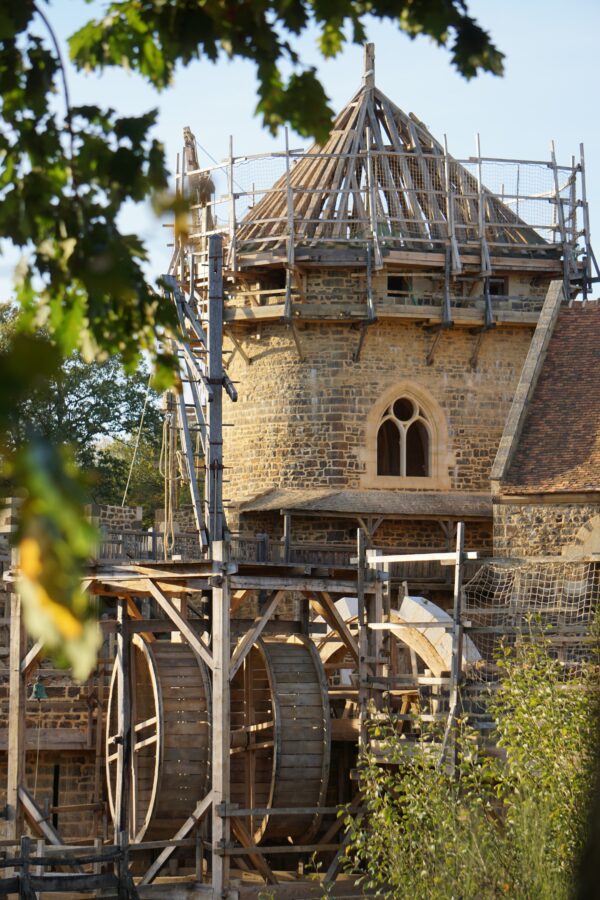 A Slower Pace
Burgundy is a place to exhale, to take a break from the job, the big city, the daily grind. Life here moves at a slower pace, and the French saying "Pour vivre heureux, vivons cachés" (to live happily, live hidden) couldn't express the local sentiment any better. For the night, I rest at Château d'Igé where I get spoiled with award-winning cuisine (more snails, this time in red wine) and an uninterrupted sleep in the 13th-century castle.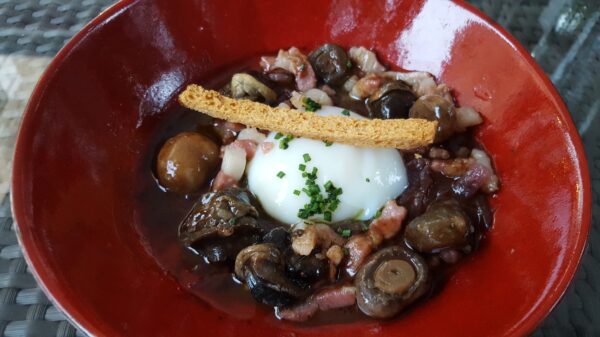 The next morning, I drive through vineyards and medieval villages with their narrow lanes, rosebush-clad houses, and old fountains. Occasionally, a château, often seemingly privately owned, comes into view—it doesn't get more idyllic than that.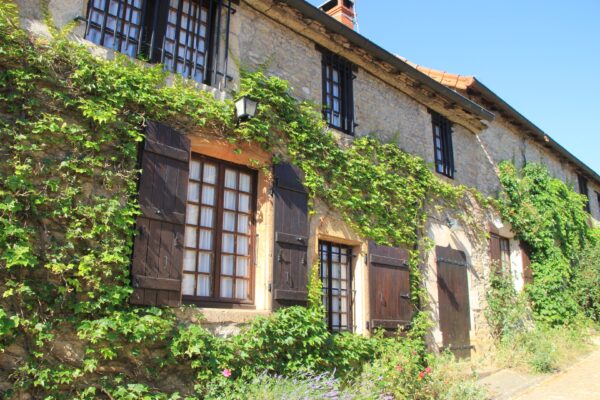 Brancion
From the 13th to the 15th centuries, the village of Brancion was an important regional center for the Dukes of Burgundy and many buildings date from that time. 
"Its location on a hilltop meant that the ruling family became rich by ambushing pilgrims on the way to Cluny," explains guide Leslie Cleaver. Today, there are only about 100 residents left, though it is a popular destination, especially for families because of the craft fairs.
A hidden gem is the Romanesque church of St. Peter with its wall paintings from 1325. Service is still held occasionally in the dark and somewhat damp building but there is an increasing shortage of priests, Cleaver says.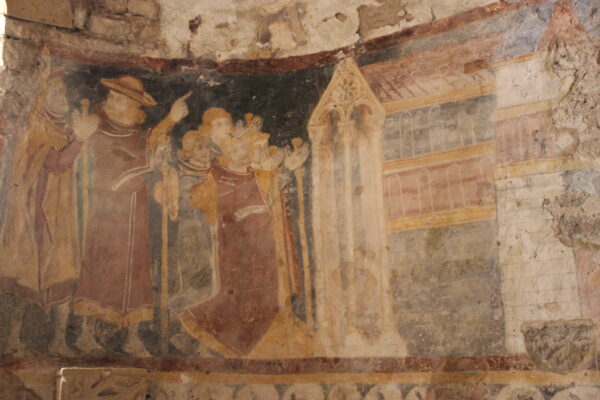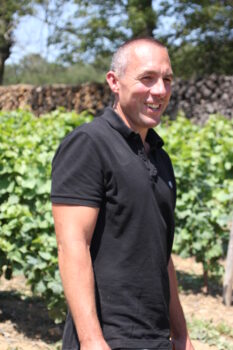 After my morning boost of local history, I drop into the Domaine de L'Echelette for a wine tasting with owner Guillaume Champliaud, who is the second generation to look after the 120,000-bottle vineyard. There are three things I learn during the quick stopover. One, Chardonnay is named after a Burgundy village, two, the local wine pairs best with Comté cheese, and three, in France, any fromage is eaten before dessert—a sure way to spot tourists if done otherwise.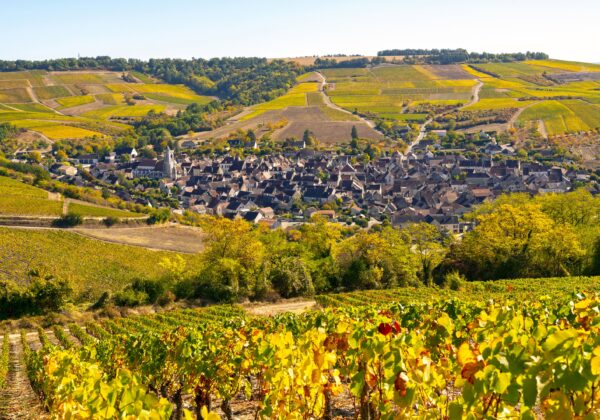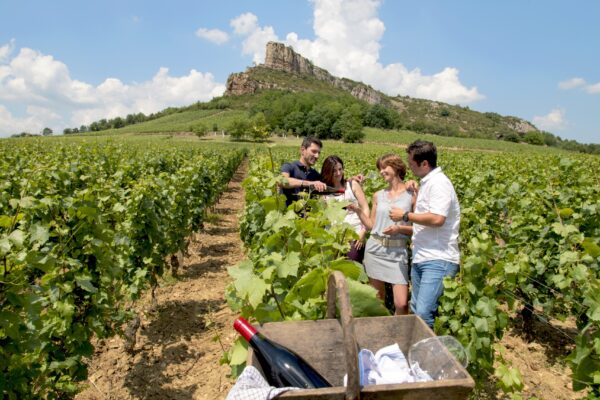 Wine Legacy
Bourgogne wines have a long and rich history spanning 2,000 years, with the best grapes growing between Dijon and Beaune. They are a legacy of the Benedictine and Cistercian monks who planted many vines in the Middle Ages.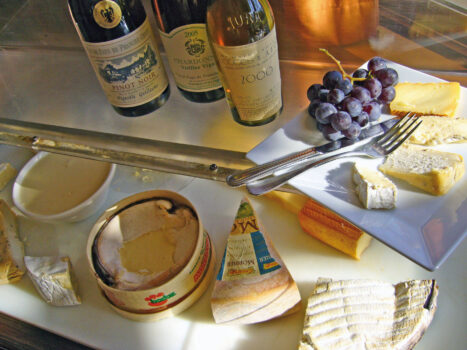 The most influential abbey of the region was that of Cluny. Founded in 910, it reached its height of power in the 11th and 12th centuries, when it was the motherhouse for more than 1,000 monasteries reaching from Portugal to Scotland.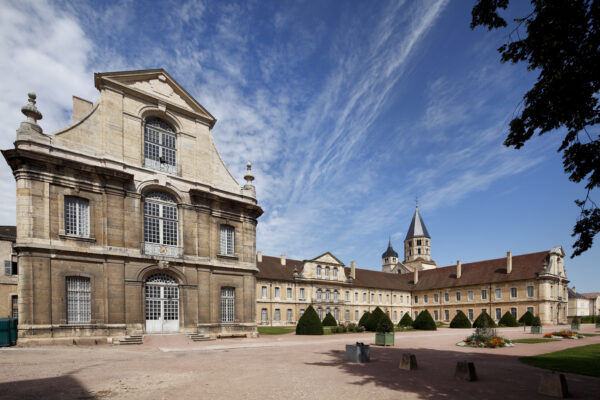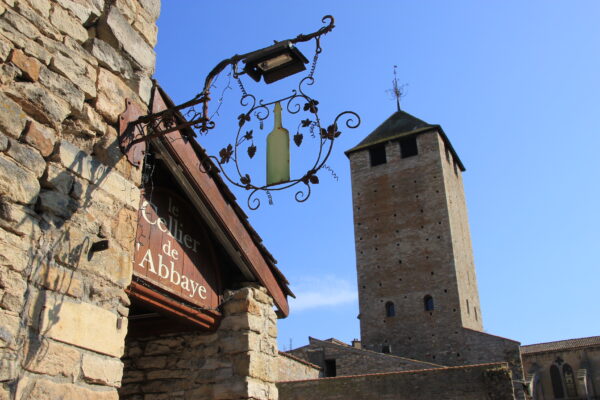 Today, only 8 percent of the once huge religious complex remains, yet it still feels imposing and impressive. 
"The old abbey is everywhere you look," laughs resident Thomas Chevalier. Former monastic buildings are found spread all over the town and have been repurposed as tourist information office or hotels. With a tablet and 3-D technology in hand, I can visualize how the abbey would have looked in the 12th century while glancing down from the platform of the Tour des Fromages (so named because cheese was stored in the tower during the 19th century).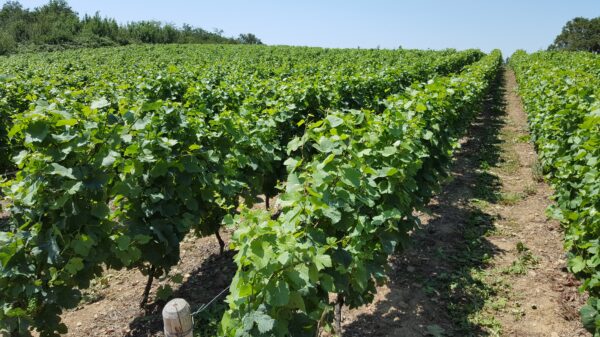 But not everything is as old as it seems in Burgundy. Château de Guédelon, hidden deep in a forest near Treigny, is an imposing feudal castle that dates from … 1997. For more than 20 years, a team of dedicated enthusiasts has been reconstructing the 13th-century castle using local materials and techniques modeled on those from the Middle Ages. 
Described in the BBC Two series "Secrets of the Castle" as "the world's biggest archaeological experiment," Château de Guédelon already boasts a Great Hall, and in the presence of thousands of visitors, quarrymen, stonemasons, woodcutters, carpenter-joiners, blacksmiths, tile makers, carters, and rope makers continue to build a castle from scratch. Animals help to winch the pulleys and lifting machines, workers mix lime mortar for tiles and bricks, cut beams, and even dye cloth for the old-style clothes they wear.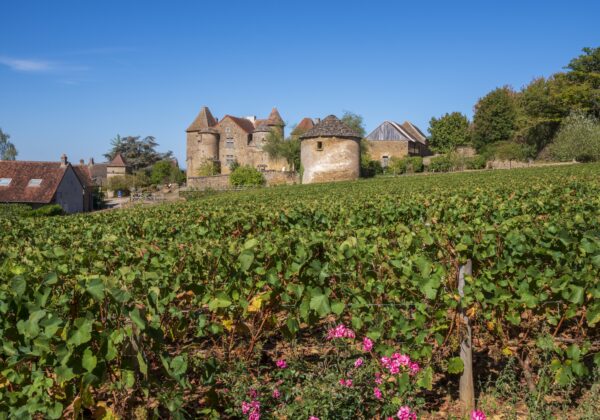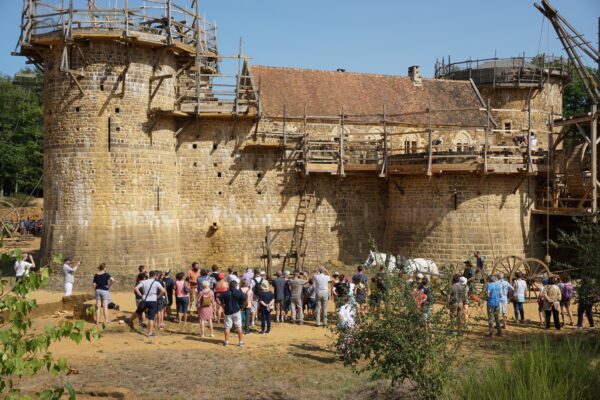 When the project is finished in 2023, Burgundy, already full of the French joie de vivre and blessed with its gently rolling landscape, traditional villages, world-class wines, and outstanding cuisine, will have one more reason to be proud—its latest château.
Wibke Carter is a travel writer who hails from Germany. She has lived in New Zealand and New York, and presently enjoys life in London. Her website is WibkeCarter.com