If you're a bit behind on assembling your leaf-peeping plans, you're in luck: A warmer September indicates that fall foliage will be a bit delayed in turning golden this year. 
According to Weather.com, "Leaves will likely change color later than usual this year in many parts of the U.S. Warmer-than-average temperatures, especially overnight lows, are the main factor for the delay." Weather plays a significant role in both the timing of the changing leaves and in how dramatic the colors will appear when they do arrive.
To that end, there's more good news: The weather source further points out that due to a generally wet summer across most of the United States, this year's display of foliage is predicted to be all the more vibrant and richly colorful. Overall, the 2019 fall forecast looks promising for hopeful leaf peepers.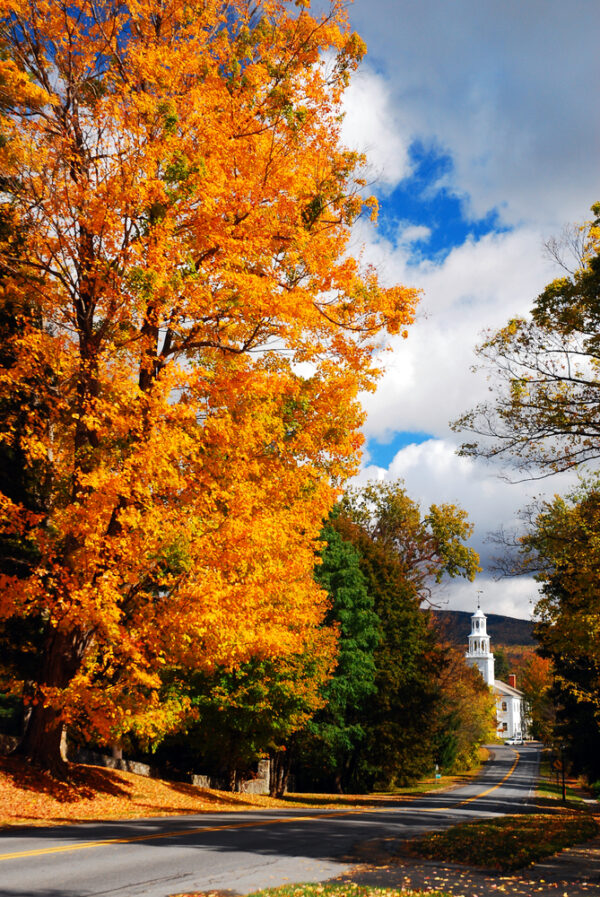 When and Where to Go
Planning a leaf-peeping trip takes delicate planning; if you go too early, the trees will still be green, but if you go too late, you might see nothing more than dead, brown leaves or bare branches. Luckily, while some states are already seeing gold-and-red action, for much of the country, it seems that the best is yet to come.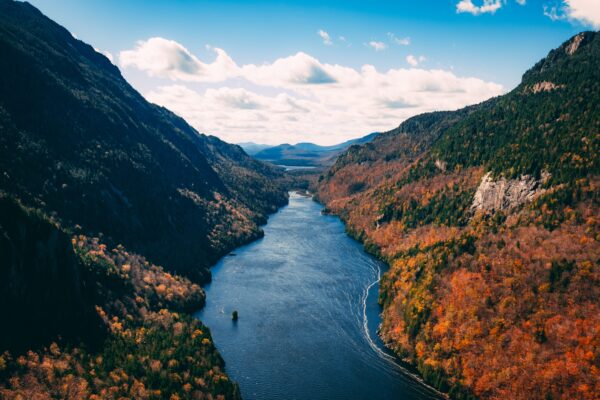 While most think of the Northeast when they think of colorful fall foliage, really, you can witness the seasonal display anywhere that leaves change colors (even Florida!). However, the most popular states for leaf-peeping trips include New York, New Hampshire, Vermont, Connecticut, Maine, Massachusetts, Colorado, and even Southern states such as North Carolina, Alabama, and Georgia.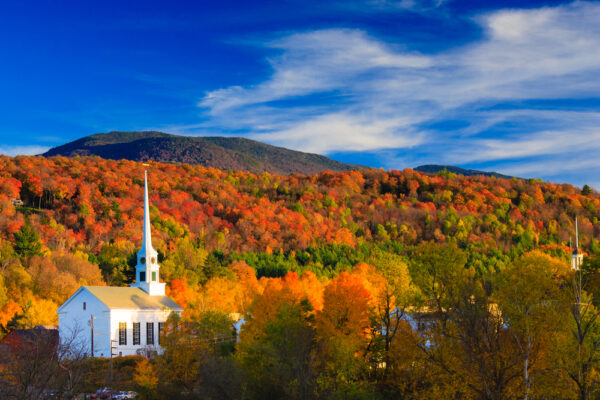 Wondering when's the best time to go? Each year, SmokyMountains.com releases an interactive visual planning guide, the Fall Foliage Prediction Map, which features both current leaf coverage and weekly predictions (visit smokymountains.com/fall-foliage-map to see the 2019 map). While parts of Maine and Colorado are already in their peak colorings, much of the South isn't expected to hit peak peeping season until late October or even November. If you postpone leaf-peeping until mid- to late November, much of the country will already be well past peak, but Florida will still have its most radiant hues ahead.
As you plan out your leaf-peeping ventures, you can use the prediction map as a general framework to decide when to visit where. Of course, the map isn't a guarantee you'll find fall colors on your journey, but it will certainly help increase your chances.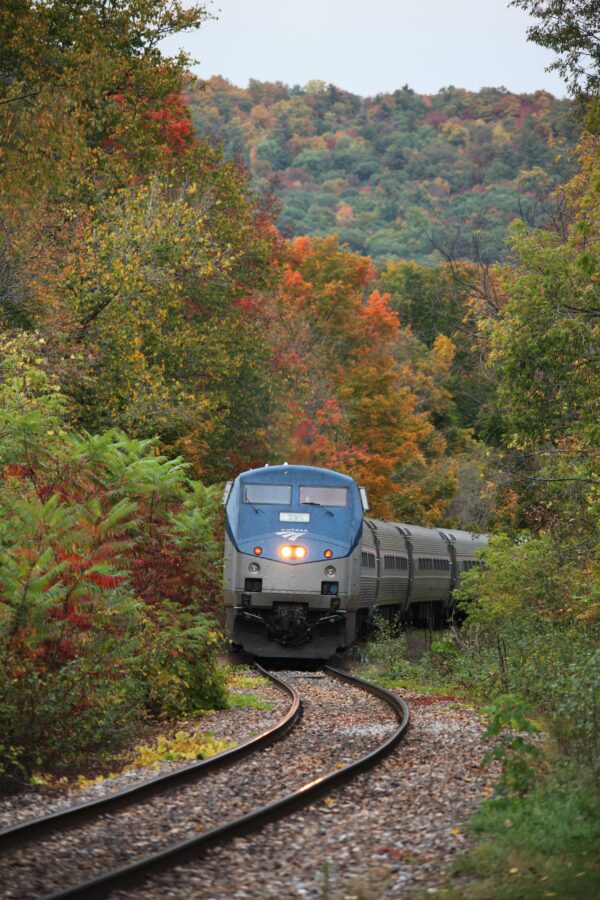 Consider an Alternative Method of Transportation
While taking to the highways and making a road trip out of leaf-peeping tends to be the most common approach, it's also possible to do an epic trip by train. While Amtrak has taken a backseat to car travel in much of the United States, daily rail routes continue to run in many scenic regions of the country. Amtrak's most popular routes for spotting plentiful fall leaves include the Adirondack (between New York and Montreal), the Capitol Limited (between Washington, D.C., and Chicago), and the Vermonter (between northern Vermont and Washington, D.C.)


For those who want to plan an even longer autumnal trip, the Coast Starlight runs between Seattle and Los Angeles and treats passengers to front-row views of Mount Shasta, the Cascade Range, and Willamette Valley. Amtrak's California Zephyr, between Chicago and San Francisco, passes through the Colorado Rockies and forests of golden aspen trees, so it's also sure to deliver on the leaf-peeping pleasantries. 
Taking the train can be a great way to cover more ground, travel with a larger group of loved ones, and avoid the stress and hassle of navigating from place to place (and keeping your eyes on the road).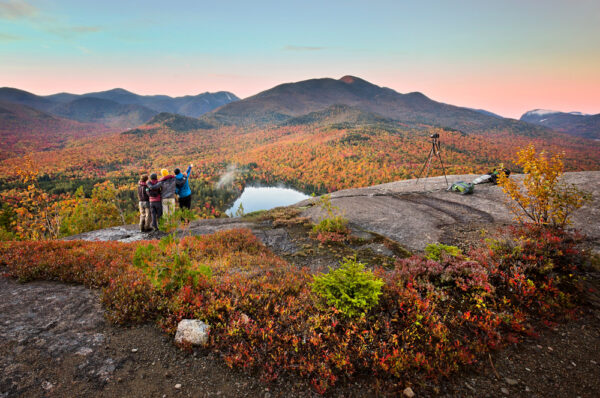 Theme Your Leaf-Peeping
How about adding ghost-hunting to your leaf-peeping itinerary? Fall isn't just a time of changing leaves and pumpkin everything; it's also spooky season. 
Stay in a "haunted" Vrbo listing like the historic log cabin Shamrock House in Sunset, South Carolina (vrbo.com/59001), where guests sometimes claim to hear the weeping of Nancy the Ghost. Or head upstate: The owners of Victorian Summer Cottage in Fishers Island, New York (vrbo.com/1031772), say that the dining room of the original house is haunted by the ghost of 1920s Broadway actress and opera singer Anne Faystone. Adding a Halloween-ish element to your leaf-peeping trip can double the fun.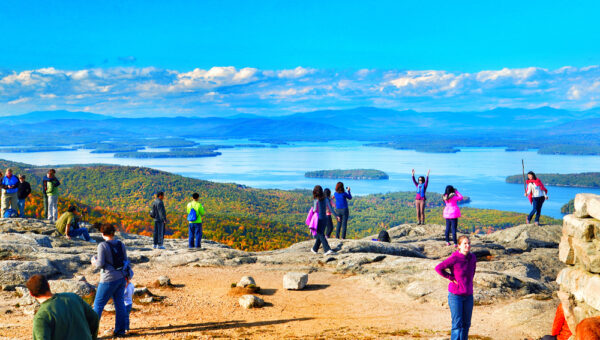 Make It a Bucket-List Trip
If ghosts isn't your thing, skip the haunted houses and make a bucket-list trip out of your leaf-peeping adventure. 
Maybe you've always wanted to visit Niagara Falls; seeing this massive wonder of nature is a quintessential American summer vacation, but the area is also one of the nation's prettiest during the fall season. Or maybe the Ben & Jerry's factory in northern Vermont has long held a spot on your "Must Visit Someday" list. Ice cream may not be your first choice of treat during times of cooler temperatures, but one look at Vermont in the fall and you'll have a hard time saying no to America's favorite pint served up with a backdrop of golden autumnal hues.
You can also consider leaf-peeping in places other than the Northeast, such as California (Mammoth Lakes is a hidden leaf-peeping gem!) or Alaska, another state on many a bucket list. Most visitors to Alaska book a cruise during the early summer months; instead, book with a line like Princess Cruises and opt to go inland as well.
In addition to touring wild Alaskan landscapes, you can take a scenic train or drive between Anchorage and Fairbanks and catch one of nature's most spectacular shows of changing leaves, which takes place earlier than most places in the United States.
Cross two items off your bucket list at once by planning a fall adventure to a northern latitude you've always wanted to visit.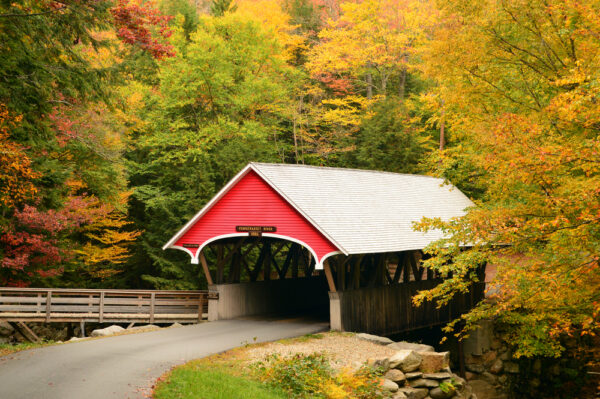 Become a Professional Leaf-Peeper
Can't get enough of fall foliage? You can volunteer with New York state's leaf-peeper program and become an official foliage spotter. Responsibilities include setting out into nature on a weekly basis and returning to report back on the leaves you've spotted, including indicators such as the volume of trees changing, the brilliance of the leaves, the predominant colors, and an overall rating (from "just beginning" to "past peak"). The statewide map that the data converges into is completely human-curated, rather than assisted by drones or satellite imagery.
Skye Sherman is a freelance travel writer based (enthusiastically) in West Palm Beach, Fla. She covers news, transit, and international destinations for a variety of outlets but still gets giddy upon every return home to South Florida. You can follow her adventures on Instagram and Twitter @skyesherman.