For some travelers, Kansas is a place you drive through on the way to somewhere else. Indeed, the state is large; it takes more than eight hours to drive from end to end. Its rich farmlands and open prairie can be seen for miles, offering many vibrant sunsets.  
But if that's all you saw, you'd be missing the riches of the Sunflower State. Get off the highway and you'll discover a unique culture filled with experiences that you can only get in Kansas. Here are just a few of them. 
Ride a Camel
Yes, you really can ride a camel … and feed a kangaroo … and even pet a baby giraffe at Hedrick's Exotic Animal Farm in Nickerson, Kansas. This unique bed and breakfast inn is popular with young and old. Your room price includes an evening tour of the farm, an evening snack, a full breakfast, a morning tour, and camel and pony rides. And of course, you can walk around the farm and pet the animals as much as you like.
The bed and breakfast itself looks like it was pulled from a Main Street in the Old West. No two rooms are alike, and each one has a balcony where you can sit and gaze over the prairie. Room prices start at $155.
Explore an Underground Town and Salt Mine

This is a sight you'll have to see to believe. In 1857, the German immigrants who settled Ellinwood, Kansas, built an entire business district underground. You can visit this underground time capsule, and see a barbershop, store, and more.
Not far from Ellinwood is Hutchinson, which offers an underground adventure of a different kind. Kansas sits atop one of the world's largest salt deposits. At Strataca, an underground salt museum, you can drop 650 feet into the earth to learn all about it.
Strataca has more than 67 miles of mined caverns and is part of a working salt mine that produces 300,000 tons of rock salt each year. Many famous films and important records are stored within the mine, which protects these precious assets with its dry air and strong underground vaults.
Go on a Cattle Drive
Want to experience the Old West? It can still be found in parts of Kansas. At Moore Longhorn Cattle Ranch near Dodge City, guests can head out on a cattle drive. Guests ride along with the cowboys, driving longhorn cattle some 35 miles to summer pasture. Even riders with little experience can make the trip. A chuckwagon comes along to carry the grub, and at night you can camp under the clear, star-filled skies.   
Follow the Trails of History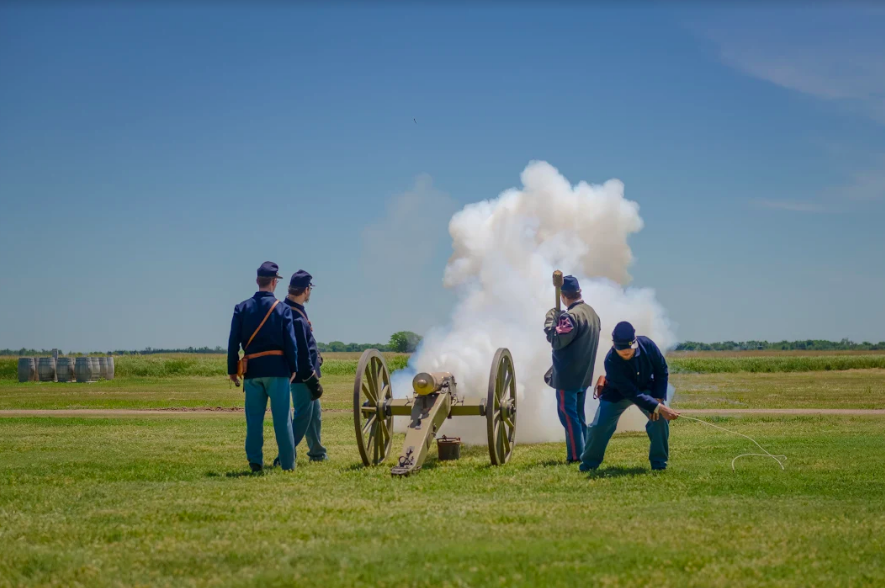 The history of Kansas is the history of the American frontier. From horseback to covered wagon to locomotive, historic trails crisscrossed the land that became Kansas. You can still see the wagon wheel ruts of the Oregon Trail, and follow the path of the Pony Express, whose riders relayed messages across the prairie.
You can even follow parts of the Santa Fe Trail. In Olathe, hitch a ride on a stagecoach at the Mahaffie Stagecoach Stop & Farm, a 19th-century farm and living history museum with historical reenactments, or visit Fort Larned National Historic Site to learn more about the Santa Fe Trail-Indian wars era.
One of the best places to learn about the state's history is the Kansas Museum of History in Topeka, where exhibits trace the region's history over thousands of years, from the native people to the Civil War.
Go Hiking in the Tallgrass Prairie National Preserve
The Tallgrass Prairie National Preserve is an American treasure. This 8,000-year-old grassland once stretched from Canada to Texas, but now only 10,000 precious acres remain of this remarkable landscape. Located in the Kansas Flint Hills, the grasslands are filled with hundreds of unusual plants, insects, birds, and mammals. It's a one-of-a-kind ecosystem that can only be appreciated by hiking through it. You'll even find pieces of flintstone that used to line an ancient ocean floor.
Enjoy Water Sports

Water sports in Kansas? You bet! With 24 major reservoirs that range in size from 1,200 acres to a whopping 16,000 acres, you'll find that perfect stretch of water for waterskiing, jet boating, windsurfing, and more. Neighboring Coloradans are known to drive all the way to Lake Wilson to go boating. They come for the uncrowded waters and good fishing.
Check Out a Small Town That Prides Itself on Being 'Quirky' 

Tiny Lucas, Kansas, is "unusual" to say the least, and they're proud of it. This town of 400 is a grass arts mecca, drawing artists from around the world who make unusual art pieces. Spend time browsing the local galleries and then stop at the Grassroots Art Center to see these works for yourself.
S.P. Dinsmoor's Garden of Eden in Lucas is a monument to individualism. Dinsmoor moved to Lucas in 1891 and then built an unusual limestone cabin. Later, he used more than 113 tons of concrete and limestone to recreate the Biblical story of the Garden of Eden. In addition to this quirky "garden," the Garden of Eden has a stone and concrete mausoleum, which houses Dinsmoor and his first wife in a glass-lidded coffin. You'll have to see it to believe it.
Go Birding in the Wetlands of Kansas

With more than 400 documented species of birds, Kansas is one of the hottest birding destinations in North America. The best place to see them is in the lush wetlands of Kansas. Cheyenne Bottoms and Quivira National Wildlife Refuge, near Great Bend, are major stopovers for migrating waterfowl and shorebirds, including pelicans, sandhill cranes, plovers, and thousands of ducks and geese. Don't forget your camera.
Janna Graber has covered travel in more than 45 countries. She is the editor of three travel anthologies, including "A Pink Suitcase: 22 Tales of Women's Travel," and is the managing editor of Go World Travel Magazine.