5J Jamon Iberico: One of Spain's Treasures
July 25, 2013 3:48 pm Last Updated: July 25, 2013 3:48 pm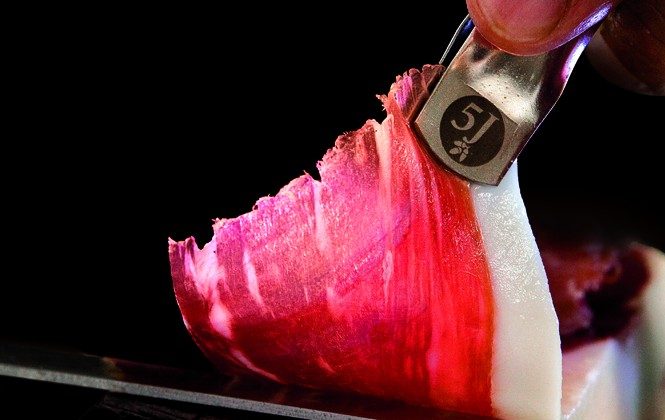 This ruby-colored and delicately marbled ham (jamón in Spanish) comes from purebred black Iberian pigs (pata negra) that feed on a natural diet of acorns and spend most of their lives roaming free on acres of land.
This makes the ham rich in oleic acid and omega-3 (the same healthy fats found in olive oil), and is said to contain more antioxidants than any other ham, according to a press release.
Its character is gentle and smooth, with the feel of butter as it touches your palate and explodes with intense flavors. It feels luxurious. It is sometimes sweet and nutty, sometimes salty and nutty, but it is always pleasing and satisfying. It is exciting because the flavors always vary depending on the piece of meat. It is truly an extraordinary ham, and quite addicting.
I couldn't help but just stare at the colors and textures of the ham as the master ham carver (maestro cortador) displayed his technique while it was secured in the jamoneria, as he carved each slice as thin as pieces of paper of equal length.
He told me that the motion of slicing the ham should resemble playing the violin. Each slice is short and translucent. It tastes best at room temperature. You can eat it on its own or paired with a slice of bread or a chilled, dry sherry or fine wine. It can also be incorporated in different dishes, such as soups or omelets, to name a few.
The ham comes from either the shoulder or the leg of the animal. If from the leg, the longer and thinner the ham is, and coupled with a good aroma, the higher the quality.
Identifying the product in stores is easy. The packaging is labeled Cinco Jotas or 5J (5 for a five-star rating and J for Jabugo, where the ham is prepared). Jabugo is a small town in one of the most captivating regions of Spain, Andalucía. It is rich with fascinating sights, sounds, and history. The area is blessed with microclimates and all four seasons—an ideal environment for the natural curing of the meat. It is referred to as the cradle of the best jamón in the world.
The Osborne family, which owns Cinco Jotas or 5J, has painstakingly passed this exquisite culinary tradition from one generation to the next since 1879.
Until recently, the luxurious jamón ibérico de bellota was not widely available outside of its native Spain.
Now the delicacy is making its way into the United States (at Dean & Deluca, Grace's Marketplace, Fairway, and the Four Seasons) and other places throughout the world, including the Savoy in London.
The pre-sliced ibérico packages come in 1.5-ounce ($22.50) and 3-ounce ($40) varieties. Each package contains hand-carved slices, carved by the maestro cortadores from Jabugo.