There's a reason they've dubbed Montgomery Capital Cool—actually, there are at least five. I wasn't expecting to fall for Alabama's capital during my three-day visit, since I grew up in the region, and I'm always less eager to explore a place with no ocean nearby. 
But Montgomery, with its historical significance and growing buzz, charmed me.
Wandering its streets, I breathed in the scent of jasmine and felt the sun warm my back; my eyes drank in block after block of red brick and colonial architecture. Unassuming yet trendy eateries and shops dot the downtown streets, offering Alabama's modern spin on comfort food and products from the hands of talented local artisans. In Montgomery, I found just the right combination of city bustle and under-the-radar chill.
Nestled on the banks of the Alabama River, Montgomery is a breeding ground for Southern charm, and it certainly worked its magic on me—here are five things to love about this up-and-comer.
Montgomery Is Dedicated to Acknowledging Its Role in Civil Rights History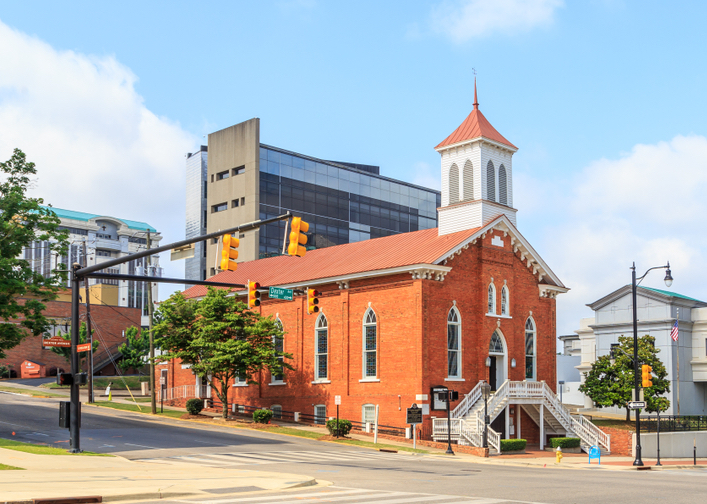 World-shaking events took place in Montgomery; as it transformed from the cradle of the Confederacy to the birthplace of the civil rights movement, the city played a pivotal role in America's story. In the heart of downtown, you can visit Dexter Avenue King Memorial Baptist Church, where Reverend Martin Luther King Jr. preached his message of peaceful protest, and stand in the very spot where, one fateful day in 1955, Rosa Parks boarded a bus and refused to give up her seat—altering the course of history forever.
Nearby, the Rosa Parks Museum at Troy University collects artifacts related to Rosa Parks, the Montgomery bus boycott, and the civil rights movement, and its exhibits are equal-parts educational and emotional. When I visited, the museum had curated a stirring exhibit, complete with reenactment films and elaborate displays, honoring the 400-plus lynching victims who were murdered during this horrendous period. Other items on display include a 1950s Montgomery city bus and Parks's original fingerprint arrest record.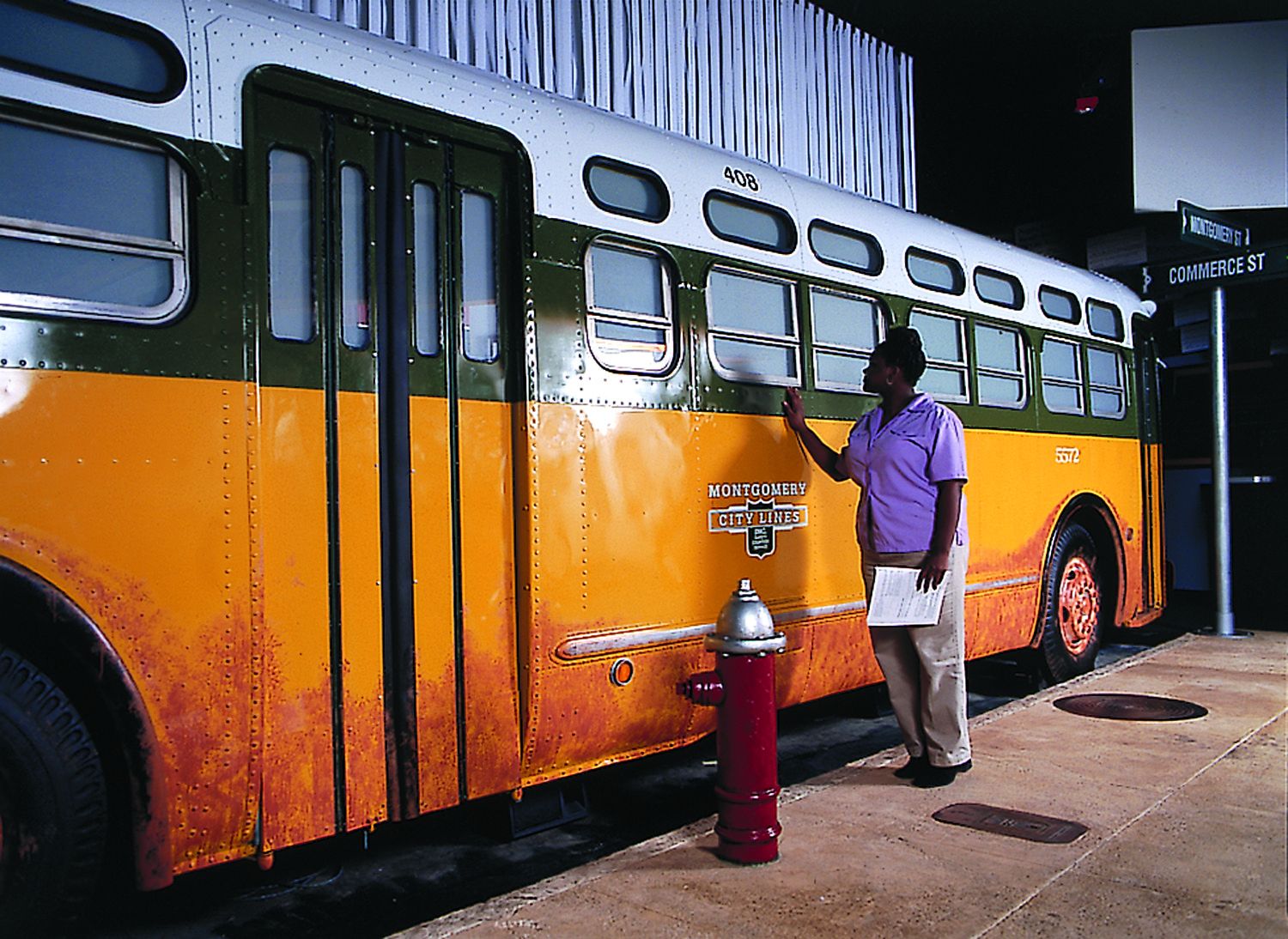 Another moving memorial that aims to honor and acknowledge lynching victims is the walk-through National Memorial for Peace and Justice. Lynching was a form of sanctioned violence that long remained undocumented, overlooked, and largely forgotten. The sober six-acre site was built by the Equal Justice Initiative, an organization dedicated to fighting wrongful convictions and unjust life-in-prison sentences.
I also shed a tear at the Civil Rights Memorial after reading the stories of 40 brave souls who were murdered or lynched due to the color of their skin or their association with the movement to end segregation. Any visit to Montgomery should include a dive into the city's tumultuous past, but also a look at the strides being taken today to establish the city as a launching pad for the kind of racial tolerance that didn't always characterize its sunny streets.
There's Southern Hospitality Aplenty
How do Southerners possess the energy for a beaming smile and heartfelt welcome at any time of day or night? Must be something in the fried green tomatoes. In Montgomery, thanks to the open-armed embrace of locals, you feel as if their home is your home.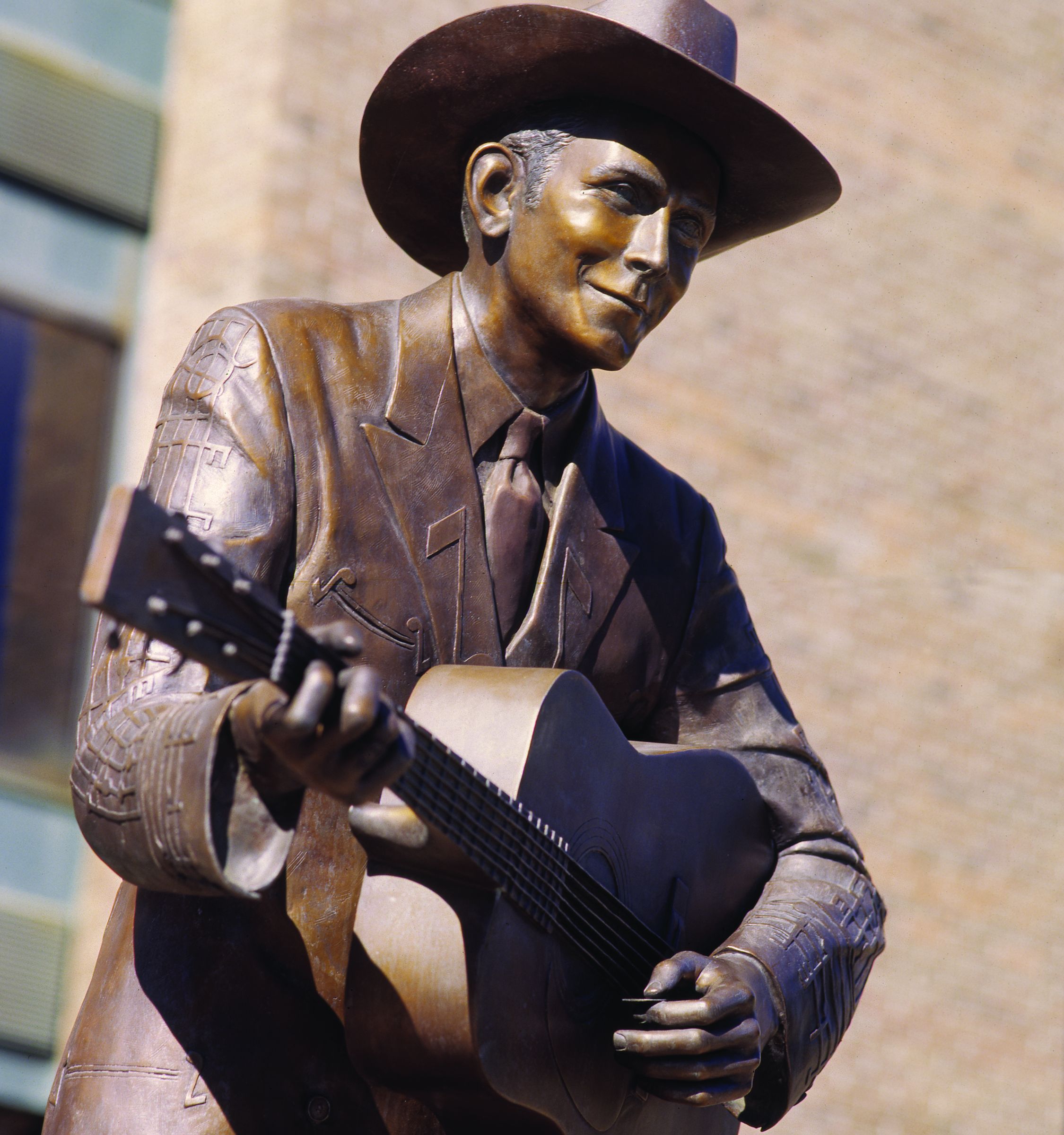 The city's Southern roots are plainly evident; in fact, Montgomery is where country legend Hank Williams began his music career in the late 1930s. 
The general vibe? Full-hearted and full-bellied—which is probably part of the inspiration behind the city's lighthearted hometown baseball mascot, another trait that endeared me to Montgomery.
Yelling 'Go Biscuits!' Is Perfectly Appropriate at the Baseball Games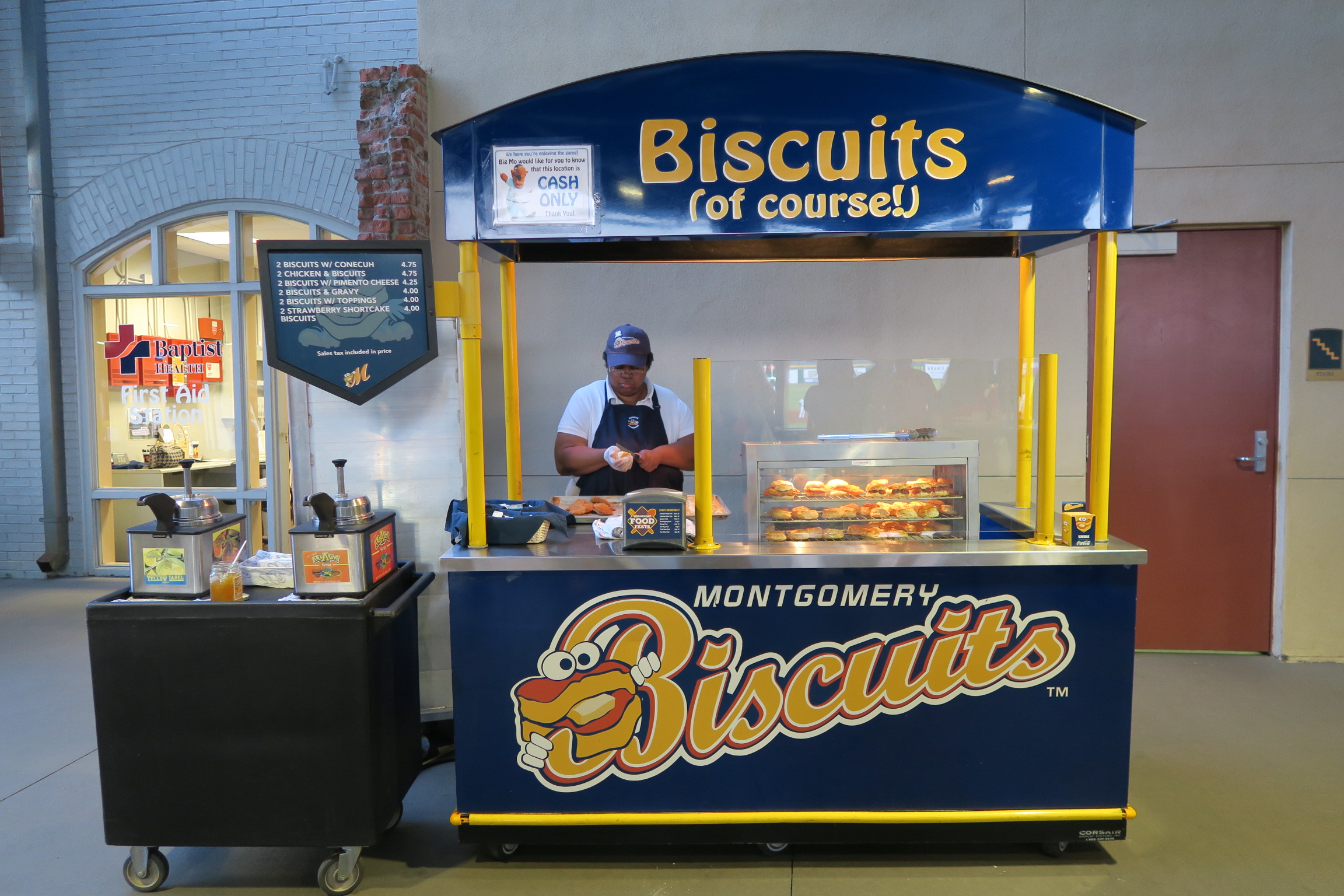 Another Montgomery must: attending a Montgomery Biscuits baseball game at the historic Riverwalk Stadium.
Yes, you read that right: their minor league baseball team is proudly united as the Montgomery Biscuits. This is, without a doubt, my favorite name for any sports team ever. And in case you thought biscuits were the theme in name only, I'm happy to report that's not the case: they toss biscuits between innings; their mascot is Big Mo, a chubby golden biscuit-eater of undefined origin; a happily buttered, anthropomorphized buttermilk biscuit named Monty adorns their logo; and stands around the stadium sell biscuits any way you can think to eat them—with gravy, with chicken, as strawberry shortcake, buttered…
In fact, the biscuit-themed camaraderie at these games is so irresistible that I found myself shelling out cash for an overpriced Montgomery Biscuits t-shirt within minutes of stepping foot into the stadium. I can pinpoint a Biscuits baseball game as the moment Montgomery nestled itself a special little place in my heart.
Speaking of Biscuits, the Southern Cuisine Scene Is Finger-Lickin' Good
Forget your diet plans and don't pack your skinny jeans, because in Montgomery, gaining weight is a little too easy. Perhaps I should've arrived expecting impressive eats, but I found myself pleasantly surprised by Montgomery's food scene, starting with biscuits and beignets at Cahawba House (the latter like a home-baked Toaster Strudel, a treat worthy of a pilgrimage).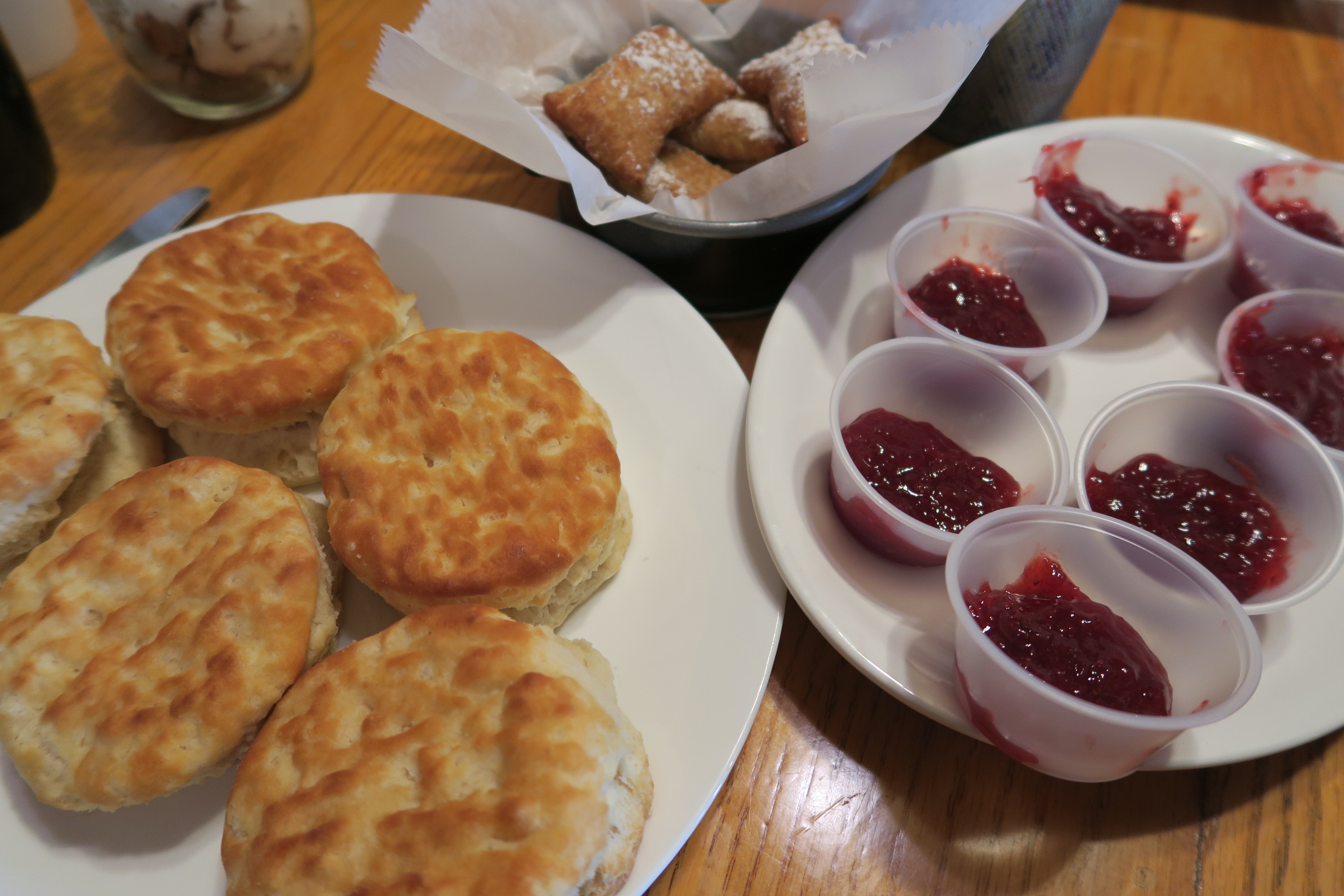 Yes, fried items populate nearly every menu around town, and portions are as big as a Southern mama's heart (who's complaining?)—but local chefs are also working hard to bring something different to the table.
Take, for example, Venezuelan food served family-style and prepared lovingly by the kind of woman who feels like your mother after just a few minutes in her restaurant. At D'Road Cafe, I tucked into a traditional Venezuelan breakfast, something I can't say I expected in the heart of the American South. Locals, too, love the shared-dining experience and dishes where you can actually taste the pride that went into making them—in fact, the mayor of Montgomery regularly holds his business meetings here. 
Another hotspot combines hearty fare with over a century of history: if there's one place you absolutely must try in Montgomery, it's Chris' Hot Dogs. Family-owned since day one, this unpretentious diner is a shining star of the American Dream. It was opened by a Greek immigrant who wanted to integrate into the fabric of American society as best he could—so instead of serving Greek food, he settled on hot dogs.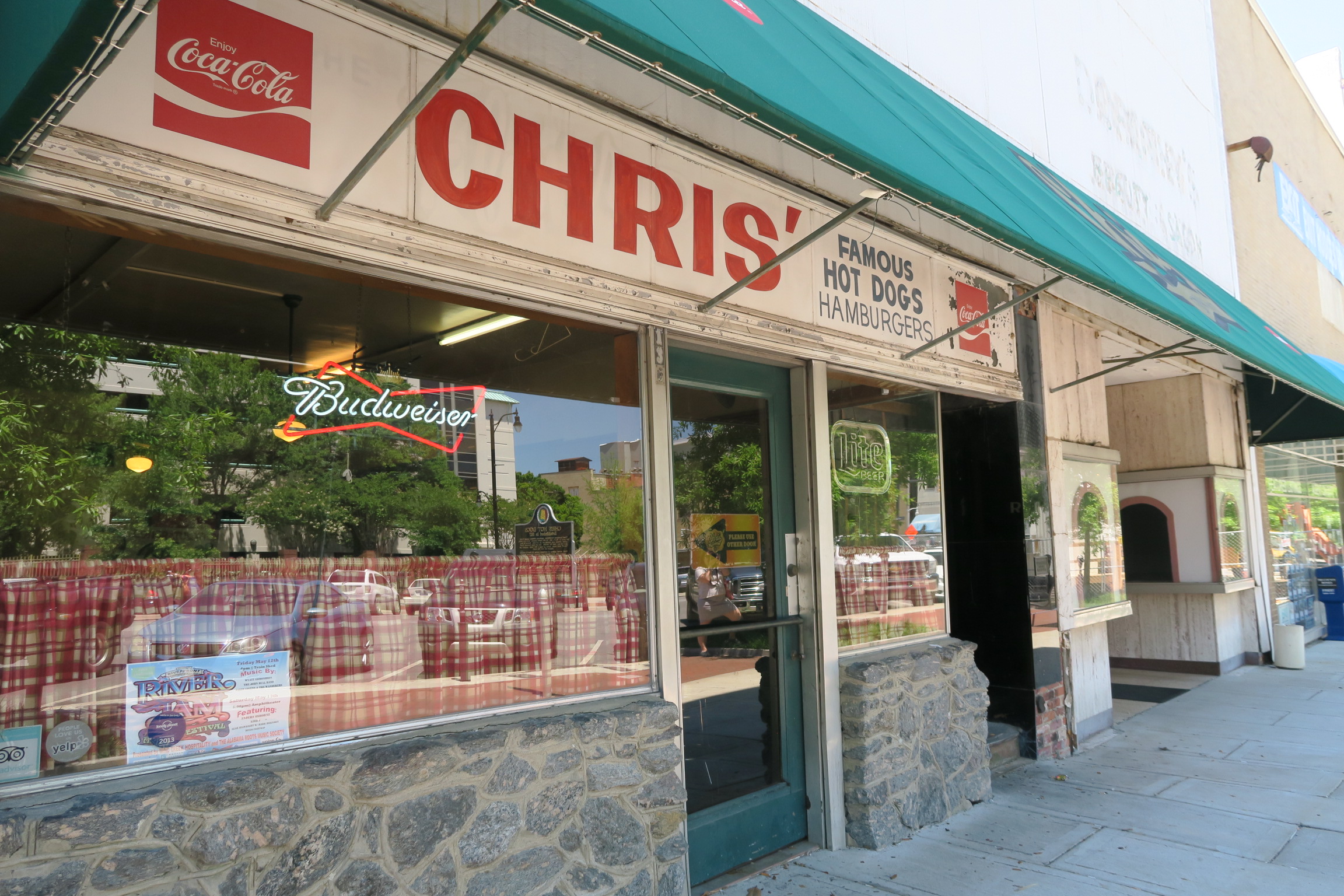 Barely changed since its 1917 debut, this local staple offers a simple menu (hot dogs, burgers, chili) that has attracted anyone and everyone important who has ever come through the city. More than that, it's a spot that always had a seat for all, an establishment that encouraged unity even through the most racially tense years. All of Montgomery's history seems to convene, at some point and to some degree, at Chris' Hot Dogs.
Establishments like chic Central present a menu of chef-driven dishes, down-home cooking with a special spin. I ordered blackened shrimp served on a bed of orecchiette pasta and tossed in an herb cream sauce, and it hit that sweet spot of familiar but unexpected. Judging from the upscale decor, it doesn't seem like the sort of restaurant where you can order chicken gizzards or fried Brussels sprouts, but there's a theme in play here: Montgomery is full of surprises.
Other unexpected delights: Aviator Bar, where aviation trinkets adorn every square inch, and Sous la Terre, where late nights and serenades from Henry Pugh, who's been playing here since the 1970s, are a local tradition. (Legend has it that one sip of the blue drink at this boisterous jazz-and-blues club guarantees that you won't leave until 6 a.m.) I also loved shooting the breeze with locals at ultra-casual, come-as-you-are Capitol Oyster Bar, a waterfront spot with a menu chock full of fried Gulf seafood.
The Walkable Downtown Cultivates a Laid-Back Atmosphere
I love visiting a place where I can pack a day with digging into a memorable meal, touring a museum, taking a quick nap in my hotel, attending a baseball game, and slinking into a jazz bar for a nightcap—and can conquer the whole itinerary on my own two feet. 
Montgomery's downtown has wide-paved streets and easily navigable city blocks, all tucked into a metropolis condensed enough to feel homey and familiar; I knew my way around by the end of the first day. The central Court Square Fountain is an easy way to orient yourself, and you can even walk right up to the baseball stadium from downtown. Plus, the invitation to ample walking provides welcome relief to all the deliciously heavy eats you're going to want to fit in.
This sort of setup makes visiting fun and hassle-free, exactly the kind of experience I look for in an easygoing getaway.
The author was a guest of the Montgomery Area Chamber of Commerce.
Skye Sherman is a freelance travel writer based in West Palm Beach, Fla. She covers news, transit, and international destinations for a variety of outlets. You can follow her adventures on Instagram and Twitter @skyesherman