Father's Day is a busy celebration for one family who have five generations of first-born fellas.
Meet the Clark men from Sheffield, South Yorkshire, led by head of the family, 86-year-old Neville, right down to his 2-year-old great-great-grandson, Archie.
And having first-born sons isn't the only thing they all have in common—all four men work as electricians.
While little Archie is too young to join the family trade just yet, his football colors are one thing his long line of male role models have made sure he is fully involved in.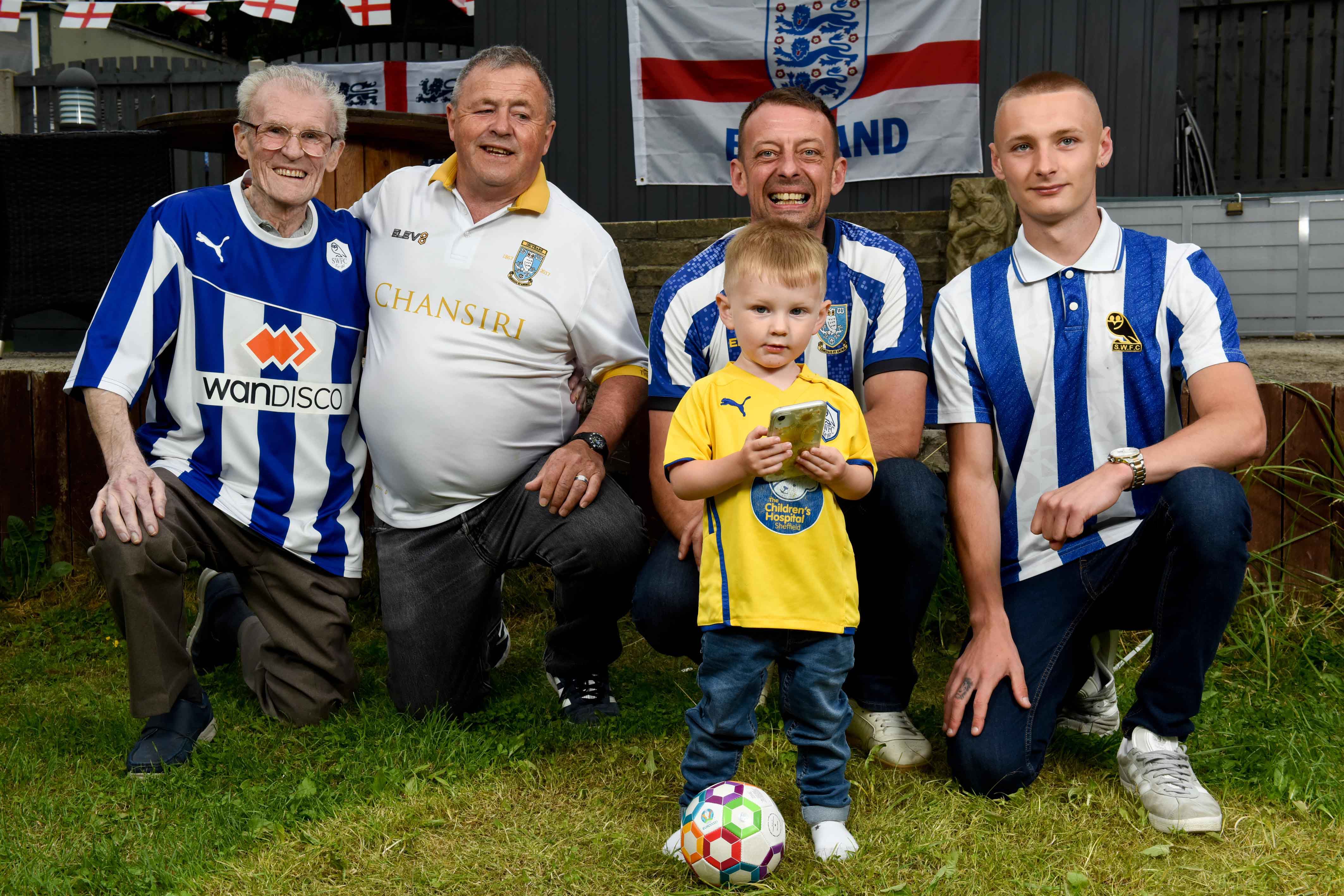 "We are all really close, we live within a mile of each other and we go on holidays, matches and the pub together," said Archie's dad Danny, 21.
Neville Sr., 86, is dad to two boys: Neville Jr., 64, and Kevin, 61.
Neville Jr. is a dad of three boys: Lee, 45, Glenn, 40, and Jonathan, 38.
Lee is a dad of two boys: Danny, 21, and Dylan, 17.
And finally, Danny is dad to Archie, 2,—the fifth generation in a family of sons.
When Danny found out he was going to be a dad, he turned to the men in his life for guidance.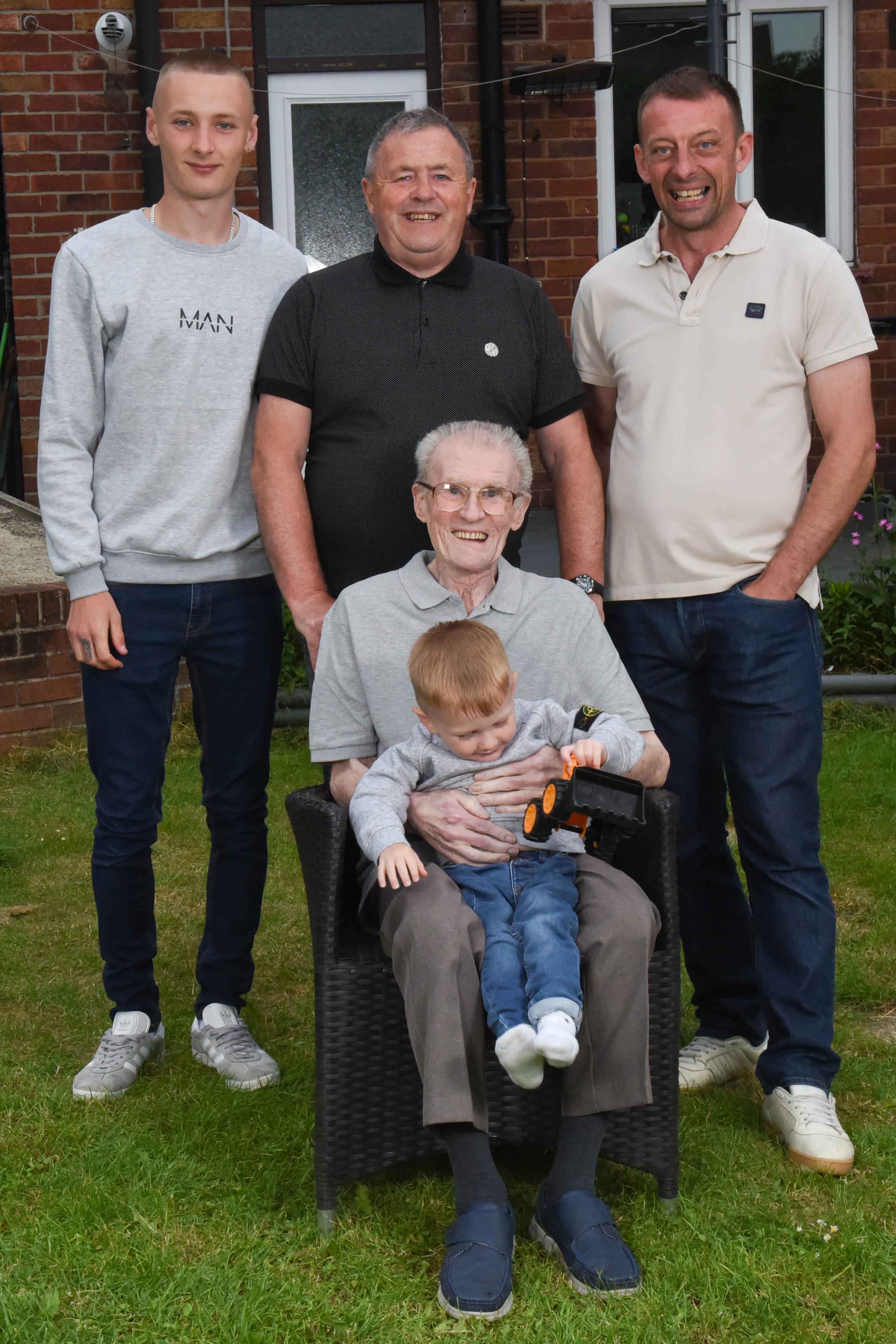 "When I told my dad he was very supportive and they have all given me help and parenting advice," Danny said.
"My dad, grandad and great-grandad have helped me all the way. You couldn't dream of a better family."
Danny originally qualified as a sports coach but later decided to follow in the footsteps of his dad, grandad, and great-grandad and trained as an electrician.
"My dad is a big kid at heart, he loves to take an interest in a theme that Archie likes, they are best friends," Danny added.
"Parenting has changed over the years and they are all very hands on with Archie, they even helped with nappies.
"My dad is so soft with him, the whole family adore him, he is spoilt rotten.
"As a grandad, my dad is much softer with Archie than he was with me. If I fell over, I was told to get back up but if Archie falls over he gets cuddles for an hour. Archie adores him.
"My great-grandad, Neville, hasn't seen much of Archie because of lockdown but when he does spend time with him, his face lights up and he doesn't stop talking about him.
"Neville is very proud of the family he is head of and I love to see them together, it's amazing to think there is 84 years between them."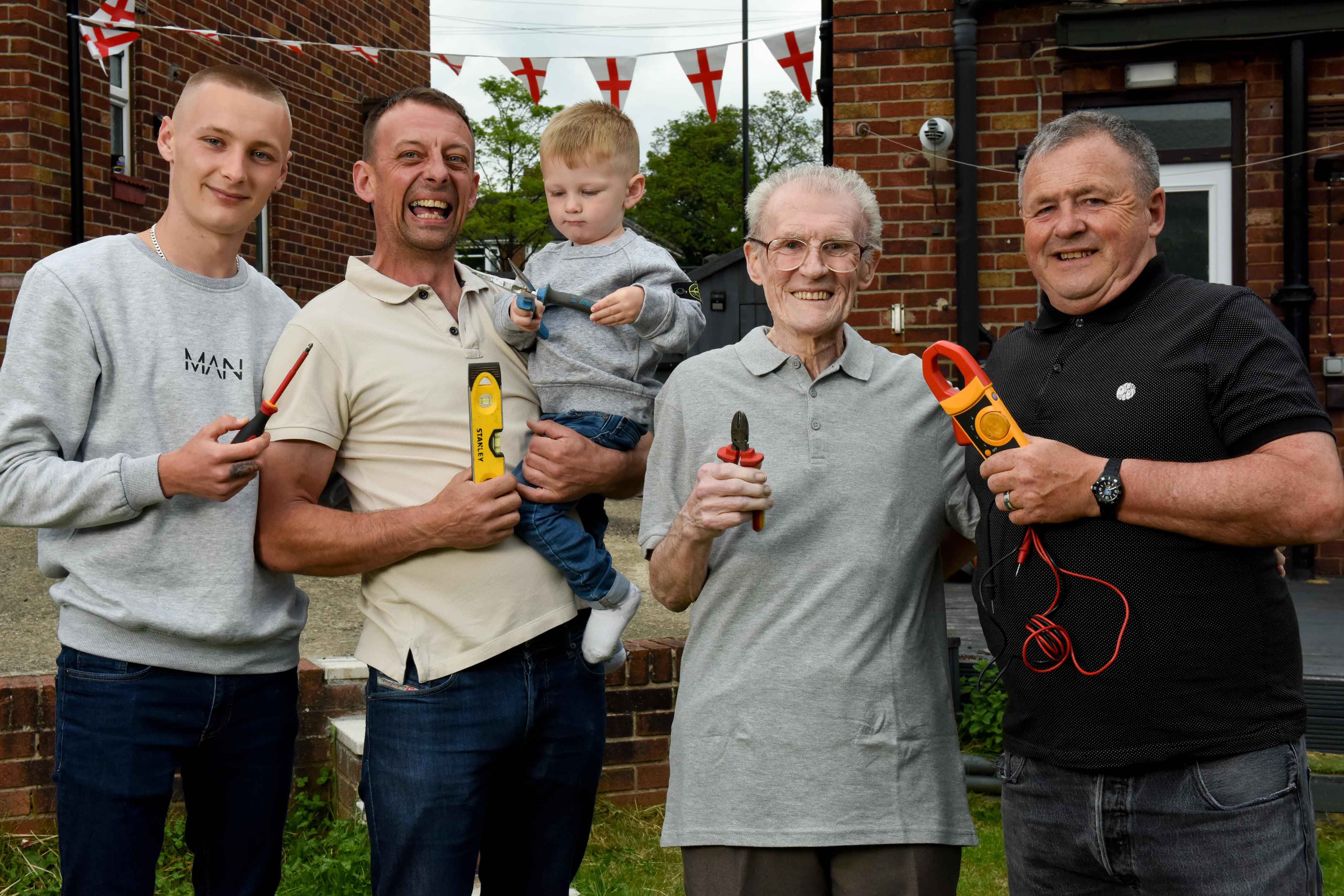 Neville Jr. said, "My dad is such a character, everyone loves him, he really is so well liked, not just in the family but the local community too.
"He was the first to realize that Archie would be the fifth first-born male, we were really chuffed and as soon as he was born we made sure he was kitted out in his Sheffield Wednesday shirt."
Danny added, "Football is a huge passion in our family, we all support Sheffield Wednesday and go to matches together. I can't wait to take Archie with us.
"My dad used to manage the football team I played in as a kid, and my grandad used to manage my dad's team. Even my great-grandad was a football manager—it's in our blood.
"We love to spend time as a family and it's really nice to know that Archie will grow up surrounded by hard working male role models.
"We are a family of boys and I want him to enjoy spending time with the family and make the same childhood memories with his uncles and grandads that I did.
"We will be spending Father's Day all together. We will each buy our dad's a pint—or two."

Share your stories with us at emg.inspired@epochtimes.com, and continue to get your daily dose of inspiration by signing up for the Epoch Inspired newsletter at TheEpochTimes.com/newsletter