Language is a beautiful thing. Unfortunately, some words cannot be translated accurately into English, but they have wonderfully poetic or specific meanings. Here are 16 words from around the world that are well deserving of an English equivalence:
1. Jayus (Indonesian) – A joke so poorly told and so unfunny that one cannot help but laugh.
2. Gretchenfrage (German) – A question asked for the purpose of finding out someone's real intentions. 
3. Iktsuarpok (Inuit) – The frustration of waiting for someone to show up.

4. Backpfeifengesicht (German) – A face that is well deserving of a good slap.
5. Tartle (Scottish) – The act of hesitating just before you have to introduce someone whose name you can't remember.
6. Greng-jai (Thai) – That feeling you get when you don't want someone to do something for you because you feel you'd be putting them out.
7. Seigneur-terraces (French) – People who sit at tables in coffee shops for a long time but spend little money.
8. Cavoli Riscaldati (Italian) – The result of attempting to revive a doomed relationship. Translates to "reheated cabbage."

9. Shouganai (Japanese) – Connected to the idea of fate, this word means that something that can't be helped, so why worry about it?
10. Culaccino (Italian) – The stain left on a table from a cold glass of water.
11. Razbliuto (Russian) – The feeling one has for someone he or she used to love, but no longer loves.
12. Sobremesa (Spanish) – That moment after eating a meal when the food is gone but the conversation is still flowing at the table.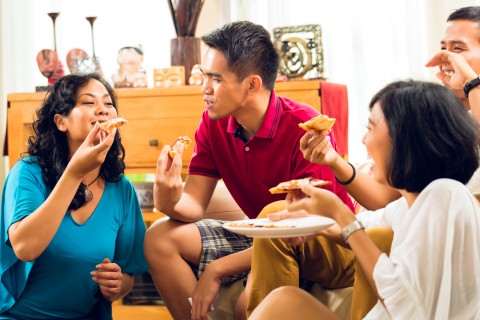 13. Ilunga (Tshiluba) – A person who is ready to forgive any abuse for the first time, to tolerate it a second time, but never a third time.
14. Age-otori (Japanese) – To look worse after getting a haircut.
15. Firgun (Hebrew) – Taking pleasure in someone else's success, with a good heart and without jealousy.
16. Yuanfen (Chinese) – Relationship by fate or destiny.
*Photos of 'conversation' and 'dinner party' via Shutterstock