11 Things To Do on the Central California Coast
November 26, 2012 8:31 am Last Updated: November 27, 2012 11:46 am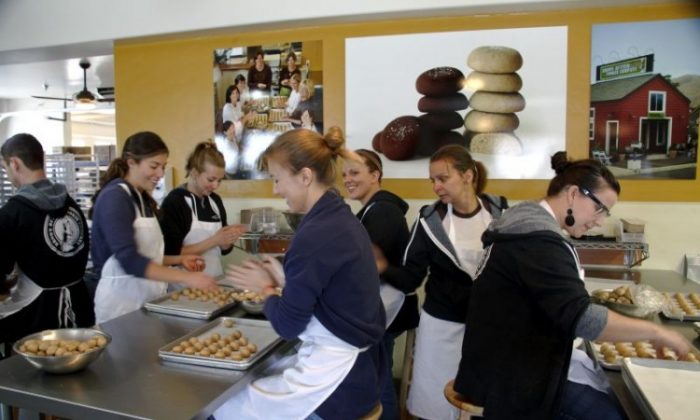 When my friend Charmaine wrote that she had relocated to Paradise, I smiled indulgently. When my goddaughter Daisy said she had found the perfect place to study and live, I nodded. When my buddy Judy said she was living in the happiest place on earth, I figured that three is a charm, and packed my bags for the Central Coast of California. After three weeks of exploration, I can understand my friends' love affair with the area. After two days of being home, I am ready to go back again.
In case you don't have three weeks to drive the Central Coast, here are my top picks for things that will win your heart, arouse your senses, and soothe your soul.
The Oaks At Ojai:
Owner Sheila Cluff is the Queen of Fitness and a pioneer in the world of exercise and well-being. Instead of a Type A-feel-the-pain-spend-a-fortune kind of spa, she has fashioned an affordable resort where classes cater to stretching, expanding, connecting the mind and body and having fun while you raise your heart rate. I loved the lectures and take-home tips about cooking, meditating, fashioning ad hoc weights by filling bottles with small stones, exercising in an office chair or plane seat and updating an old makeup routine. I could not believe that the gourmet fare was less than 1200 calories a day. (www.OaksSpa.com)
Sunday brunch at Bacara Resort in Santa Barbara:
In front of you on the patio is an endless expanse of ocean. Behind you is a Spanish guitar player. A nattily-attired waiter pours champagne. Walk inside, and there are multiple stages to choose from: a full breakfast; an array of vegetables from the Farmer's Market and a chef standing by to custom craft a salad for you; a generous choice of local seafood; and a long table full of desserts. At $60, it is the perfect way to celebrate a birthday, anniversary, or life. If you're feeling flush, follow it up with a 50-minute arnica massage in the spa and then sweat away your troubles in a complimentary eucalyptus steam bath and Jacuzzi before you cool down. (www.bacararesort.com) 
Rent a sand buggy in Pismo Beach:

You can drive it or request a driver; you may get stuck in a dune, but he won't. And you choose if the bouncing buggy ride is mild or wild. The jury is out on whether the buggies are eco-friendly or not, but the day I went there were few vehicles on the dunes and the driver (yes, I am a chicken) was very sensitive to environmental concerns. If the ride makes you hungry, go to the Cracked Crab (www.crackedcrab.com), where you put on a bib while mounds of slipper lobster and local Dungeness crab are dumped on the table for you to crack and enjoy. (www.sandbuggy.com)
A beach B+B in Cayucos:
I opened the door to my oceanfront room and gasped: before me stretched the pristine beach and the pier, which were a few steps from my balcony. Gourmet hot breakfast, evening wine gatherings, and walking distance from everything in Cayucos. (www.californiaonthebeach.com)
Sweets and sips in Cayucos:
I bought a mixed dozen of the now-famous cookies that are sweet, salty, and completely addictive. I ate three of them right away. (brownbuttercookies.com)
Then I walked over to the Full MoonTasting Room (fullmoontastingroom.com) for sipping and chatting as I got an introduction to the 300 wineries in the region. The next day, I stopped in at the Cayucos wineries (cayucoscellars.com) for a flight of their young and aged wines. My vote? The syrah and the late harvest zinfandel.
Lobster tail, tacos, and calamari:
The coastal dining was a revelation and it's hard to narrow it down to top picks, but here goes. For the perfect lobster tail, Schooners Wharf in Cayucos (www.Schoonerswharf.com). It's also the best late-night scene and ask the wait staff to tell you about their beers and their obsession with fantasy football.
The top place for thick, plump, juicy calamari strips is The Galley Seafood Grill and Bar on the Embarcadero in Morro Bay (galleymorrobay.com).
The dueling taco kings in the area are the Taco Temple in Morro Bay (gourmet, inexpensive, creative, fun, fabulous seafood creations, and the world's best sweet potato enchiladas) and Ruddell's Smokehouse (www.smokerjim.com) in Cayucos. Their smoked shrimp, albacore, ahi, ono and pork loin tacos are laced with apples, celery, carrots, and a secret sauce.
The most sumptuous and generous antipasti salad is at Café della Via in Cayucos (cafedellavia.com).
The best overall dining in the area: Giancarlo's Ristorante Mediterraneo:
When the chef/owner Giancarlo is there. Sit down at the bar and ask him to make you whatever he pleases. Then settle in for hours of elk, boar, scampi, and saccotino (moneybag) pasta, abalone, lamb chops with pomegranate concentrate, and waves of culinary delights, followed by homemade limoncello and nocino liqueurs. (www.giancarlorestaurant.com)
Savor the coast: 
Every Fall, Sunset magazine and the local tourism folks put on a series of events around wining and dining (www.savorcentralcoast.com). My hands-down favorite venue? An oyster cruise with demonstration by an oyster farmer, hors d'oeuvres, and then a five-course oyster dinner at Tognazzini's Dockside Restaurant (http://www.bonniemarietta.com/Dockside-Restaurant.htm).
If you don't like oysters, Dockside will whip up a fabulous alt seafood meal for you. I licked my fingers afterwards, hoping for one last taste.
The Heart Castle: 

If you liked the film "Citizen Kane," you will love the extravagant, brilliant, art-laden, hilltop castle built by the real Citizen Kane, William Randolph Hearst. Opt for Tour 1, of the great rooms. (www.HearstCastle.org). There are occasional night tours, where you can hang out at the Neptune pool, the way the movie stars and celebs did in the heyday of Hollywood.
Treat your body to this: 
My husband and I got a couples' massage at the Aloha Spa in Cayucos (www.cayucosalohaspa.com) and owner Kathi's body work included a feathery foot massage interspersed with deep muscle work. She gave us a choice of champagne before or after the massage. Ahhhh.
Mother Nature: 
I walked along every beach, went to the famous rock at Morro Bay, visited the elephant seals that lie on the beach in Cambria, rode through Montana de Oro for spectacular views. If you love nature the way I do, you can never get enough of it on the Central California Coast!
Judith Fein is an award-winning travel writer and the author of "LIFE IS A TRIP: The Transformative Magic of Travel." She has written and blogged for more than 100 publications and her website, with photographer Paul Ross, is http//:www.GlobalAdventure.us
The Epoch Times publishes in 35 countries and in 19 languages. Subscribe to our e-newsletter.