Researchers from Monash University in Melbourne are preparing for human clinical trials of a cortical vision device that could one day help restore vision.
The system requires a wearable camera to send a signal to a vision processing device that extracts the most useful information and then transmits it wirelessly to the 9x9mm implant. The implant then converts the data into electric impulses, which will stimulate the brain via hair-thin microelectrodes.
This bypasses the damaged optic nerves of people who are clinically blind.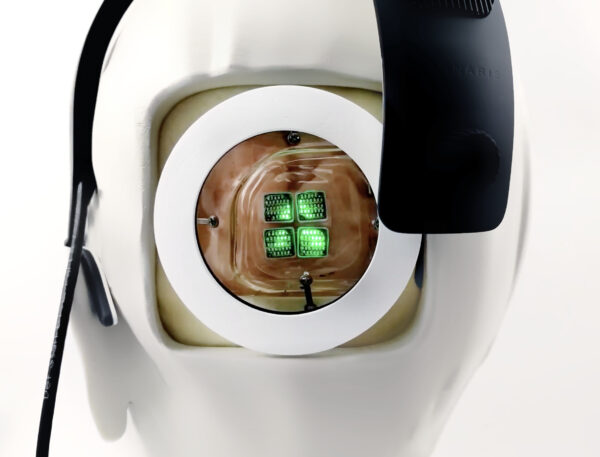 Professor Lowery, from Monash University's Department of Electrical and Computer Systems Engineering, said cortical vision prostheses aim to restore visual perception to those who have lost vision by delivering electrical stimulation to the visual cortex—the region of the brain that receives, integrates and processes visual information.
"Our design creates a visual pattern from combinations of up to 172 spots of light (phosphenes) which provides information for the individual to navigate indoor and outdoor environments, and recognise the presence of people and objects around them," he said in a statement.
Led by Dr. Philip Lewis from Monash University's Department of Electrical and Computer Systems Engineering, the project received around $1 million from the federal government's Medical Research Future Fund (MRFF) Frontier Health and Medical Research Program.
"Our Government's $570 million Frontiers initiative is designed to allow researchers to push the boundaries to develop tomorrow's health and medical breakthroughs," the health minister said on June 19, 2019.
The researchers are now applying for stage two of the Frontiers initiative, which will support the best one or two applications from stage one for up to $100 million in funding across the next five years.
"If successful, the MVG team will look to create a new commercial enterprise focused on providing vision to people with untreatable blindness and movement to the arms of people paralysed by quadriplegia, transforming their health care," Lewis said.
Dr. Yan Wong from the Monash Biomedicine Discovery Institute said: "The commercialisation of the bionic vision technology also ties in nicely to our plans for exploring further applications beyond vision and spinal cord injury, such as the moderation of epilepsy and depression, brain-controlled prosthetics, and the restoration of other vital senses.
"It aligns with our capabilities in neurobionics at Monash University, and having an engaged industry partner to work alongside will be of enormous value," she said.
Prof. Marcello Rosa, Wong's colleague at the Institute, said beyond improving health care and restoring vision to the blind, commercial success could see the creation of new export opportunities, highly skilled manufacturing and medical device design jobs, and economic growth for Australia.
"With extra investment, we'll be able to manufacture these cortical implants here in Australia at the scale needed to progress to human trials," Rosa said.
The project has been 10 years in the making and recent developments follow successful trials on sheep, with findings published in the international Journal of Neural Engineering in July. The work represents one of the first long-term tests of a fully implantable cortical vision prosthesis in the world.