In 2015, sanctions on Iran were crippling the ruling regime, and the International Atomic Energy Agency certified that Iran had restricted its sensitive nuclear activities.
When Iran was forced to the negotiating table, the United States had the high ground and Congress was pushing for deeper sanctions. Then-President Barack Obama met with the Iranian regime to strike a deal.
Rather than leverage Iran's failing situation, however, Obama negotiated a deal that would allow Iran to continue to develop most of its nuclear program, with the exception of the weaponized core. The deal did not cover Iran's development of ballistic missiles, and it allowed Iran to continue enriching uranium. Key restrictions expired after 10 years.
The deal provided Iran with an estimated $50 billion to $150 billion in sanctions relief, including a controversial cash payment of hundreds of millions of dollars.
"The deal lifted crippling economic sanctions on Iran in exchange for very weak limits on the regime's nuclear activity, and no limits at all on its other malign behavior, including its sinister activities in Syria, Yemen, and other places all around the world," said President Donald Trump, on May 8.
"In other words, at the point when the United States had maximum leverage, this disastrous deal gave this regime—and it's a regime of great terror—many billions of dollars, some of it in actual cash, a great embarrassment to me as a citizen and to all citizens of the United States."
Barack Obama
Obama made several false and misleading statements about the nuclear deal. Leading up to the deal, Obama said he would block any new congressional sanctions on Iran and echoed statements from Iran's leaders, which have now been proven false, that Iran's nuclear programs are solely for energy production and medical research.
After claiming the deal was "the strongest non-proliferation agreement ever negotiated" in an Aug. 5, 2015, speech, Obama stated, "The prohibition on Iran having a nuclear weapon is permanent." Under the deal's sunset clauses, however, Iran would be able by 2025 to use advanced centrifuges to enrich uranium, which elicited criticism even from fellow Democrats. Senate Minority Leader Chuck Schumer (D-N.Y.) stated on Aug. 6, 2015, that "the agreement would allow Iran, after 10 to 15 years, to be a nuclear threshold state with the blessing of the world community. Iran would have a green light to be as close, if not closer, to possessing a nuclear weapon than it is today."
Although some Democrats opposed the deal, Obama blamed opposition to it as "knee-jerk partisanship." He stated the deal "cuts off all of Iran's pathways to a bomb," despite allowing the country to develop dual-use technologies, and despite lifting key restrictions in 2025. He claimed it "contains the most comprehensive inspection and verification regime ever negotiated to monitor a nuclear program," which Iran inevitably violated. Schumer stated, "If Iran's true intent is to get a nuclear weapon, under this agreement, it must simply exercise patience."
Lifting of Sanctions, Cash Payment
Estimates on the exact amount of sanctions relief for Iran as part of the nuclear deal range between $50 billion and $150 billion.
Part of this money was used by the regime for its advanced missile technology. Lawmakers have also raised concerns that the money has been used to fund terrorism in Lebanon, Syria, Yemen, and Iraq.
Iran continues to be officially designated as a state sponsor of terrorism by the U.S. State Department.
One of the most controversial payments connected to the Iran nuclear deal, was the transfer of $1.8 billion. The initial $400 million installment, paid in cash, was shrouded in mystery. The funds were transferred to the central banks of the Netherlands and Switzerland; converted into euros, Swiss francs, and other currencies; then sent to Iran in an unmarked cargo plane.
The payment was hidden from Congress, and although the Obama administration denied it at first, the payment was later revealed to have been a ransom payment in exchange for four American hostages held in Iran—going against a longstanding U.S. policy not to pay ransom for hostages.
Because the payment was made in cash, tracking the money to ensure that it is not used for Iran's nuclear program or terror activities is virtually impossible.
Ballistic Missile Technology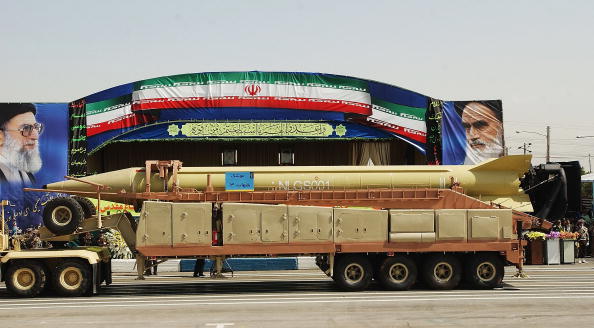 The Iran nuclear deal did not include any prohibitions on Iran's development of advanced missile technology, including ballistic missiles capable of carrying nuclear warheads.
Instead, Iran's nuclear missile program was covered by a separate U.N. resolution. This means that Iran's ongoing development of its ballistic missile technology had no bearing on whether it was in compliance with the nuclear deal.
As recently as February this year, Iran showed off its Qadr ballistic missile, which has an estimated range of 1,250 miles, putting Israel within its reach.
Under the current Iran nuclear deal, Iran would be able to continue to develop and perfect its ballistic missile technology, making it potentially able to deliver a nuclear warhead to the United States by 2026, when it will be allowed to use advanced uranium centrifuges.
"You can call it 'non-nuclear' all you want—missile technology cannot be separated from pursuit of a nuclear weapon," said U.S. Ambassador to the U.N. Nikki Haley, in September last year.
The result is that Iran's military continues its march toward acquiring the missile technology to deliver a nuclear warhead. And the world is becoming a more dangerous place.
Sunset Clauses
As part of the nuclear agreement, key restrictions on Iran's nuclear program will begin to ease after 10 years, by 2026.
A confidential diplomatic document linked to the Iran nuclear deal, obtained by the AP in 2015, revealed that the United States had agreed that Iran would begin installing thousands of advanced centrifuges by 2027. Experts estimate that at that point in time, Iran will be able to enrich enough uranium for a nuclear bomb within six months.
Because Iran has been allowed to develop its ballistic missile technology unimpeded, the regime could have a fully operational nuclear weapon at that time.
Continued Uranium Enrichment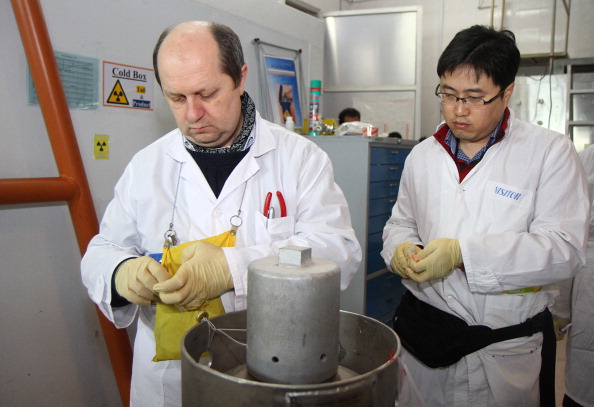 The Iran nuclear deal kept much of its uranium enrichment capacity in place.
Iran was allowed to keep 5,060 centrifuges operational, with more than 10,000 additional centrifuges being put in storage.
In addition, Iran was allowed to continue to enrich uranium up to 3.67 percent. While this is short of the at least 20 percent enrichment needed for weapons-grade uranium, the stock of low-enriched uranium is the raw material for producing highly enriched uranium. By leaving much of the infrastructure in place, the deal allows Iran to increase its enrichment at a later point.
A secret diplomatic document connected to the Iran nuclear deal showed that the United States had agreed that Iran would begin installing thousands of advanced centrifuges by 2027.
'Peaceful Nature'
The Iranian nuclear deal stresses that Iran would "ensure the exclusively peaceful nature of Iran's nuclear program."
However, secret documents obtained by Israel showed that Iran had been working on a nuclear weapon under the name "Project Amad."
It also revealed that Iran had maintained all its nuclear know-how by storing it in vaults in an undisclosed location.
Flawed Monitoring
In announcing the nuclear deal in July 2015, Obama said the International Atomic Energy Agency would "have access where necessary, when necessary" to any suspicious locations.
Iran, however, has prohibited inspections of its military sites, despite that they were previously used for the country's nuclear program.
Under the agreement, it could also take up to 24 days to get permission to visit a site, allowing Iran to make preparations and move or hide nuclear equipment it would not want found.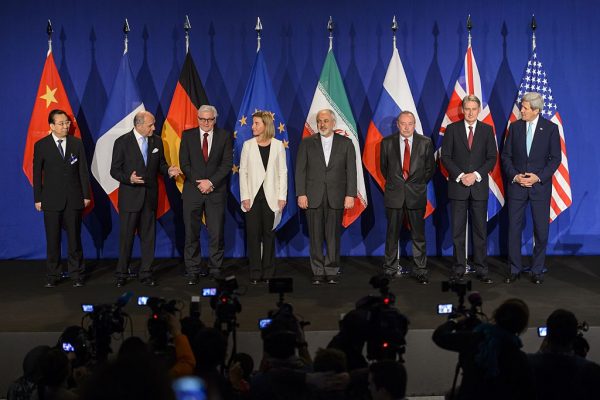 The five permanent members of the U.N. Security Council—the United States, Russia, China, the United Kingdom, and France—with Germany in addition are known as the P5+1. They are signatories to the Iran nuclear deal.
In recent months, France, Germany, and the United Kingdom have attempted to pressure Trump to stay in the deal.
"Western countries in Europe are pushing the U.S. to stay in the Iran deal, because they have huge investments in Iran," said a defense contractor, speaking on condition of anonymity.
Rosatom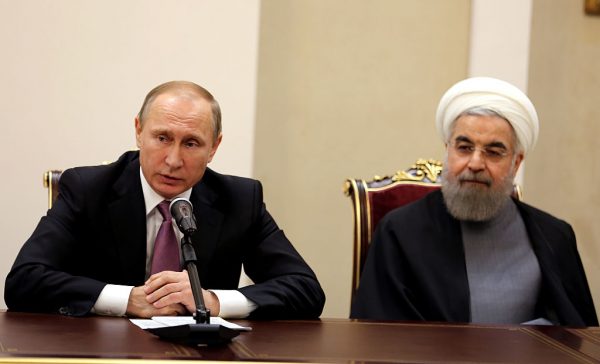 Russia's atomic agency, Rosatom, built and managed Iran's Bushehr nuclear power plant, supplied the facility with enriched-uranium rods, and trained Iran's nuclear scientists.
The first part of the project has been operational since May 2011, and additional reactors that are part of Phase 2 are currently under construction.
The nuclear deal had no impact on Russia's ability to build nuclear reactors in Iran.
Uranium One
In 2010, shortly after the "Russia reset," the Obama administration approved a deal for Rosatom to acquire a majority stake in the Canadian mining company Uranium One, which controlled 20 percent of uranium mining capacity in the United States.
The deal was controversial on many levels. Rosatom was involved in the nuclear programs of North Korea and Iran, and the United States had intelligence on Russian bribery operations around the deal. The deal was approved by the Committee on Foreign Investment in the United States (CFIUS), which included the State Department, then headed by Hillary Clinton. As the deal went through, at least $31.3 million was paid to the Clinton Foundation.
After Uranium One was obtained by Russia's atomic agency Rosatom with the Obama administration's approval, uranium mined in the United States was exported to Canada and Europe, with the final destination unknown.
This violated terms of the Uranium One deal and promises made to U.S. Congress by the Nuclear Regulatory Commission that the nuclear material could not be exported from the United States. Four members of the U.S. House Committee on Foreign Affairs warned of the deal in a joint letter in 2010, stating, "We remain concerned that Iran could receive uranium supplies through direct or secondary proliferation."
Project Amad
Iran was in the process of developing nuclear weapons, but following the Gulf War, in 2003, Iran was forced to shelve its nuclear program known as Project Amad. It did not abandon the programs, however, and instead moved to a new strategy of developing nuclear technology under a peaceful facade, while continuing the nefarious parts covertly. The plan came from top leadership of Iran to include a public element used to obtain dual-use technologies and a covert program to secretly advance its nuclear agenda.
Secret Program Vault
When Iran shelved Project Amad, it moved its files to a secret location. In 2017, Iran moved these files to another secret location, this time in the Shorabad District of Tehran, disguised on the outside as an old warehouse. Israel obtained 55,000 pages and an additional 55,000 files on 183 CDs from the vault, and exposed the program.
The Israeli operation exposed incriminating evidence against Iran including documents, charts, presentations, blueprints, photos, and videos. Israeli Prime Minister Benjamin Netanyahu stated in an exposé on the program that Israel "can also prove that Iran is secretly storing Project Amad material to use at a time of its choice to develop nuclear weapons." He noted the mission statement of Project Amad was to "design, produce, and test" nuclear weapons, which documents show included "five warheads, each with 10-kiloton TNT yield, for integration on a missile."
Iran's Repeated Lies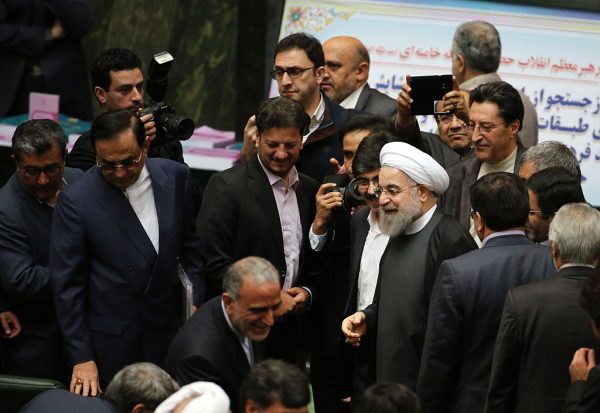 Project Amad revealed that Iranian leaders had repeatedly lied about their nuclear weapons ambitions. Among these lies was Iran Supreme Leader Ali Khamenei's statement that "the Islamic Republic has never been after nuclear weapons."
Another was from Iran President Hassan Rouhani, when he said, "Nuclear weapons and other weapons of mass destruction have no place in Iran's security and defense doctrine and contradict our fundamental religious and ethical convictions."
Iran Foreign Minister Javad Zarif also stated: "We didn't have any program to develop nuclear weapons. Anyway, we consider nuclear weapons both irrational as well as immoral."
"Tonight, I'm here to tell you one thing: Iran lied," said Israeli Prime Minister Benjamin Netanyahu while exposing Project Amad. "After signing the nuclear deal in 2015, Iran intensified its efforts to hide its secret nuclear files."
Operation Merlin
In 2000, then-President Bill Clinton signed off on an operation that passed designs for nuclear weapons to Iran. Under the operation, known as Operation Merlin, a Russian nuclear engineer who had defected to the United States was paid by the CIA to provide flawed nuclear weapons blueprints to Iranian representatives to the International Atomic Energy Agency.
The problem, however, was that the Iranian representatives quickly noticed the flawed parts of the blueprints, and the information may have inevitably assisted Iran in its programs to develop nuclear weapons. According to an article published by The Guardian, Iran had obtained separate and functional blueprints from a network tied to Pakistani scientist Abdul Qadeer Khan, which allowed them to cross-examine the CIA blueprint. The article states, "Nuclear experts say that they would thus be able to extract valuable information from the blueprints while ignoring the flaws."
Former CIA case officer Jeffrey A. Sterling was convicted under the Obama administration for leaking classified information on the program to New York Times reporter James Risen, who published the information in his 2006 book "State of War." The book was criticized for revealing the program to Iran.
Operation Merlin was launched a year after Iran started Project Amad to develop nuclear weapons in 1999 and may have played a key role in its nuclear weapons program.
Terrorism and Anti-American Hostilities
The Iran deal was signed with full awareness of the anti-American sentiments of Iran's leaders, and of Iran's programs to sponsor terrorism and destabilization operations around the world. In 2013, Rouhani stated, "Saying 'death to America' is easy. We need to express 'death to America' with action."
National security adviser John Bolton said in a statement on May 8: "Lifting the sanctions, as happened in 2015 as a result of the [Iran] deal, helps fuel the activity that Iran is undertaking now in Syria, its support for terrorist groups all around the region and the world, like Hezbollah and Hamas. To really deal with this threat and try to bring peace and stability to the Middle East, and to relieve the world of the nuclear threat, you have to go after the whole thing."
Terrorism
Iran is the world leader in state-sponsored terrorism, and its main tool in these operations is its Islamic Revolutionary Guard Corps-Quds Force (IRGC-QF). A 2015 report from the State Department's Bureau of Counterterrorism stated that "in 2014, Iran's state sponsorship of terrorism worldwide remained undiminished," and that it was using the IRGC-QF, its Ministry of Intelligence, and Hezbollah. In addition, Iran provides military support to the terrorist group Hamas for its operations in the West Bank and Gaza. It states, "Israeli experts believe that Iran is trying to arm Hizballah with advanced weapons systems such as anti-air and anti-ship cruise missile systems, as well as continuing to transfer long-range rockets into Lebanon."
According to a March 2018 report from the nonpartisan Congressional Research Service, the State Department says Iran remains the "foremost state sponsor of terrorism" in 2016, and the director of national intelligence, Dan Coats, said in 2017 that Iran "continues to be the foremost state sponsor of terrorism."
Hezbollah Drug Trafficking
Hezbollah, an Iran-backed terrorist organization, is heavily involved in drug trafficking through the Middle East, West Africa, Latin America, Europe, and the United States. The money from its drug operations is used to finance its activities of terrorism and subversion.
The United States had a law enforcement campaign to go after the Hezbollah drug operations, yet, according to a 2017 article from Politico, the law enforcement campaign was "derailed" by the Obama administration. It notes that the campaign, known as Project Cassandra, was launched in 2008 after the Drug Enforcement Administration (DEA) found that Hezbollah had become not only a militant and political organization, but also an international drug syndicate with an estimated $1 billion in revenue each year from weapons trafficking, drugs, money laundering, and other forms of crime.
Politico states that as the DEA operation reached the "innermost circle of Hezbollah and its state sponsors in Iran," however, that the Obama administration "threw an increasingly insurmountable series of roadblocks in its way." When U.S. law enforcement agents "sought approval for some significant investigations, prosecutions, arrests and financial sanctions, officials at the Justice and Treasury departments delayed, hindered or rejected their requests."