When Disaster Strikes, So Do Scammers
March 8, 2011 9:29 pm Last Updated: March 9, 2011 12:35 am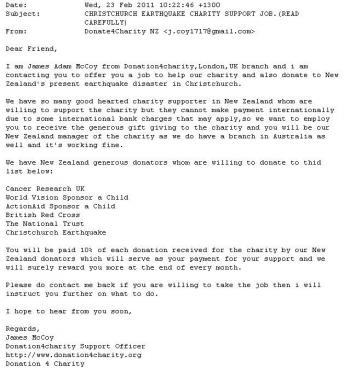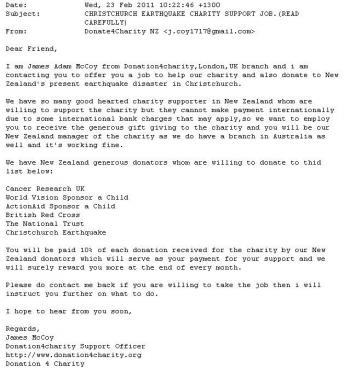 Mere hours after the powerful 6.3-magnitude earthquake struck Christchurch, New Zealand, on Feb. 22, the first online scams popped up.
Richard Parlett, who runs the Scam Watch program for New Zealand's Ministry of Consumer Affairs, thought he was getting a jump start on the criminals when he prepared to send out a preemptive message the day after the quake telling people to be aware that scams could appear.
"Literally, just as I was about to put that up on our website, we started getting reports in of an e-mail that was going around saying it was from a charity in the U.K. collecting for New Zealanders." The scammers used the name of a legitimate charity, but the e-mail address was fake.
The following day, Parlett said he started getting reports of a fake Red Cross website. An e-mail was going around directing people to the fake site to collect their personal and credit card details.
Paul Scoringe, Marketing & Communications manager for New Zealand Red Cross, said they received about 25 e-mails from people telling them about the scam, one of whom had actually given the scammers their credit card details. Scoringe said they quickly put out a press alert, and went to the relevant government units to get advice.
"We haven't had any e-mail about that since Feb. 28. I think we pretty quickly identified the concerns and told people about it," he said.
It's the first time the New Zealand Red Cross has been the target of electronic fraud, but it was also the branch's first international-level collection campaign.
Two other scams that have emerged in New Zealand targeted quake victims themselves. The first was an e-mail supposedly from ANZ bank asking customers to update their customer registration number and password because the bank lost some records in the quake.
The newest hoax e-mail to surface was on March 8. It purports to be from the United Nations, telling victims they will receive $450,000 in quake compensation after they wire transfer $15,000 to the U.N.
Parlett says he also knows of fraudsters pretending to be from the state Earthquake Commission, a real government organization, and of people collecting donations on the street for quake victims and then putting the money into their own pockets. These cases fall into the category of fraud rather than scams, and so fall under police jurisdiction, not his.
Terry Gudaitis, director of Cyber Intelligence for Cyveillance—a company that provides intelligence-based online security against brand, identity, and information theft—says it is extremely common to see a spike in charity scams after disasters or mass upheaval such as in Libya right now. The scammers are looking for cash, but are also after your personal details to commit identify theft.
In the case of Hurricane Katrina, the problem became so pronounced that U.S. authorities established a task force to investigate and deter fraud related to the disaster.
The downside of keeping the public alerted to scams to watch out for is that they may get scared off from donating.
In a recent study in Canada, 53 percent of respondents said they are less likely to give to charities because of concerns about charity fraud, and 65 percent reported an increased concern over the possibility of fraud—particularly in the wake of a natural disaster.
Kirsten Beardsley of CanadaHelps, a one-stop charity donation clearing house in Canada, attributes the high level of distrust largely to media coverage of charity fraud in Haiti.

Beardsley says that while the number of victims of charity fraud isn't growing, concern around false soliciting is, with the occurrence of natural disasters heightening that concern.
However, she doubted that the New Zealand quake would prompt the same level of fundraising—or the same rash of scams—as Haiti did.
"New Zealand is a developed country and we tend to not pour our support into those kinds of areas. I don't think that fundraising amounts will match what we've seen in Haiti, for example," Beardsley said.
Gudaitis from Cyveillance points out that there's nothing new about these types of scams. In the 15th and 16th centuries, during the time of the plague, polio, and tuberculosis epidemics, there were scammers too.
"Those snake oil salesmen came out much the way these fraudulent charities and fraudsters are coming out today—they just have a lot more tools to use," she said, referring to the Internet, mobile phones, and social networks.
"It's not just in the geographic area where the horse and buggy can get to," she said.
The professionals all offered similar advice to charity-givers to avoid being scammed: don't respond to appeals that seek you out, but do your own research; directly type in the home page address of a charity you trust; and use multiple means, such as looking up their number in the white pages and calling, to verify a charity before giving.