GANGNEUNG, South Korea—Olympic ice dancing champions Tessa Virtue and Scott Moir will take a seat in the stands and become part of Canada's fanbase in Pyeongchang after stepping down from the podium, they said on Tuesday.
The pair have been moved by the support of the large contingent of red-and-white clad Team Canada supporters who erupted when they finished their record-setting free dance routine to bag their second gold of the Games.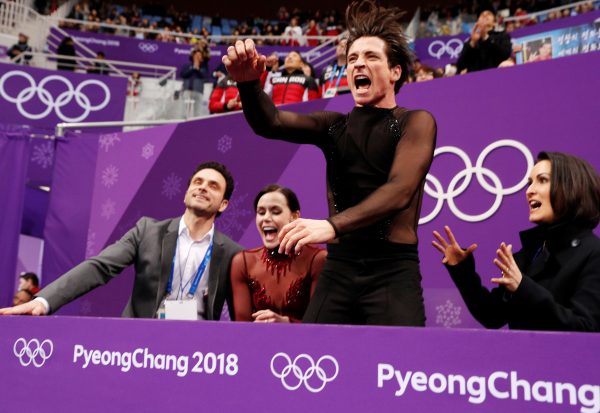 "We felt the support of our team mates out there today—the Canadians in the crowd and Canadian athletes from our team," Moir said after a competition widely expected to be their last.
"That was so special to us and we're going to return that favour," he said. "We just can't wait to be fans.
Speechless.
This is the moment we have dreamed about. Thank you, from the bottom of our hearts, for all of the support.
This one is for you, Canada!
??❤️??#VirtueMoir #XX #PyeongChang2018 pic.twitter.com/EAt0EYm8bO

— Tessa Virtue (@tessavirtue) February 20, 2018
"Hopefully, we behave ourselves but we are going to get a little loose," Moir added with a laugh.
Before they pop the champagne, the pair will do all they can to connect with their fans back home.
"It's our job to share this medal with Canadians so we'll be doing a little bit of media,"Moir said.
"Hopefully, we can catch even one kid who is waking up before school tomorrow so he can see us with the medal and get inspired."
We did it T! #olympicchampions #pyeongchang2018 #virtuemoir pic.twitter.com/qHvTClsh7r

— Scott Moir (@ScottMoir) February 20, 2018
Victory capped an incredible comeback for 28-year-old Virtue and 30-year-old Moir, who retired after the Sochi Games but returned to dominate the sport and make their case for being the greatest ice dancing duo of all time.
Olympic ice dance champions ?
World record in short dance ?
Opening Ceremony flag bearers??

Tessa Virtue and Scott Moir make their last dance one to remember at #PyeongChang2018. Golden details ? https://t.co/1l5GPgTbs6 #TeamCanada | #TessaAndScott pic.twitter.com/7nlTpDOuSI

— Team Canada (@TeamCanada) February 20, 2018
They insisted, however, that they were not ready to accept that title and heaped praise on others.
"It's incredibly flattering but it's hard to really wrap our heads around, especially so close to this event," Virtue told reporters.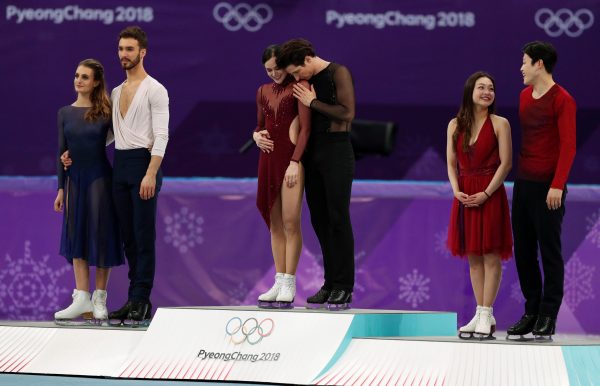 "We're grateful for the legends that came before us, they really paved the way."

Tessa Virtue and Scott Moir perform at the ice dance free dance competition during the Pyeongchang 2018 Winter Olympics on Feb. 20, 2018. (Reuters/John Sibley)
With Tuesday's triumph and their win in the team event last week, the pair now have five Olympic medals, including three golds.

Tessa Virtue and Scott Moir celebrate after their performance at the ice dance free dance competition final during the Pyeongchang 2018 Winter Olympics. (Reuters/Lucy Nicholson)
"With such a rich history of ice dancers, we're standing on their shoulders today," Virtue said.
Reporting by Rory Carroll
Recommended Video:
How Doctors in China Turn into Murderers