CARACAS—Seven protests against Venezuela's socialist government were planned in Caracas on Thursday, one for each of the Supreme Court judges who passed a ruling last week taking control of the country's opposition-led congress in what demonstrators said was a lurch toward dictatorship.
While the widely condemned decision was quickly overturned, it has given the country's disparate opposition a new impetus against a leftist government it blames for the country's social and economic collapse.
Protesters were assembling at seven designated points in capital city Caracas to march to a major highway. This is likely to lead to clashes with security forces, something that has often happened in Venezuela.
"The objective is to put the magistrates on trial (and) get the government to publish an electoral timetable," opposition lawmaker Stalin Gonzalez told Caracas-based Union Radio. "This country has changed and wants to get out of the crisis."
The opposition's primary demand now is to hold the next presidential election before its scheduled date at the end of 2018 to push out Socialist President Nicolas Maduro.

"We live in a dictatorship, and the only way out of a dictatorship is to take to the streets," said 20-year-old student Victor Sanchez.
New Impetus
Venezuela is suffering from triple-digit inflation, shortages of basic foods and medicines, and one of the world's highest murder rates.
Tensions have been simmering this week after tear gas and rocks flew between protesters and security forces during a major demonstration on Tuesday. The confrontations injured 20 people and led to 18 arrests, according to the Caracas-based Penal Forum rights group.
The opposition says it faces growing persecution. The leader of one of its parties, Copei, sought refuge in the home of the Chilean ambassador in Caracas on Wednesday, according to that country's foreign ministry.
Maduro's government says a U.S.-backed business elite is responsible for Venezuela' economic downturn and is now trying to foment a coup to impose right-wing rule. His supporters were also planning to march in Caracas on Thursday.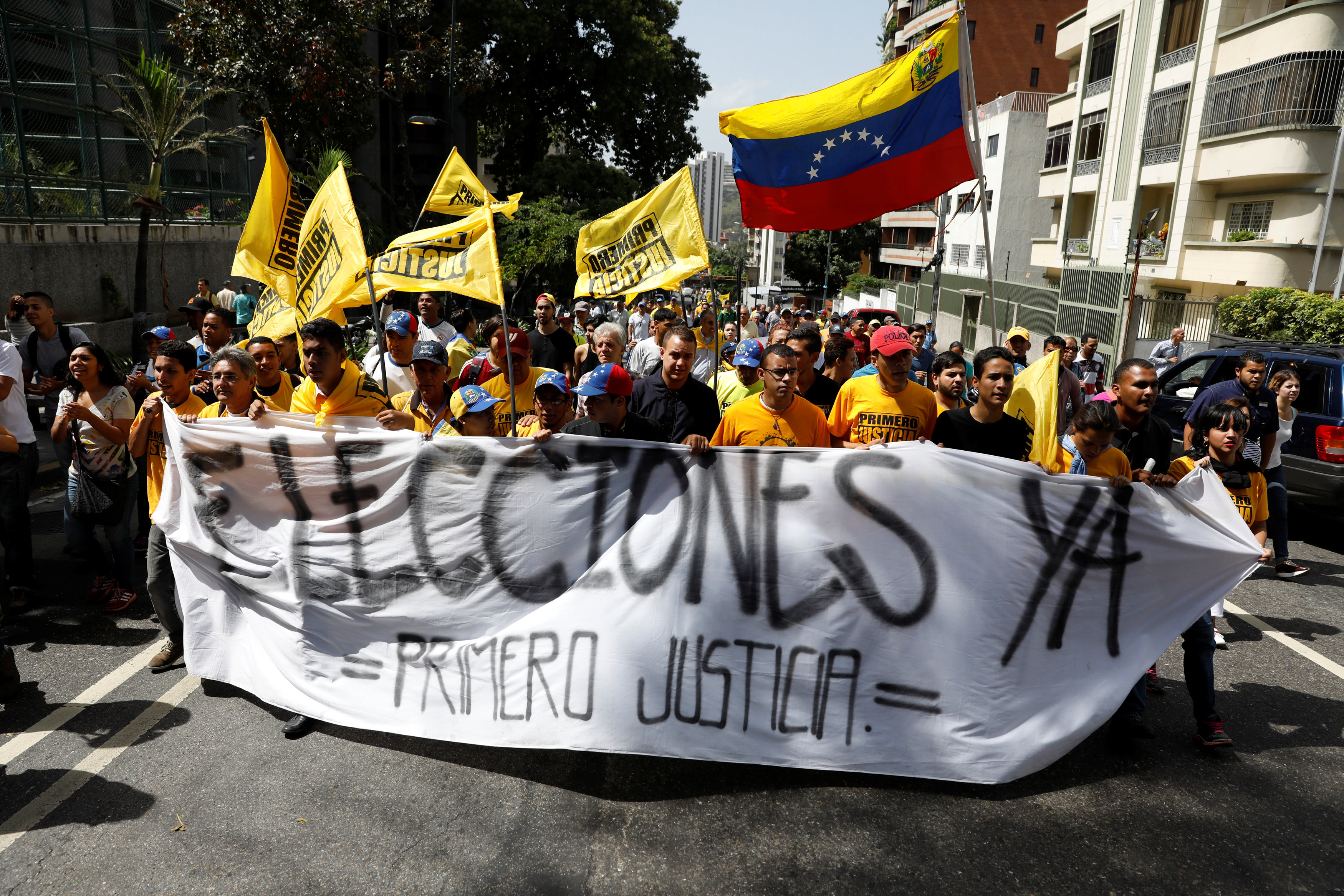 Opposition protests were slow to kick off on Thursday as authorities had closed subway stations and added checkpoints to major highways.
"They can do whatever they want, but the people of Venezuela will today make their voices heard on the streets," tweeted opposition lawmaker Juan Requesens, who has led protests this week.
Not since 2014's major unrest has the opposition held such sustained demonstrations. Still, working against them is protester fatigue, fear of violence, and the fact so many Venezuelans need to spend much of their day looking for food.