A 21-year-old student from the University of Southern California, who was shot in a possible robbery in the vicinity of the campus, died on Mar. 10, according to the Los Angeles Police Department.
Victor McElhaney, who was studying music at USC Thornton School, was reportedly shot around 12:20 a.m. at the corner of Maple Avenue and Adams Boulevard, which is 1.5 miles away from USC's main campus.
First responders found McElhaney suffering critical injuries after arriving at the scene. The student was soon sent to a local hospital for treatment, but died of his injuries around 11:00 a.m. at the hospital.
#BREAKING USC student shot, killed, in off-campus robbery attempthttps://t.co/8JS5pLPHlW pic.twitter.com/Ki2z9FODyx

— ABC7 Eyewitness News (@ABC7) March 10, 2019
Police told USC Annenberg Media that a group of men had approached the victim in a possible attempted robbery. One of the suspects then shot McElhaney before they fled in a vehicle.
Investigators are still working on identifying the suspects. No arrest has been made by the police as of Monday.
"It is with the utmost sadness that I share with you the tragic news that my son, Victor McElhaney, was slain last night in a senseless act of violence," said the victim's mother Lynette Gibson McElhaney, who serves as a councilmember of Oakland, in a written statement.
"Victor was a son of Oakland. He was a musician who drew his inspiration from the best, soul, and sound of the Town and he belonged in every nook and cranny of Oakland," she continued.
Statement from Oakland Councilwoman Lynette Gibson McElhaney on the death of her son, Victor, early this morning. https://t.co/bs6zUE5rYv
via @KVeklerov pic.twitter.com/fmislgi1lK

— Dominic Fracassa (@DominicFracassa) March 11, 2019
A letter sent to USC students from the university after the incident reveals that Victor transferred to USC from California State University East Bay in the fall of 2017 and was actively involved with USC's Center for Black Cultural and Student Affairs.
"He believed in the power of music to touch lives, to heal, and to bring hope. He enjoyed mentoring young musicians and had a long-standing commitment to community service," the letter states.
Just two days before the incident, the last suspect involved in robbing and killing another USC student in 2014 was sentenced to life in prison without the possibility of parole.
Xinran Ji, a 24-year-old electrical engineering graduate student from China, was brutally attacked by a group of four while walking back to his apartment on July 24, 2014. He managed to stagger away from the scene but was found dead in his bed the next morning.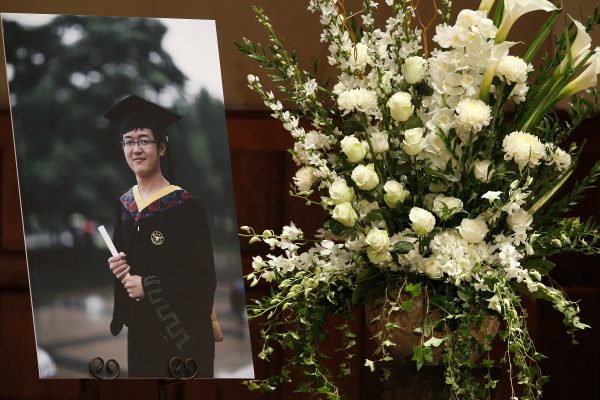 Alberto Ochoa, the last suspect convicted, received his sentence on Mar. 8 for his role in beating Ji to death with a baseball bat.
"Mr. Ji suffered through a nightmarish and hellacious beating," said Deputy District Attorney John McKinney last December. "The coroner described the blows to his head as blows that he typically sees in high-impact car accidents."
The panel also found Ochoa guilty of one count each of assault with a deadly weapon, robbery and attempted robbery involving an attack on a man and woman at Dockweiler Beach about two hours after Ji's beating.
Other suspects, Alejandra Guerrero, now 20, and Andrew Garcia, now 23, are each serving life prison terms without the possibility of parole after being convicted of first-degree murder and other charges. The getaway driver, Jonathan Del Carmen, now 23, was sentenced to 15 years to life in state prison after pleading guilty to second-degree murder.
Ji's killing occurred two years after two other USC graduate students from China were shot to death during an April 2012 robbery as they sat in a car that was double-parked on a street near the USC campus.
Two men—Javier Bolden and Bryan Barnes—were convicted and sentenced to life in prison without the possibility of parole for the killings of Ying Wu and Ming Qu, who were both 23.
City News Service contributed to this report.