Australia will host the next Quadrilateral Security Dialogue with America, India, and Japan in mid-February as it seeks to "actively shape and influence" the Indo-Pacific region and counter China's ambitions.
U.S. Secretary of State Antony Blinken will join India's Foreign Minister ­Subrahmanyam Jaishankar, and Japan's Foreign Minister Yoshimasa Hay­ashi in Melbourne, Australia for the next meeting of "the Quad."
Australia's Foreign Minister Marise Payne said in a statement to The Epoch Times on Tuesday that the Quad was working together to stabilise and build resilience in the Indo-Pacific region.
"We are a vital network of liberal democracies co-operating to give our region strategic choices, with a focus on practical steps to build the resilience and sovereignty of all states," Payne said.
"This is a further demonstration of the Morrison gov­ernment's efforts to actively shape and influence our region and world by deepening partnerships at a time of strategic competition, threats to liberal international order, and increasing uncertainty."
Discussions will focus on the growing threat from China in the Indo-Pacific and Russia in Europe, as well as issues of national and regional security.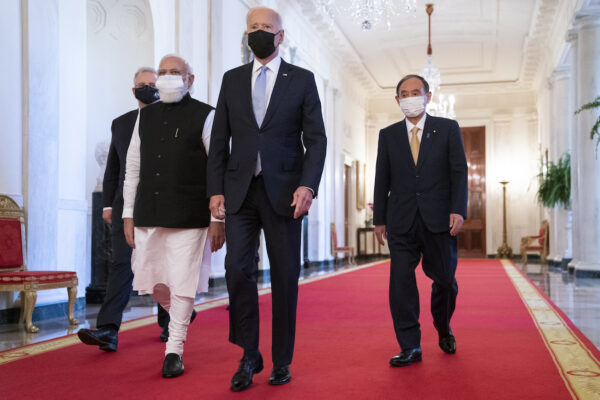 Maritime, cyber security, vaccine distribution, space, and countering disinformation from countries like Russia and China will also feature in discussions.
It will be the first time a high-ranking member of the Biden administration will visit Australia and comes after Blinken, in a release on Jan. 26, signalled the importance of Australia's alliance with the United States, calling it an anchor for peace and stability in the Indo-Pacific region.
"Our century-long mateship is an anchor for peace and stability in the Indo-Pacific region and around the world, underpinned by shared democratic values, common interests, and cultural affinities," said Blinken. "We are proud of our alliance and the strength of our economic, academic, and people-to-people ties."
The U.S. secretary of state went on to say that the friendship between the United States and Australia remained steadfast and resolute. He affirmed the Biden administration's belief in the value of the alliance via its commitment to AUKUS—the trilateral security partnership between Australia, the United Kingdom, and the United States.
The Quad was first formed in 2007 by former Japanese Prime Minister Shinzo Abe. Since 2020 the dialogue has met on a semi-regular basis to discuss regional economic issues and hold joint military drills to practice interoperability.
The security alliance, which Abe hoped would bring an arc of democracy around the Indo-Pacific, has been widely viewed as an alliance to counter the rise of China in the region.