Leaders of the United States, Australia, India, and Japan, released a lengthy joint statement on Friday, in part declaring their commitment to a "free and open Indo-Pacific" that is "undaunted by coercion" amid continued efforts from communist China to wrestle influence over the globe.
The statement from leaders of "the Quad," or Quadrilateral Security Dialogue, was released shortly after their first-ever in-person meeting, which lasted two hours at the White House in Washington, D.C.
The Quad was originally established in 2007 and has periodically met since. The strategic dialogue between the democratic countries is widely viewed as a response to communist China's rising economic and military power.
"On this historic occasion we recommit to our partnership, and to a region that is a bedrock of our shared security and prosperity—a free and open Indo-Pacific, which is also inclusive and resilient," reads the statement from President Joe Biden, Australian Prime Minister Scott Morrison, Indian Prime Minister Narendra Modi and Japanese Prime Minister Yoshihide Suga.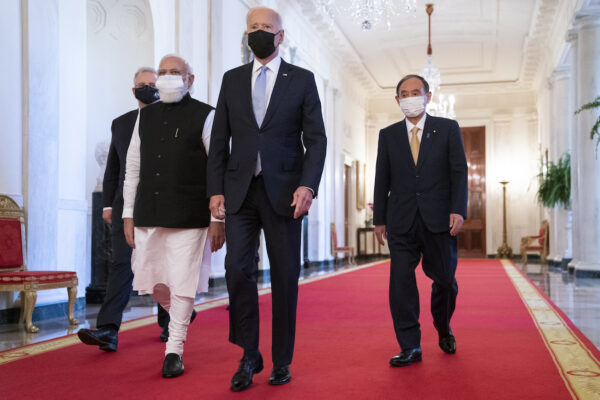 "Together, we recommit to promoting the free, open, rules-based order, rooted in international law and undaunted by coercion, to bolster security and prosperity in the Indo-Pacific and beyond," they said. "We stand for the rule of law, freedom of navigation and overflight, peaceful resolution of disputes, democratic values, and territorial integrity of states. We commit to work together and with a range of partners."
While China was not directly mentioned in the latest joint statement, it plays a big part in the private talks, reported The Associated Press.
Suga told reporters after the meeting that the leaders "frankly discussed issues ranging from the coronavirus pandemic, climate change, new technology and other regional issues affecting the Indo-Pacific region." He said the Quad meeting was "a very meaningful meeting for the four countries and our cooperation in order to achieve the free and open Indo-Pacific."
"The four nations are carrying out [coronavirus] vaccine policies at an incomparable scale and we also agreed to further promote cooperation in areas such as infrastructure, space, clean energy, and people exchanges," Suga also said, adding that the countries agreed to hold a summit meeting every year.
Securing the Indo-Pacific
The leaders pledged in the joint statement that they would "continue to champion adherence to international law …  to meet challenges to the maritime rules-based order, including in the East and South China Seas." They voiced support for small island states, "especially those in the Pacific," to "enhance their economic and environmental resilience."
The Chinese Communist Party (CCP) has in recent years increased its military presence in the South China Sea and claimed sovereignty over some areas in the East China Sea over which Japan is administering. Suga raised concerns over the CCP's intentions in the region, reported the AP.
He furthermore expressed concerns over China's actions toward Taiwan, Japan's foreign press secretary Tomoyuki Yoshida said, according to the news agency. The CCP had sent 24 jets into Taiwan's airspace on Sept. 23, just a day after Taiwan applied to join a trans-Pacific trade pact.
The Quad leaders also urged for the complete denuclearization of North Korea and called for the country to "engage in substantive dialogue" over its nuclear weapons and ballistic missile programs.
North Korea has refused to consider denuclearization unless sanctions are lifted. A U.N. Atomic Watchdog said in late August that Pyongyang appears to have restarted a nuclear reactor.  Last week, North Korea announced that it launched ballistic missiles from a train for the first time that accurately struck a target 497 miles (800 kilometers) in the sea off North Korea's east coast. The move comes after it had tested new cruise missiles capable of hitting targets 930 miles (1,500 kilometers) away, putting all of Japan and U.S. military installations there within reach.
The leaders also discussed the situation in Afghanistan and emphasized in their joint statement "the importance of denying any logistical, financial or military support to terrorist groups which could be used to launch or plan terror attacks, including cross-border attacks."
Critical Materials
Separately, Quad leaders said that their respective nations are mapping the supply chain of critical technologies and materials, including for semiconductors. They also recognized the importance of government support measures and policies in this field.
Leaders launched a statement of principles titled "Quad Principles on Technology Design, Development, Governance, and Use," which appears to be a list of principles that aspires to "responsible, open, high-standards innovation."
One point from the guide reads, "Technology should not be misused or abused for malicious activities such as authoritarian surveillance and oppression, for terrorist purposes, or to disseminate disinformation."
The joint statement also said leaders are beginning "new cooperation in cyber space and pledge to work together to combat cyber threats, promote resilience, and secure our critical infrastructure."
COVID-19 pandemic
The Quad had met virtually earlier this year in March and formed the Quad Vaccine Partnership, pledging to donate at least 1 billion doses of the COVID-19 vaccine globally by the end of 2022 in efforts to combat the pandemic. The joint statement said that efforts to that end continue and that to date, nearly 79 million doses of COVID-19 have been delivered to Indo-Pacific nations under those commitments.
Quad leaders said they welcome India's announcement to resume export of COVID-19 vaccines, including to the worldwide COVAX program, starting in October 2021. India had banned exports in April amid a spike in COVID-19 cases in the country. Modi said that it is prepared to export some 8 million COVID-19 vaccine doses, India's foreign secretary said.
Japan is set to work with India on a $100 million investment in COVID-19 vaccine and treatment drugs, according to a White House fact sheet. Quad leaders said the four countries plan to have a joint pandemic-preparedness tabletop exercise in 2022.