Washington reassured Taipei that its stance on the island has not changed, one day after President Joe Biden revealed that China had agreed to abide by the "Taiwan agreement," the Taiwanese Foreign Ministry said on Oct. 6.
The ministry's spokeswoman Joanne Ou said on Wednesday that the ministry had reached out to the United States and it will continue to assist Taiwan in maintaining adequate self-defense capabilities.
Ou also thanked President Joe Biden for what she called a "rock solid" commitment—in both words and deeds. "We have also seen that the Biden administration has been seriously concerned about China's provocative actions on various public occasions over the past few days," she said.
Biden said on Oct. 5 that he and Chinese leader Xi Jinping will both comply with the agreement on Taiwan, a consensus reached during a 90-minute phone call last month. The president appeared to be referring to the longstanding "one-China policy" upheld by Washington, which asserts that there is only one sovereign state with the name "China."
Yet the policy allows the United States to maintain a non-diplomatic relationship with Taiwan based on the Taiwan Relations Act, to supply Taiwan with military equipment for the island's self-defense.
"I don't think he [Xi] should be doing anything other than abiding by the agreement," Biden told reporters.
The remarks came after the CCP sent a record total of 150 aircraft into Taiwan's air defense zone in five consecutive days starting on Oct. 1—the 72nd anniversary of the regime's one-party rule—escalating tensions between the two neighbors.
"We really need to see China cease some of the actions that it's taken," Secretary of State Antony Blinken said on Oct. 6, calling the maneuvers both "provocative and potentially destabilizing."
Taiwanese Ministry of Foreign Affairs also stressed that Taiwan will continue to strengthen its self-defense capabilities against Chinese coercion.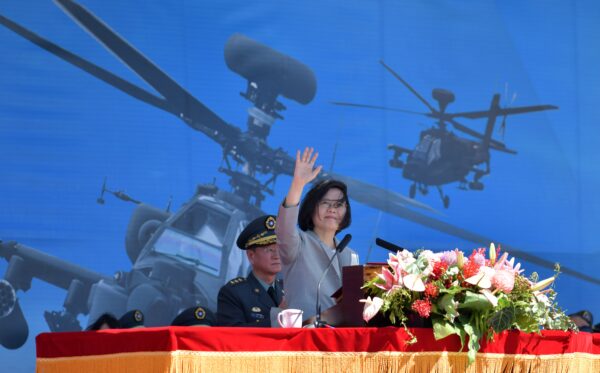 Beijing has seen for decades the self-ruled island as its breakaway province since the Communist Party seized power in 1949, and claimed it would achieve unification by military force if needed.
Although Beijing has ramped up military aggression toward the de facto independent country, more Western allies have pursued informal diplomatic ties with Taipei, triggering anger in Beijing.
On Thursday, Tsai hosted a visiting delegation of French senators that arrived in Taiwan. She will later meet the visiting former Australian prime minister Tony Abbott.
The Taiwan president told the delegation on Thursday that Taiwan will continue to play its role as a member of the international community. A day earlier, the island's defense minister Chiu Kuo-cheng warned that Beijing will be fully capable of mounting a full-scale invasion of Taiwan by 2025, calling the recent military pressure "the toughest situation" in over 40 years.