The U.S. Department of Defense has outlined a new cyberspace strategy for countering threats from China and Russia, emphasizing a proactive and all-out approach to defense, according to a newly released document.
The document addresses how the Pentagon plans to counter challenges in cyberspace: "persistent campaigns" that "pose a long-term strategic risk to the nation, as well as to our allies and partners." Released on Sept. 18, the document is a detailed response to the National Defense Strategy released in January that identified China and Russia as "the central challenge to U.S. prosperity and security." It replaces a previous cyber strategy released in 2015.
Those challenges include cyber attacks that aren't in the traditional concept of "armed conflict," such as economic espionage and threats to "critical infrastructure," which are areas considered vital to the country such as the water supply, power grid, and transportation systems.
"China is eroding U.S. military overmatch and the nation's economic vitality by persistently exfiltrating sensitive information from U.S. public and private sector institutions," the document indicates, noting that China isn't just threatening the United States' military prowess, but also intellectual property that's vital to its economy.
In order to combat these challenges, the Defense Department said it would engage in "day-to-day competition to preserve U.S. military advantages and to defend U.S. interests," meaning it would "disrupt or halt malicious cyber activity at its source, including activity that falls below the level of armed conflict."
In military terms, "below the level of armed conflict" is a competitive relationship that hasn't escalated to the point of armed conflict, but where one party will seek to prevent a competitor's gains or take action to maintain a strategic position.
"The United States cannot afford inaction: Our values, economic competitiveness, and military edge are exposed to threats that grow more dangerous every day," the document states. Therefore, the Defense Department will be ready to deploy the Army, Navy, Air Force, Marines, and defense contractors.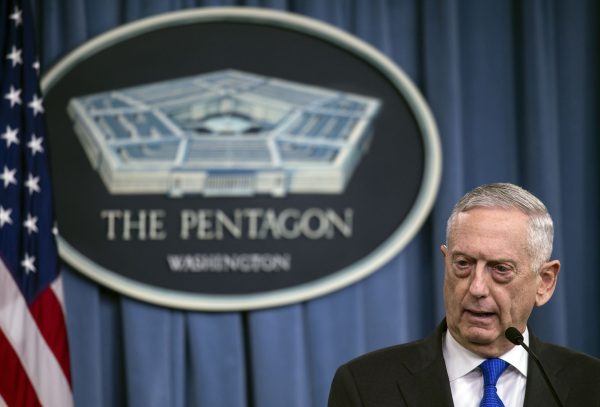 The Defense Department's new commitment to fighting cyber threats beyond traditional warfare coincides with China's increased cyber attacks on the United States and its allies for economic benefit.
In April, security firm FireEye discovered that state-backed Chinese hackers had increased attacks on U.S. companies in order to obtain information related to bid prices, contracts, and acquisitions—allowing Chinese firms to gain business advantages.
In August, tech firm Recorded Future released a report detailing how hackers affiliated with China's prestigious Tsinghua University spied on international entities to help Beijing gain intelligence during early trade negotiations with the United States this year. Business deals with countries under Beijing's One Belt, One Road initiative, whereby the Chinese regime builds infrastructure projects across Asia, Africa, Europe, and Latin America, also were scrutinized.