WASHINGTON—U.S. factory activity edged up in May after slowing for two straight months and private employers stepped up hiring, suggesting the economy is regaining speed after struggling at the start of the year.
The signs of renewed vigor in the economy and labor market tightness could encourage the Federal Reserve to raise interest rates later this month.
The Institute for Supply Management (ISM) said its index of national factory activity ticked up to a reading of 54.9 last month from 54.8 in April. The index hit a 2-1/2-year high of 57.7 in February amid optimism over President Donald Trump's pro-business policy proposals.
It had declined for two consecutive months amid concerns in the business community that political scandals could derail the Trump administration's economic agenda, including its push to cut corporate and individual taxes.
A reading above 50 in the ISM index indicates an expansion in manufacturing, which accounts for about 12 percent of the U.S. economy. The manufacturing recovery remains underpinned by the energy sector as steady increases in crude oil prices boost drilling activity, fuelling demand for machinery.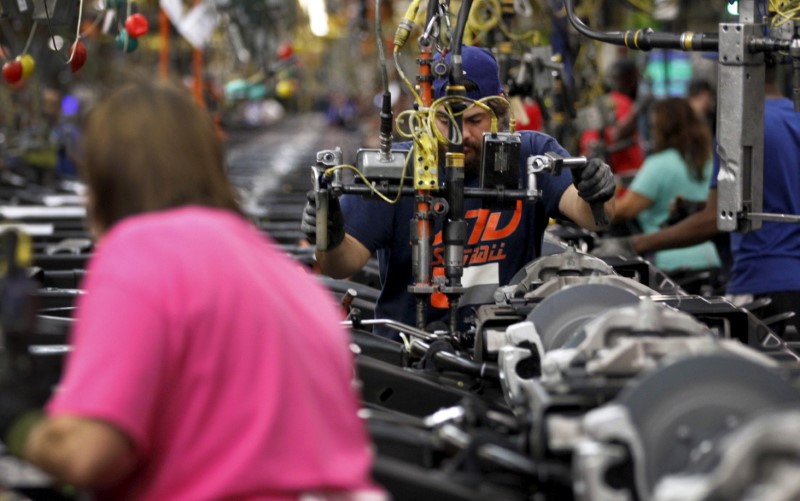 The ISM survey's new orders sub-index increased to 59.5 last month from 57.5 in April. A measure of factory employment jumped to a reading of 53.5 from 52.0 in April.
Prices of U.S. Treasuries were lower in mid-morning trading while U.S. stocks edged higher. The dollar was firmer against a basket of currencies.
The ADP National Employment Report showed private payrolls increased by 253,000 jobs last month, beating economists' expectations for a gain of 185,000 jobs. Private payrolls rose by 174,000 jobs in April.
The ADP report is jointly developed with Moody's Analytics and was released ahead of the Labor Department's more comprehensive nonfarm payrolls report on Friday, which includes both public and private-sector employment.
The ADP report, however, is not a good predictor of the private payrolls component of the employment report. According to a Reuters survey of economists, payrolls likely increased by 185,000 jobs in May after a gain of 211,000 in April. The unemployment rate is forecast to be unchanged at a 10-year low of 4.4 percent.
Economy Firming
Still, the ADP report added to data this week showing an acceleration in consumer spending in April.
The economy grew at a 1.2 percent annualized rate in the first quarter. The Atlanta Fed is forecasting gross domestic product increasing at a 3.8 percent pace in the second quarter.
Minutes of the Fed's May 2-3 policy meeting, which were published last week, showed that while policymakers agreed they should hold off hiking rates until there was evidence the growth slowdown was transitory, "most participants" believed "it would soon be appropriate" to raise borrowing costs.
Related Coverage
The U.S. central bank hiked rates by 25 basis points in March. It is expected to raise rates again at its June 13-14 policy meeting.
In a third report on Thursday, the Labor Department said initial claims for state unemployment benefits jumped 13,000 to a seasonally adjusted 248,000 for the week ended May 27.
It was the 117th straight week that claims were below 300,000, a threshold associated with a healthy labor market. That is the longest such stretch since 1970, when the labor market was smaller.
A Labor Department official said claims for California, Hawaii, Kansas, Kentucky, Louisiana, North Dakota, Texas and Virginia were estimated because of the Memorial Day holiday.
The four-week moving average of claims, considered a better measure of labor market trends as it irons out week-to-week volatility, rose only 2,500 to 238,000 last week.
The Fed said on Wednesday in its Beige Book report of anecdotal information on business activity collected from contacts nationwide that labor markets continued to tighten from early April through late May.
It also said "most" districts had cited worker shortages across a broadening range of occupations and regions.
A fourth report by global outplacement consultancy Challenger, Gray & Christmas showed layoffs announced by U.S.-based employers surged 41 percent to 51,692 in May. Nearly 40 percent of the job cuts were announced by Ford Motor Co., according to the report.