It's 'Miller Time' as U.S. Stuns Canada in Olympic Men's Hockey
February 21, 2010 11:11 pm Last Updated: April 11, 2012 5:06 pm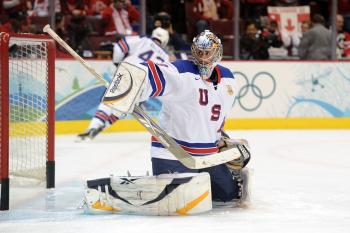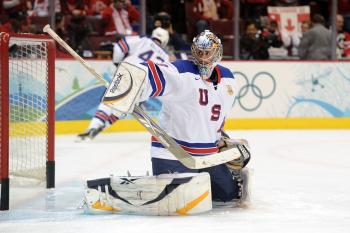 In the main event of "Super Sunday" for Olympic hockey, the U.S. stunned their favored hosts Canada 5–3 to win Group A, earning a bye to the quarterfinals.
U.S. goalie Ryan Miller was the star of the game while U.S. defenseman Brian Rafalski, the oldest player on the team at 36, scored two goals and added one assist.
Miller has been the best goalie in the NHL this season. If the Vezina Trophy was to be awarded today, he'd win it. Miller was simply incredible on Sunday and he outplayed his counterpart Martin Brodeur in the Canadian goal.
Miller was quick to credit his teammates. "It was the most intense I played. I was happy the boys got a few big blocks."
"Five goals against Canada. I thought that was just a great effort by our guys. They did a great job responding to everything. When things happened, we responded. We didn't get nervous or anxious."
Miller was under an onslaught by Canada and wound up making 42 saves.
"Everything was stacked against us but we came out on top. It was for these young players to know that we can beat any team in this tournament and obviously it sets the bar very high for us going into the quarterfinals," said Rafalski.
"We just played solid and Ryan Miller played outstanding for us. They put a lot of pressure on us at the end but we were able to weather through it."
The U.S. wore their vintage white 1960 jerseys to commemorate their Olympic gold medal won at Squaw Valley, Calif. Monday Feb. 22 is actually the 30th anniversary of the Miracle on Ice where the U.S. won Olympic gold at Lake Placid with a historic victory over the Soviet Union.

Early Jump
Less than a minute into the game, Rafalski gave the U.S. the lead as his point shot deflected off Sidney Crosby and past Brodeur.
Canada tied it up when the Chicago Blackhawks duo of Jonathan Toews and Brent Seabrook assisted on Eric Staal's goal. Seabrook floated a puck at Miller's net that Staal deflected just shy of the nine-minute mark.
Brodeur was guilty of some sloppy puck handling in the first period. Ordinarily, puck handling is one of his many strengths as a goalie.
Brodeur decided to swat a puck out of mid-air as if he was playing baseball. But Rafalski was playing center field. He picked up the puck, walked in, and fired a low shot past Brodeur 22 seconds after Canada had tied up the game.



Canada dominated the first period outshooting the U.S. 19–6. By just about every measure, they seemed to be the better team except for one highly important aspect in hockey—goaltending.
In the second period, Dany Heatley slammed home a loose puck after some grinding by Toews to even the score at 2–2.
But New York Ranger Chris Drury then justified his place on the U.S. squad. Known for scoring the big goal, Drury took advantage of more sloppy defending near Brodeur's net and fired home a loose puck late in the second period.
In this game, Canada's veteran defensemen Chris Pronger and Scott Niedermayer were shown to be ineffective.
In the third period, Canada's lack of discipline put them behind the 8-ball. With Corey Perry off for slashing, Rafalski fired a shot that deflected off U.S. captain Jamie Langenbrunner's skate and past Brodeur. The U.S. was now up two goals 4–2.
Sidney Crosby added a consolation goal for Canada before Ryan Kesler sealed the deal with an empty-netter for the U.S.

Disappointment for Canada
You could be forgiven for thinking this was the gold medal match based on the absolute pandemonium of Canadian fans in Vancouver. With Wayne Gretzky, Donald Sutherland, gold medal winner Alexandre Bilodeau among other familiar faces, Canada was geared up for this one.
This was more than a hockey game for Canada. The rivalry with the U.S. has really developed over the past few years and this loss will hurt Canadian pride.
But now, Canada will need to take the scenic route if they want gold.
"It's not the scenario we wanted for sure," said a disappointed Sidney Crosby.
"A lot can happen in a good game and unfortunately we didn't win."
"He [Ryan Miller] made some great saves throughout the game. Especially in the third we threw a lot at him and he made some good ones. we got a few penalties there, it took away from our momentum."
"I thought our desperation was there, we worked hard."
On Tuesday, Canada face Germany with a chance to meet the Russians in the quarterfinals. The U.S. has earned an extra day of rest.
With the pressure of an entire country on their shoulders, Canada failed to deliver. The close match against the Swiss was a reminder that all is not functioning as it should. The U.S. certainly reinforced that on Sunday at Canada Hockey Place.

Additional reporting by Matthew Little in Vancouver