The United States on March 1 imposed new visa restrictions on individual officials and their families who are aligned with illegitimate dictator Nicolás Maduro. At the same time, six Venezuelan government officials associated with the obstruction of humanitarian aid deliveries were specifically named and sanctioned.
Special Representative for Venezuela Elliott Abrams made the visa announcement in a State Department briefing and pledged to continue to take "appropriate action" against Maduro and the corrupt actors who surround him.
The restrictions came a day after Russia and China—staunch supporters of the embattled dictator who have invested billions into his socialist regime—vetoed a U.S. resolution that asked the United Nations Security Council to push for democratic elections and access to humanitarian aid in Venezuela.
"Maduro supporters that abuse or violate human rights, steal from the Venezuelan people, or undermine Venezuela's democracy are not welcome in the United States," Abrams told reporters. "Neither are their family members, who enjoyed a privileged lifestyle at the expense of the liberty and prosperity of millions of Venezuelans."
Today, Special Representative Elliott Abrams for #Venezuela addressed reporters. #EstamosUnidosVE pic.twitter.com/cVGIRen9xa

— Department of State (@StateDept) March 1, 2019
Abrams also urged the international community to "step up economic pressure" against Maduro including restricting visas for his inner circle.
He added that "now is the time to act in support of democracy" in response to the desperate calls of the Venezuelan people—90 percent of whom live below the poverty line.
One the same day, the U.S. Department of the Treasury's Office of Foreign Assets Control (OFAC) sanctioned six Venezuelan government officials associated with the obstruction of humanitarian aid deliveries on Feb. 23 into Venezuela.
Maduro closed off Venezuela's border and deployed official, and unofficial, military and security forces where humanitarian aid convoys were planning to cross. The Treasury department issued an executive order targeting six security officials who were in control of the many groups that had prevented the aid from entering Venezuela.
"Former President Nicolas Maduro's border blockades of trucks and ships loaded with humanitarian aid are the latest example of his illegitimate regime weaponizing the delivery of food and critically needed supplies in order to control vulnerable Venezuelans," Treasury Secretary Steven T. Mnuchin said in a statement.
"We are sanctioning members of Maduro's security forces in response to the reprehensible violence, tragic deaths, and unconscionable torching of food and medicine destined for sick and starving Venezuelans," Mnuchin added.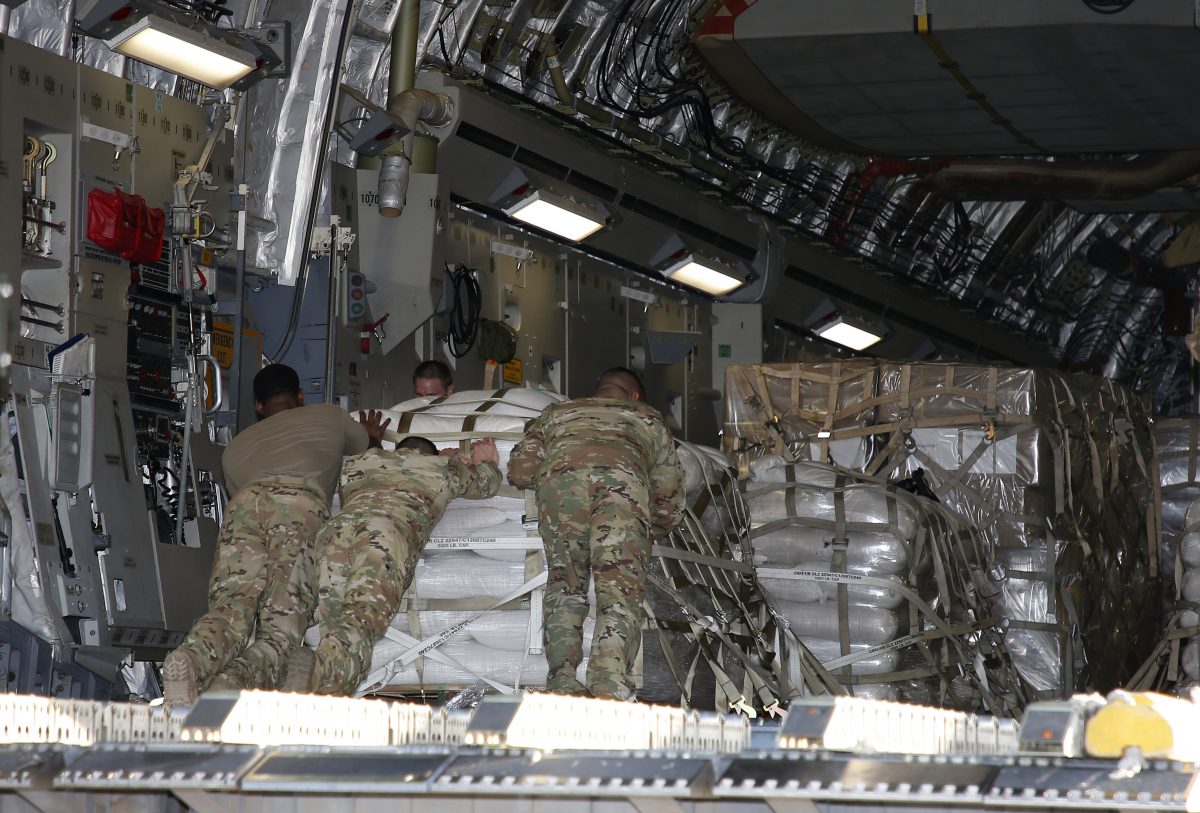 The following targeted individuals have been determined by the United States to be current or former officials of Maduro's government:
Richard Jesus Lopez Vargas, the Commanding General of the Venezuelan National Guard
Jesus Maria Mantilla Oliveros, Commander of the Strategic Integral Defense Region Guayana
Alberto Mirtiliano Bermudez Valderrey, Division General for the Integral Defense Zone in Bolivar State
Jose Leonardo Norono Torres, Division General and Commander for the Integral Defense Zone in Tachira State
Jose Miguel Dominguez Ramirez, Chief Commissioner of the FAES in Tachira State
Cristhiam Abelardo Morales Zambrano, Director of the PNB and a Colonel within GNB.
To aid those suffering under the humanitarian crisis in Venezuela, the United States led a multilateral initiative on Feb. 23 to fund and stage hundreds of tons of humanitarian aid for delivery into struggling nation. But the trucks carrying the supplies across the border from Colombia and Brazil into Venezuela were blocked by Maduro's forces before they could enter. In addition, a vessel carrying aid from Puerto Rico to Venezuela received direct threats of fire by Venezuelan naval ships, according to the Treasury department.
President Donald Trump was was the first world leader to recognize interim president Juan Guaidó as the legitimate leader of the once-prosperous country. Guaidó assumed the position of interim president shortly after the Venezuelan National Assembly declared Maduro "illegitimate."
Guaidó who has met with a number of international politicians including U.S. Vice President Mike Pence, is expected to return back to Venezuela this weekend after more meetings with diplomats.
Abrams told reporters that the United States and a number of other countries are concerned for Guaidó's safety when he returns home amid threats of arrest from Maduro loyalists. He noted that the United States continues to leave all options on the table, while stressing engaging in economic, and diplomatic pressure.
Venezuela, once the richest nation in South America, has been crippled by the socialist policies implemented by Maduro and his predecessor.
With the vast majority of Venezuela's population now living below the poverty line, and more than half of families unable to meet their basic food needs, the U.N. estimates that by the end of 2019, 5.3 million refugees and migrants will have fled the socialist regime in Venezuela.