Ukrainian Paralympic athletes have pushed through their fears and won their biggest haul of gold medals in Beijing as a crisis unfolds at home.
The 2022 Winter Paralympic Games just ended in Beijing. The Ukrainian team stole the show by finishing second in the medal count, winning a record 29 medals, including 11 golds. Ukraine had only sent 20 athletes to the event, while China sent 96 athletes.
On March 8, the fourth day of competition, the Ukrainian Paralympic athletes swept the podium not once, but twice.
In the morning, the Ukrainian women's standing biathlon team earned the country's first 1-2-3 finish in the 10K middle distance event, winning the match's top three medals. Iryna Bui took home gold, Oleksandra Kononova earned silver, and Liudmyla Liashenko won bronze.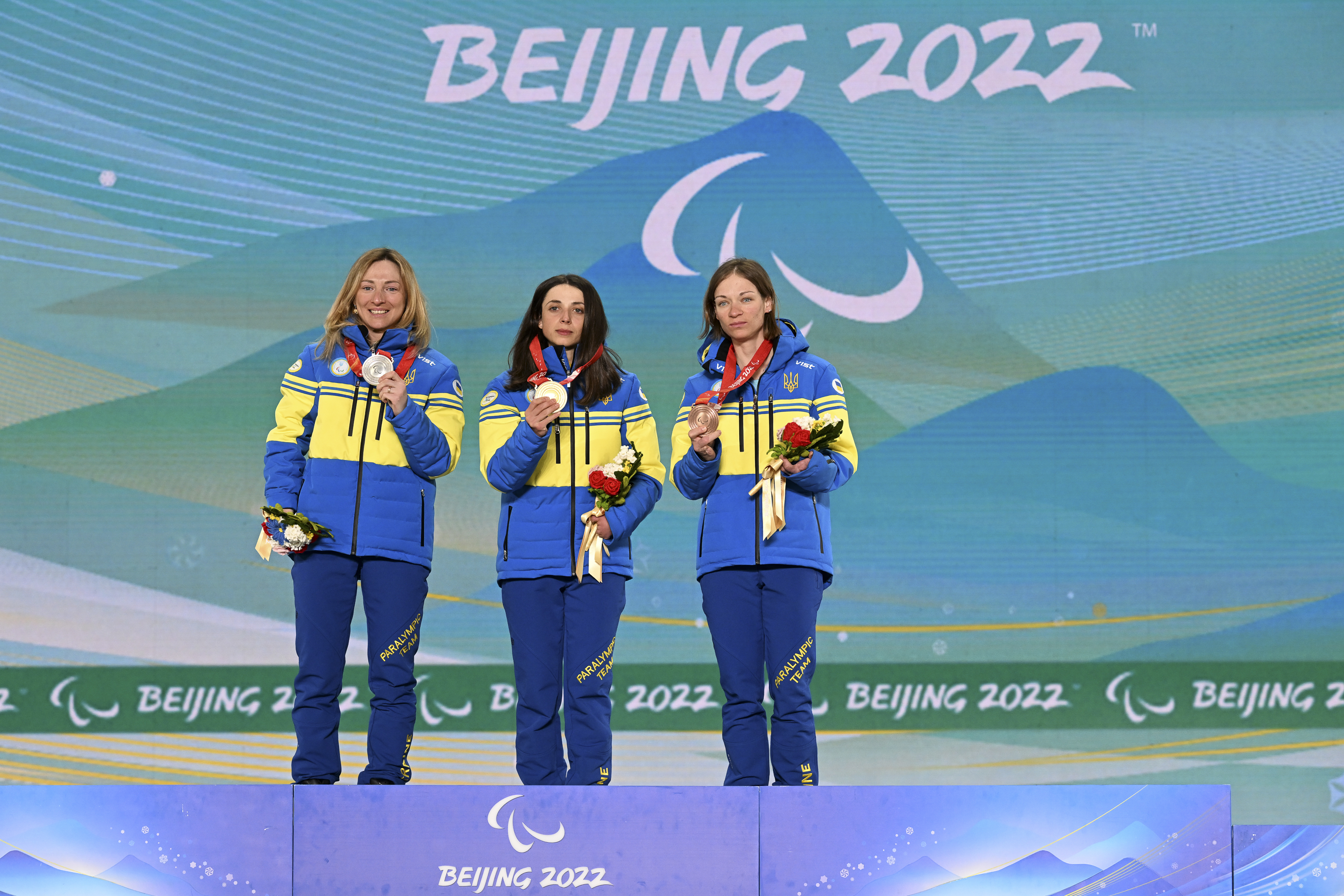 Three Ukrainian national flags were raised simultaneously at the Zhangjiakou Awards Plaza.
Later that afternoon, Ukrainian men took the top five spots in the middle distance vision impaired race, with Vitalii Lukianenko coming out on top, while Anatolii Kovalevskyi and Dmytro Suiarko winning silver and bronze, each making it to the podium.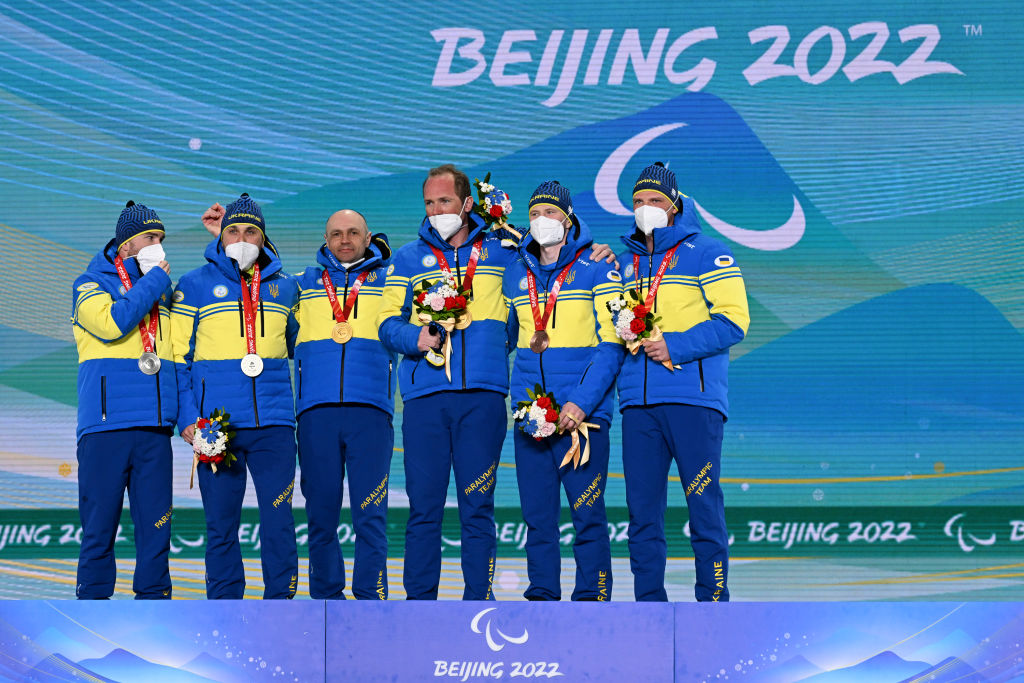 As the Russia–Ukraine conflict unfolds half a world away, Ukrainian athletes have become a central theme at the Paralympics. The sight of Ukrainian athletes at the awards podium provides emotional support to Ukrainians at home and supporters worldwide.
"We would like to dedicate our results and medals to each and every Ukrainian and all the soldiers in the Ukrainian army who protect us. With our performance, we represent the whole country, and this is our battle here," the 26-year-old gold medalist Iryna Bui said on March 8, according to Japan's Kyodo News.
On the same day, Grygorii Vovchynskyi won silver in the men's middle distance standing, Taras Rad earned bronze in the men's middle distance sitting, and Oksana Shishkova won silver in women's middle distance vision impaired.
Ukrainian athletes won nine biathlon medals, including two gold on March 8, the best single-day record in this event.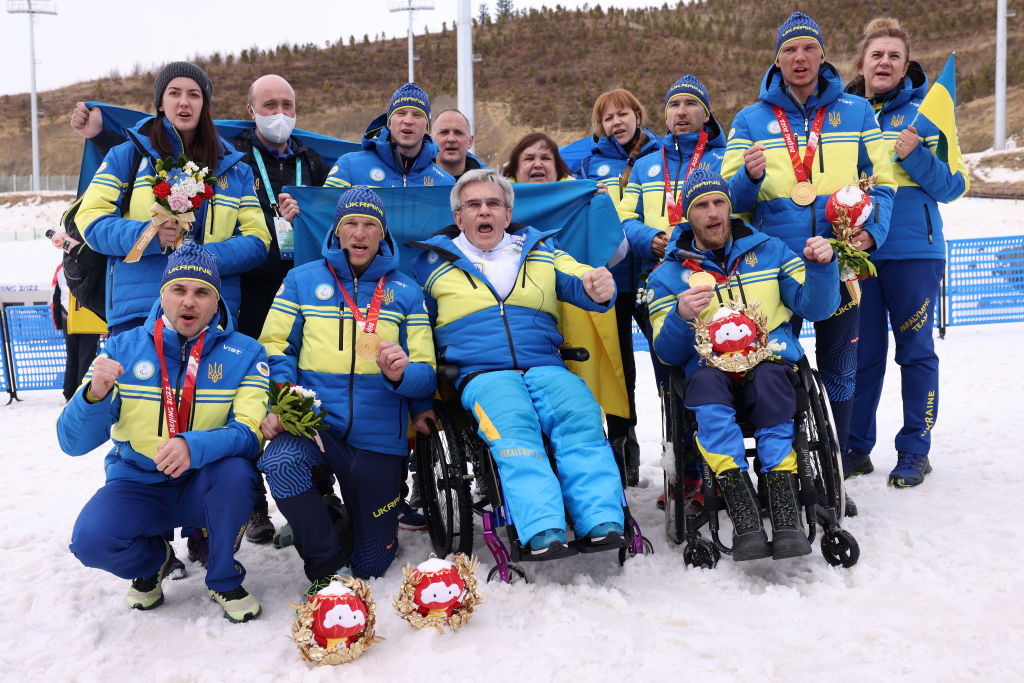 Before the sporting event, Valerii Sushkevych, the president of Ukraine's Paralympic committee, told reporters that the team's arrival in Beijing was "a miracle," saying some had narrowly escaped Russian bombs as they left the country, according to NPR.
The International Paralympic Committee (IPC) on March 3 barred Russian and Belarusian athletes from the Winter Paralympics in Beijing following threats of boycotts by other teams over Russia's invasion of Ukraine.
Belarus has been a key staging area for the full-scale invasion Russia launched on Ukraine two weeks ago.
The decision came a day after the IPC gave athletes from the two countries the green light to participate in the March 4–13 games as neutrals, saying the "athletes were not the aggressors."
However, that led to an outcry and threats from other countries' National Paralympic Committees (NPC) to boycott the Games, IPC President Andrew Parsons told a news conference in Beijing on March 3.