Toronto FC Breaks 10-Game Winless Skid Against Red Bulls, Defoe Gets Better of Henry
May 17, 2014 8:35 pm Last Updated: May 17, 2014 8:48 pm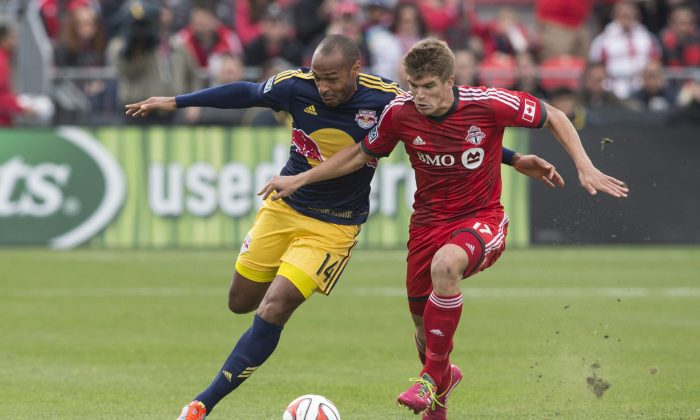 TORONTO—Jermain Defoe and Thierry Henry are good friends off the pitch, but it was all business when they faced each other at BMO Field on Saturday.
Defoe put one over on his former North London derby rival Henry, scoring the game-winning goal in a 2–0 Toronto FC triumph.
The win snapped a 10-game winless run (0–7–3) for the Reds against New York and also ended their three-game MLS losing streak.
"It was nice," Defoe said about facing the Arsenal great Henry. "[He's] someone who I look up to. He's a legend in the game."
The TFC striker's goal in the 12th minute was classic Defoe. He instinctively found some space in the Red Bulls defense and was fed a perfect ball from Bradley Orr who had just won it from the New York midfield.
Defoe fired a rocket high past New York goalkeeper Luis Robles.
"I've been doing that for my whole career," Defoe said, "And people know that. If you want to speak about England, that's what I've done since I've been over here." 
"[That's] why England will miss him dearly come World Cup time," said TFC manager Ryan Nelsen on Defoe's strike.
"Jermain Defoe has been doing this since he was 14 years old and as long as he plays, he will do that," Henry said.
Defoe had another great chance just past the half-hour mark when Kyle Bekker sent a ball into the New York box. Defoe chested it down, but fired just over the bar.
Both Defoe and Henry looked particularly lively in the early going. Henry blazed past Nick Hagglund, but then fouled the TFC defender wildly, earning himself a yellow card in only the sixth minute.
Defoe played like he had a chip on his shoulder after being snubbed by England manager Roy Hodgson for a World Cup roster spot earlier in the week. 
"Every day I wake up… it's still baffling as to why I wasn't selected," Defoe said. "I enjoyed the game today and it was a good win."
But facing Henry wasn't added motivation for him.
"I'm always motivated, doesn't matter who you play against," Defoe said.
TFC had the advantage in an exciting first half, but failed to take more than a one-goal lead.
"[It was a] dominating first half performance, to tell you the truth," Nelsen said.
Henry Takes Charge in Second Half
The Arsenal legend took the Red Bulls by the scruffs of their necks as New York began the second half in earnest while the Reds were pinned back.
Henry created what should have been New York's equalizer in the 63rd minute. With a delicate left-footed pass that reached the far side of the Toronto defense, he found Bradley Wright-Phillips. 
The MLS's leading goal scorer had an open net and from about five yards out, amazingly skied his shot. Toronto goalkeeper Joe Bendik was down and injured on the play after a collision with Lloyd Sam.
"It is part of the game. Bradley has scored many times since the beginning of the season and if he scored, it could have changed the game," Henry said.
The Reds soaked up the pressure and defended admirably. A bit of good fortune gifted them their second goal as Luke Moore picked up the scraps of the miscommunication between Robles and his defender in the 95th minute.
"We got a bit of luck, but are deserving of that luck," Nelsen said. "It's a long season, Toronto got this one today and rightly so with the way they defended. Hopefully we can bounce back against Portland and play better," Henry said.
Toronto FC's bright start to their season of change had fizzled out recently with three straight losses, including two straight at BMO Field. The chemistry between the players hasn't yet been established and the loss of Michael Bradley to World Cup duty with the U.S. won't help. But the three points against the top team in the MLS regular season from last year will go a long way toward setting the season on the right track.
The Red Bulls were missing one of their brightest stars as well with Australian Tim Cahill also on international duty.
But the star power was still aplenty with Defoe and Henry going at it and bringing back memories of the famed North London derby between Tottenham Hotspur and Arsenal.
"Overall we're the better team and we're delighted with the win," Defoe said. "We got three points, I think that's a job well done. You play football to win games and that's what we did."
"Playing New York…New York's New York isn't it?" Nelsen said. 
"We want to be a team that is up there, that people love to take our scalp, and that's what's happening at the moment. Big stars, that's exciting for the league."
Follow Rahul on Twitter @RV_ETSports