The Thyroid Federation International estimates there are up to 300 million people worldwide suffering from thyroid dysfunction yet over half are presumed to be unaware of their condition. Hypothyroidism, an underactive thyroid, is one of the most undiagnosed, misdiagnosed, and unrecognized health problems in the world. It is an epidemic that is sweeping the globe yet doctors are failing to recognize and diagnose hypothyroidism. Hypothyroid patients are falling through the cracks of mainstream medicine, left to suffer debilitating and even life-threatening symptoms. What is going on?
1. Reliance on TSH
According to mainstream medicine, TSH (thyroid stimulating hormone) is the gold standard for the diagnosis and treatment of thyroid dysfunction. This hormone released by the pituitary gland in the brain stimulates the butterfly-shaped thyroid gland in our necks to produce thyroid hormones. Unfortunately TSH alone does not provide a complete picture. Most doctors typically don't run a full thyroid blood panel nor do they investigate fully the patient's medical history, symptoms, family history and thorough physical exam. They rely on this one blood test, TSH, leaving millions of people undiagnosed and suffering from debilitating symptoms.
Many patients complain to their doctors of common hypothyroid symptoms yet because their TSH falls in the 'normal' range, their thyroid is declared normal. Patients will walk into their doctors' offices complaining of fatigue, weight gain, and depression, and their doctors will pass them prescriptions for sleeping pills and anti-depressants and tell them to just exercise more, instead of recognizing the underlying thyroid issue.
2. Outdated TSH Lab Ranges
TSH alone does not provide a complete picture. If doctors are going to rely on TSH alone, however, they should at least give consideration to the controversy over the TSH normal reference range and consider this when diagnosing patients. Mainstream medicine relies on a normal TSH range from 0.5 to 5.0 with variations depending on the laboratory. However thyroid advocates and many integrative physicians are fighting to narrow that range. Thyroid doctor Dr. Weston "Wiggy" Saunders posted this important message on his Dr. Wiggy Thyroid MD Facebook page.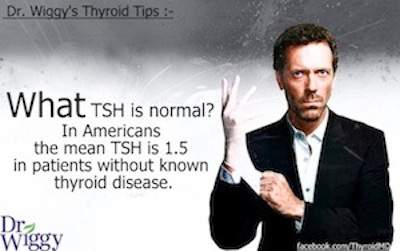 Many traditional doctors rely strictly on the TSH range of 0.5 to 5.0 despite the patient's obvious symptoms. Then, there are other doctors who will only diagnose hypothyroidism once TSH is above 10.0! WHAT? By then your symptoms can be so debilitating you are struggling to live through each day!