TRIPOLI—At least three people were killed when suicide bombers attacked Libya's foreign ministry in Tripoli on Dec. 25, the health ministry said.
The assailants were suspected to be members of the ISIS terrorist group, a security source said.
The three attackers began their assault with a car bomb, damaging vehicles and buildings, and then opened fire on the ministry, officials said. Two managed to get inside and blow themselves up, while the other was killed by ministry guards, the source said.
Heavy smoke rose from the building, which was surrounded by security forces as people were rushed to a hospital. The health ministry said that apart from the attackers, three people were killed and at least 21 were wounded.
'Waging War on Terrorism'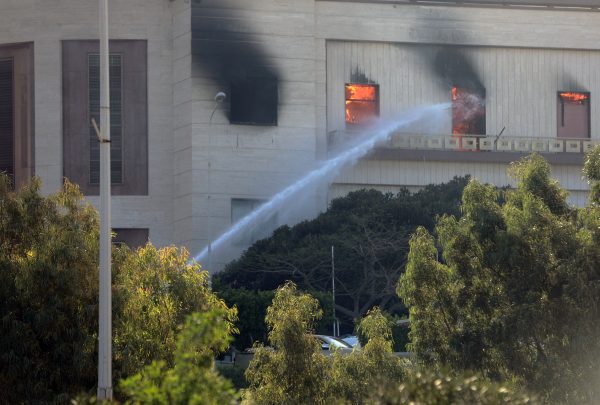 The ministry denounced the attack, saying, "The Libyan people are waging a war on terrorism on behalf of the world."
Suicide bombers have targeted a number of Libya's vital institutions, as militant groups take advantage of the chaotic political situation.
A source from Tripoli Revolutionaries Brigade, one of the strongest armed groups in the capital, told Reuters their spokesman, Abdulrahman Mazoughi, died in the attack.
Terror Threat
Governments of numerous countries, including the United States and the UK, have issued warnings to potential travelers to Libya.
"Terrorists are very likely to try to carry out attacks in Libya," the British government has warned. "Attacks could be indiscriminate, including in places visited by foreigners."
Terrorist groups, including ISIS, are said to be responsible for the majority of attacks, according to the UK travel advisory.
On Nov. 24, ISIS claimed responsibility for an attack on the central Libyan town of Tazerbo, in which at least nine people were killed, five injured, and 20 others kidnapped.
The U.S. State Department has marked Libya with a Level 4 advisory—"Do Not Travel."
"Terrorist groups continue plotting attacks in Libya," according to the advisory. "Violent extremist activity in Libya remains high."
"Do not travel to Libya due to crime, terrorism, civil unrest, and armed conflict," the State Department urges. "Crime levels in Libya remain high, including the threat of kidnapping for ransom. Westerners and U.S. citizens have been targets of these crimes."