The state of New South Wales (NSW) has lost up to 2,800 teachers who have not been fully vaccinated for COVID-19 and refuse to book an appointment to get jabbed.
The news of the staff loss comes as the deadline for mandatory vaccinations for all teaching and non-teaching staff in NSW schools came on Monday.
An NSW Department of Education spokesman told The Epoch Times on Nov. 9 that 97.8 percent of the department's staff were fully vaccinated.
"Around 2,800 teachers have not attested their vaccination status," the spokesman said. "Not being attested does not mean staff are not vaccinated, they may be absent due to illness, long service, parental leave or other reasons"
In a parliamentary hearing last week, the NSW Department of Education's chief people officer Yvette Cachia said 4,900 teachers in schools had yet to submit their vaccination status as of Nov. 1, while 74,000 teachers indicated that they were fully vaccinated.
Those who are not vaccinated have been told they will be given the opportunity to book a vaccination appointment immediately, but if they decide against it, their contract will be terminated.
"We have 97 percent compliance for full vaccination as of Nov. 1," Cachia said on Nov. 2 (pdf).
"About 4,900 have unattested as yet, but again I do not think that is surprising. Many will likely do so in the coming days."
For non-teaching staff, around 95 to 97 percent have been fully vaccinated, including administration, short-term temporary staff, and corporate staff.
One Nation MP Mark Latham, who chaired the hearing, asked why the department was not using rapid antigen tests for unvaccinated teachers instead of standing them down.
NSW education minister Sarah Mitchell answered, saying antigen testing was not a replacement for vaccination, especially in the primary school setting where children are not vaccinated.
"It is the best way we can protect our students and staff," Mitchell said. "The rapid antigen testing certainly plays a role … but it is not a replacement for vaccination."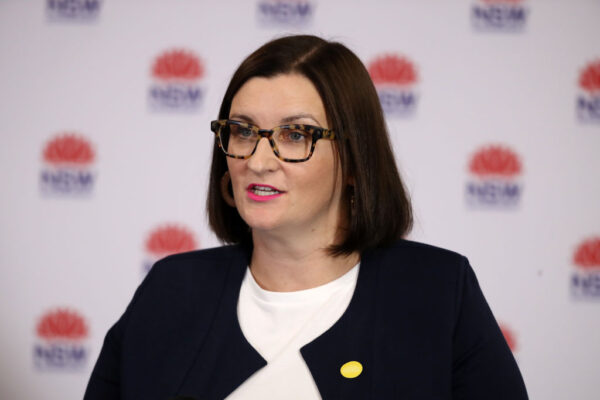 The news of the loss comes as NSW is facing a teacher shortage.
In April, a report found that the state needed to hire at least an additional 11,000 teachers over the next decade to meet growing demand, not including existing shortages.
The Independent Education Union (IEU) said in October that a solution to teacher shortages was required immediately.
"Teacher shortages have only intensified as the year has gone on," IEU NSW acting secretary Carol Matthews said. "And it's not just in mathematics and science subjects, but across the curriculum. Nor is it confined to the regions—the metro dioceses are also feeling the pinch."
"When schools on Sydney's north shore struggle to secure staff, you know you've got a problem."