Temperatures Affect Cherry Blossoms' Peak Bloom Period in NY
April 20, 2014 3:09 pm Last Updated: April 22, 2014 7:37 pm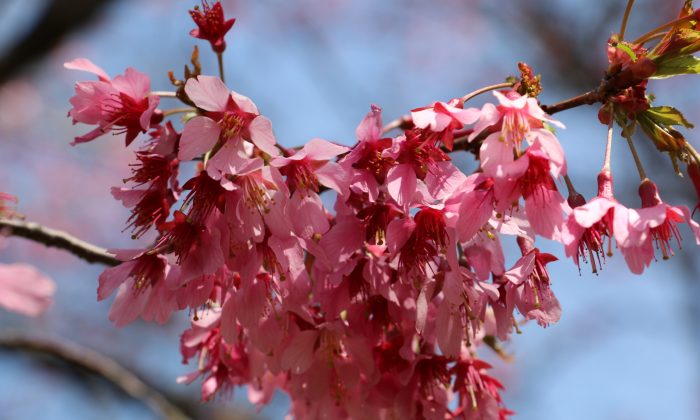 NEW YORK—Cherry blossoms in New York City are blooming about a week later than normal this year, due to a historically cold winter.
"The cold has set us back just a little bit, about a week, with most of our cherry trees and most of our magnolia trees," said Chris Roddick, foreman of gardens and grounds at the Brooklyn Botanic Garden.
While the magnolias were out in full radiance on Thursday, only a few of the cherry trees had opened their sultry buds. Of 150 or so trees in the Cherry Esplanade, only a handful have started blooming.
A spokesperson for the gardens said the buds that have already come out were not affected by the unexpected snow New Yorkers woke up to on Wednesday. 
Over the past few years Roddick says he has gotten used to seeing at least a few of the cherry trees bloom during the winter. This year however, the trees remained bare.
"In fact it's not too far from normal, we've just had such mild winters before this," Roddick said. 
Having worked at the Brooklyn Botanic Garden for the last 20 years, Roddick can remember before such warm winters were the norm.
Cherry trees' flowering times are very sensitive to temperature, making them a good indicator of climate change. 
In 2011 a joint study by the University of Washington and South Korea showed that cherry trees have been blossoming earlier and earlier. The study was conducted in the Washington DC area from 1970-1991. Of the 100 species studied, including cherry trees, 89 showed earlier blooming cycles over that time period, while 11 showed a later bloom cycle. By 2050, the study predicts cherry trees will reach their peak bloom five days earlier, and potentially 13 days earlier "under a higher emissions scenario," the study says.
This means that hanami festivals—a Japanese tradition of enjoying the cherry blossoms while they are at their peak—are getting earlier and earlier.
The trees' blooming dates range from February to May, depending on the temperature, the type of tree, and the location. Last year, the majority at the Brooklyn Botanic garden had started to bloom by late March, Roddick said.
This makes it hard to plan a cherry blossom festival, but plan they must, and plan they did as the performers had to be booked years in advance.
"Our Cherry Blossom festival, Sakura Matsuri, is not delayed," confirmed Elizabeth Reina Longria, director of communications at the Brooklyn Botanic Garden. "It's going to take place April 26 and 27 rain or shine."
She says she hopes the beautiful pink blossoms will be out in full force by that time, but all she can do is keep her fingers crossed.
Holly Kellum is a special correspondent in New York.