Hong Kong authorities prevented 68 Taiwanese and one Japanese national from entering the city to attend a parade this past weekend, despite all having obtained valid visas prior to boarding their flights. Authorities ordered them to return to their respective countries.
All were adherents of Falun Gong, a banned spiritual practice in mainland China. They had traveled to the city—a former British colony now under Chinese sovereignty—to attend a parade on April 27 calling on the Chinese regime to stop the ongoing persecution of Falun Gong.
The meditation practice, also known as Falun Dafa, teaches a set of moral teachings based on truthfulness, compassion, and tolerance.
By 1999, the number of practitioners in China grew to roughly 100 million, according to estimates by Chinese authorities. Fearing that its popularity would threaten the Chinese Communist Party's rule, then-paramount leader Jiang Zemin launched a campaign to eradicate the practice. Mass detentions, forced labor, brainwashing, and torture followed.
Taiwan Authorities' Response
While Taiwan president Tsai Ing-wen was attending the ground-breaking ceremony for a technology park in Taoyuan City on April 29, an Epoch Times reporter sought Tsai's comment on the incident.
"I think this is a typical case of what our citizens face, that they are treated differently when they travel to another country," Tsai said in response.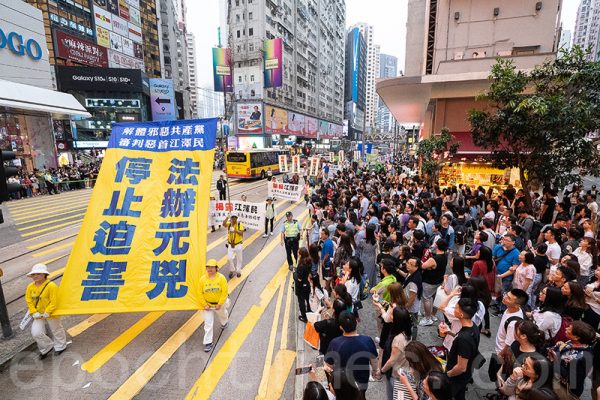 Meanwhile William Lai Ching‑te, former speaker of the Legislative Yuan, Taiwan's unicameral legislature, condemned Hong Kong authorities for their actions, in an April 29 interview with the Asia-Pacific branch of independent broadcaster NTD. "Our Falun Gong friends were suppressed in Hong Kong when they tried to go there and exercise their right to free speech. Our international society should see clearly from this case that all of us need to support free speech in Hong Kong, and support Falun Gong," he said.
Chiu Chui-cheng, deputy minister of Taiwan's Mainland Affairs Council, the main agency that deals with cross-strait relations, told NTD in an April 27 interview: "We strongly urge the Hong Kong authorities to uphold in a civilized, kind manner the rights of Taiwanese who visit Hong Kong with legal documents."
The city enjoys relative autonomy, with a separate administrative government. But many Hong Kong citizens believe that since the territory was handed over from Britain in 1997, Beijing has tightened its grip on city affairs and encroached on basic freedoms.
Also this weekend, on April 28, roughly 130,000 Hong Kongers participated in a march and rally to oppose proposed amendments to the city's extradition laws that would allow criminal suspects to be sent to mainland China.
Residents, business groups, and international rights groups have expressed concern that, given the Chinese regime's disregard for rule of law, the changes could allow Beijing to charge and extradite its critics with impunity.
Taiwan President Tsai also commented on the anti-extradition parade: "This reveals that 'one country, two systems' is not the solution that Hongkongers want or accept," Tsai said. "For our [Taiwanese], it's impossible to accept 'one country, two systems,'" she added.
"One country, two systems" was formulated by former Party leader Deng Xiaoping, when Hong Kong and Macau, a former Portuguese colony, were returned to Chinese sovereignty in 1997 and 1999 respectively. Under the concept, Beijing stipulated that for the next 50 years, the cities would operate under their own economic and administrative systems, while mainland China would continue to be ruled under communist authoritarianism. Recently, Beijing has repeatedly announced its intention to rule Taiwan under the same arrangement; it considers the island within its territory, despite Taiwan being a de-facto country with its own democratically-elected government, currency, and military.
69 Foreigners Stopped at Hong Kong Airport
On April 26, 33 Taiwanese Falun Gong practitioners arrived at the Hong Kong airport with their valid visas. But Hong Kong customs did not allow them to enter, without providing a reason. They were returned to Taiwan.
The day after, 35 Taiwanese Falun Gong practitioners were also denied entry and forced to board a flight back to Taiwan. And a Japanese national and Falun Gong practitioner Zhang Jun was also denied entry upon arrival on April 25.
Mrs. Ting told the Chinese-language Epoch Times after she was forced to return to Taiwan on April 27: "The Hong Kong customs inspector looked at me with a strange expression [after scanning my passport]… He told me that Hong Kong policies gave him the right to stop me, although I had a visa."
Ting said she believed her name was on a blacklist that the Hong Kong government has compiled to prevent people critical of the Chinese regime from entering Hong Kong.
Zhang told The Epoch Times' Tokyo reporter on April 28 that he asked the Hong Kong customs inspector the reason for denial of entry, and was told: "Your passport has some issue." When he asked for further detail, the inspector simply said: "I can't allow you to enter [Hong Kong]."
They were all in Hong Kong for a parade that commemorated the 20-year anniversary of a mass peaceful demonstration by mainland Chinese practitioners in Beijing. Despite the adherents' pleas, the Chinese regime launched its persecution in July 1999. According to the U.S.-based website Minghui.org, which serves as a clearinghouse for news about the Falun Gong persecution, 4,296 adherents are confirmed to have died as a result of persecution. The real number is believed to be far higher, due to the difficulty of getting sensitive information out of China.
Past Incidents
This is not the first time Hong Kong authorities have denied entry to Falun Gong adherents.
In July 2017, at least 43 Taiwanese Falun Gong practitioners who traveled to Hong Kong for a similar commemorative parade were stopped after landing at the airport and repatriated back to Taiwan. Security officers and police detained them for hours in the immigrations office, combed through their luggage, and interrogated them individually.
The practitioners had presented valid travel documents. They were also given no official explanation as to why they were being turned away.
The first such denials to entry occurred in 2007 to over 100 Taiwanese Falun Gong practitioners.