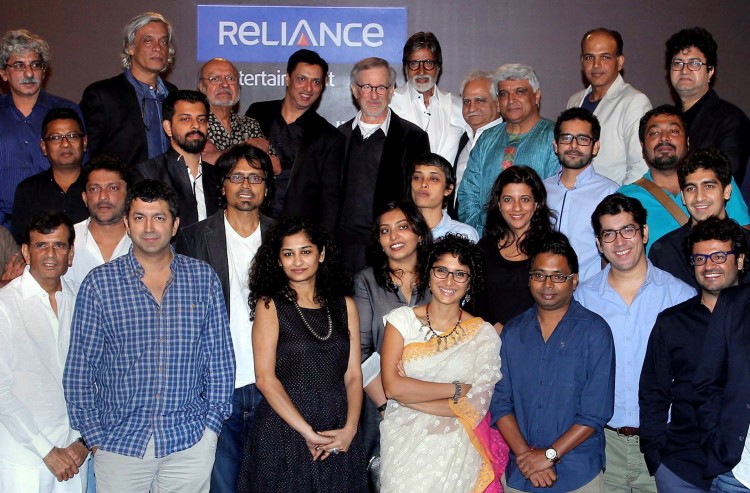 Steven Spielberg is currently in India to celebrate the success of his movie "Lincoln" that won two Oscars recently, including the best male actor Oscar for Daniel Day-Lewis—it was co-produced by an Indian company Reliance Entertainment.
The icon director-producer interacted with a mass of Indian filmmakers on Monday, and later on Tuesday talked about plans of a film on India-Pakistan border.
Bollywood megastar Amitabh Bachchan, hosted the selected gathering of 61 personalities from Indian cinema. Spielberg interacted and shared tips on filmmaking with the audience.
After the meeting with Spielberg, Bachchan posted on his official blog: "An evening with an institution… an evening spent in conversation in the presence of select fraternity and press… an evening of sharing cinema with the prolific maker, inventor, story teller, innovator, and one who continues to surprise us with his genius."
Expressing his views on the new trend where Hollywood studios are collaborating with Indian production houses, Bachchan wrote: "The interest in the US and in particular Hollywood in holding hands with entertainment companies in India, because you felt that the world was 'diminishing in size' due to the ease of communication, and that the idea really was to bring communities closer, build bridges of understanding and sharing, because impressions, thoughts were now instant, thanks to the internet and its various social networking programs."
In an interview with Times of India, Spielberg talked about his plans about a film on India-Pakistan border. "We have finalized a script for a movie that DreamWorks (the studio he co-owns) and our partners Reliance Entertainment plan to make together. Part of it will take place on the India-Pakistan border in Kashmir. But we're still trying to figure out the casting, locations and who's going to direct it."
Spielberg last shot in India for "Close Encounters of the Third Kind," released in 1977 and "Indiana Jones" and The Temple of Doom," in 1984.
In his career spanning four decades, Spielberg directed 29 movies and produced almost 350.