States Dig in Against Drones in US Skies
July 15, 2013 11:51 am Last Updated: July 15, 2013 5:29 pm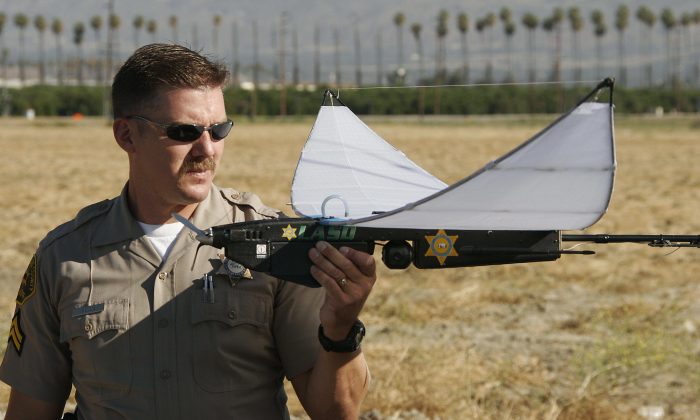 Drones by the thousands are expected to enter U.S. airspace soon, but a variety of restrictions are ready to meet them at the gate. In July the first drone laws take effect in two states, and similar proposals throughout the country follow close behind.
 Smaller, less sophisticated, and far cheaper than the military's predator models, drone technology is developing rapidly, and Congress wants to open American skies to unmanned aerial vehicles (UAVs) in just over two years.
 States, meanwhile, want to keep tight reigns on what drones are allowed to do. Strong support for limiting drones on both sides of the aisle means that lawmakers have been able to work fast. Since the beginning of 2013, proposals have emerged in 42 states, and passed in six.
 Jay Stanley, senior policy analyst for the American Civil Liberty Union's (ACLU's) Speech, Privacy and Technology project, said he was surprised that such formidable legislative action came so quickly—a phenomenon he attributes to the tangible nature of UAVs.
 It's a much more concrete threat to privacy than all the fancy data collection, data shuffling, and data analysis," Stanley said. "The prospect of having hundreds or thousands of flying robotic video cameras in the sky is a pretty scary prospect."
 Today, domestic drone use is limited to a few applications, and mostly on an experimental basis. But Stanley says lawmakers are driven by a looming forecast—by 2025 UAVs are expected to be an $89 billion industry.
 "Everybody knows that we're living in an era where technology develops at a revolutionary pace, and when you look at how this could apply to this technology it brings up some pretty scary scenarios," Stanley said.
 The ACLU's drone legislation website reveals a variety of state approaches. In Virginia, for example, lawmakers just want more time. Starting July 1, the state imposed a two-year moratorium on all drones, with an exemption for search and rescue, research, and emergency situations.
 Some states ban weapons on drones, rural states shield farmers and ranchers from aerial surveillance, and Georgia passed resolutions simply praising the aerospace industry for bringing drone-related jobs to the state.
 Most legislation, however, aims to restrict police drone use. While the technology holds a lot of promise for safer, cheaper, and more effective police work, lawmakers want to keep the new power in check.
 The bill in Illinois, for example, requires a warrant before police can employ a surveillance drone (exemptions are made for certain emergencies). Illinois' Freedom from Drone Surveillance Act saw near unanimous support in the Senate, actually grew stronger in the House, and now awaits the governor's signature.
 According to the bill's main sponsor, Sen. Daniel Bliss (D), these laws are about creating a balance "so that technical progress doesn't get ahead of reasonable expectations of privacy."
 "This is just totally unlike what was the case certainly a generation ago, and not to mention is entirely unlike what existed at the time when the Fourth Amendment of the Constitution was written," Bliss said in a video promoting the measure. "If we want to enjoy the fruits of these technologies, we have to make sure we have a legal framework in mind to enjoy them in a responsible way."
 Private Use
 When it comes to private drone use, lawmakers face different circumstances. As the Federal Aviation Administration (FAA) hammers out national regulations for UAVs in American airspace, low altitude hobbyist drone flyers are left relatively free to experiment. Despite an ever emerging wealth of commercial applications, drone use for profit remains prohibited.
 States have distinct ideas about how to curtail police drone use—including explicit bans for collecting surveillance at protests, and restrictions on the use of drone photos in court—but how the technology will be permitted for private application is not so clear. 
 Idaho and Texas have written the toughest restrictions for private UAVs, while most states are taking a wait-and-see approach. Illinois' resolution, for example, calls for a task force to study other ways that drones can be used and whether further regulation is needed.
 The ACLU says that while private drones will certainly cause some problems, it isn't calling for regulations just yet.
 "We think it makes more sense to wait and see what problems arise in practice, and how current laws that are on the books handle the practice," Stanley said. "There already are in most states harassment and Peeping Tom laws that might already take care of much of what the problem could be."