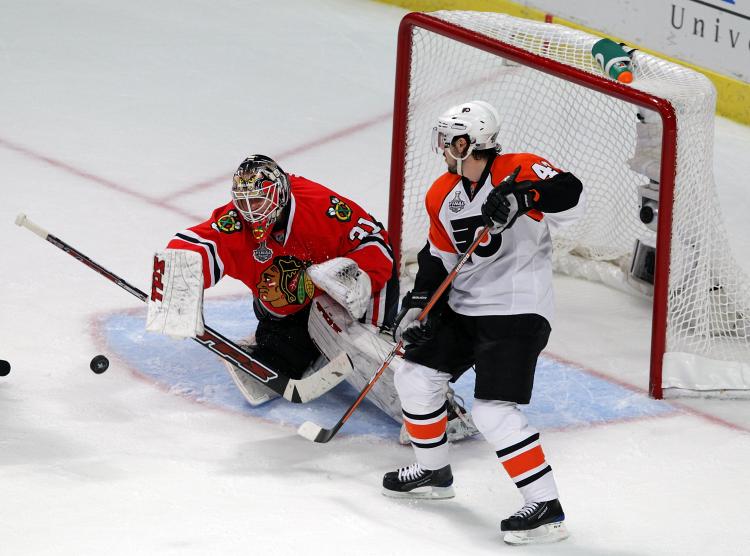 What a difference two days makes.
In contrast to Saturday's 6–5 barnburner in Game 1, Game 2 of the Stanley Cup final was back to your typical playoff hockey featuring few goals, tight-checking, and solid goaltending.
And once again, the Chicago Blackhawks came out on top, this time 2–1 over the Philadelphia Flyers. Chicago leads the best of seven series 2–0.
Michael Leighton got the start for the Flyers after being yanked in Game 1. He had a solid outing but still took the loss. Chicago's Antti Niemi was just better in Game 2 and earned the game's first star with 32 saves.
After a scoreless first period (Game 1 had five goals), the Chicago Blackhawks scored twice in 28 seconds late in the second period.
Marian Hossa, playing in his third consecutive Stanley Cup final with his third different team, lifted a loose puck over Leighton at 17:09.
"He [Hossa] does so much more than putting the puck in the net," said Patrick Sharp in a postgame interview with CBC.
Then, Dustin Byfuglien blocked a cross-ice pass and fed tough guy Ben Eager, who let fly a world-class wrist shot that beat Leighton high to the glove side.
Simon Gagne got the Flyers on the board in the third period when his twice-deflected shot from the slot evaded Niemi. It was the first contribution to the score sheet for the Flyers top line with Mike Richards and Jeff Carter getting assists.
That goal gave the Flyers a boost. They really took it to the Blackhawks with their forechecking and winning the one-on-one battles in the third. Chicago was in panic mode.
The Flyers threw everything they had at Chicago in the third period. Under constant pressure, Patrick Sharp had a chance to ice the game into the empty net for Chicago but he hit the post.
"Guys bailed me out and killed it off," said Sharp referring to his empty net chance.
"They [Flyers] had a heck of a push. Our goalie [Niemi] stood on his head."
The Flyers outshot the Blackhawks 15–4 in the third period but could not get the equalizer.
The bad blood is brewing between the two teams as Flyers defenseman Chris Pronger and Ben Eager each got 10-minute misconducts at the end of the game after Pronger took the game puck and was confronted by Eager.
Game 3 goes Wednesday in Philadelphia.
Follow Rahul at www.twitter.com/RV_ETSports