This week's style diary guest is NY Health & Wellness's Fitness Director Lisa Avellino. Lisa Avellino is one of New York's top fitness experts and a corporate wellness consultant who has worked in the fitness industry for over 30 years.
She is known in the industry for having developed the famous Balance 3H+ "Reboot" fitness plan. She is also a published author and has been featured in The New York Times, Shape, Fitness, Prevention, First for Women,as well as FOX, NBC, ABC, NEWS 12, and others. She shared with us her perspective on style as a woman of strength, and working out a lot.
Sibylle Eschapasse: Describe your style?
Lisa Avellino: My style is to create my own look based on how I am feeling, like the decor in the room with architectural modern flair. A cross between Star Trek, Egyptian goddesses, and playful color blocking outfits. Being a fitness professional, I live in yoga wear, but when I go out it's the opposite side of the equation.
Style is a tangible, wearable, colorful expression of self, expressed in fabric.
Ms. Eschapasse: If a close friend were to describe your personality in three words, what would they be?
Ms. Avellino: Over the top—wow that's already three words!  Or entertainer, comedian, and fitness motivator.  Okay, the truth? Zany, confident, and brilliant.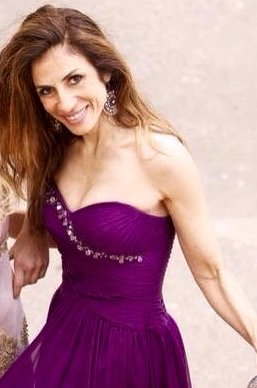 Ms. Eschapasse: How did your style evolve since you were a teenager?
Ms. Avellino: In my teens, I never went with trends—I started trends!
In my 20s, I designed fitness wear that you could transition to night club wear, which was sold at fitness centers.
In my 30s I realized my own second skin was a presentation piece, so I sought the advice of Jill Cohen and top designers. I was fortunate to know stylists for the stars, so I was able to wear original Chanel, Prada, Gucci, Halston, and several others.
The best part? I would pair sneakers with a formal look, or a sleek high shoe with a casual look. The point is, when you listen to your heart and your creative juices are flowing, every woman stops you and asks, 'where do I get that?'
Ms. Eschapasse: What is the wildest thing you ever wore?
Ms. Avellino: The wildest thing I ever wore was a super splurge for a photo shoot at the Versace Mansion in South Beach, Florida. A Gianni Versace original painted silk, multi-colored top with matching silk flair pants. It had the flower power of the '60s but the modern elegance of high-end fashion. Imagine a body tattoo in every color of the rainbow but the fabric moves like you are dancing.
Ms. Eschapasse: How do you dress on workdays versus weekends?
Ms. Avellino: I start teaching a power boot camp class at 5:00 a.m., so workout wear, then a corporate speaking presentation look, then back to yoga wear, then casual cool.
I have a line of loungewear that is like a Karate Gi, but soft, for a woman. More than pajamas, as in you can entertain in it.
On the weekends, I mix and match body wear—then it's deck the halls, bling-appropriate pieces, classics with pizzazz. For example, a sleek monochromatic look with a layered scarf, and then add notes from another piece. The point is every look is an original—"never off the rack."
Ms. Eschapasse: What are three accessories you can't live without, and what's one item that makes you instantly more confident?
Ms. Avellino: The three accessories that you cannot live without are the three you don't put on! Your smile, your posture, and your birthday suit.
My secret suck-n-tuck is the key to confidence. True beauty radiates from the inside out, so proper alignment and wellness makes every woman more beautiful!
One item I love is a diamond stud, a classic David Yurman silver bracelet, and a Tiffany Atlas necklace.


Ms. Eschapasse: Who have been your greatest fashion influences? 
Ms. Avellino: Helen Gurley Brown, books read as a teenager, Anna Wintour, NYC fashion shows at Bryant Park, museum fashion events.
Ms. Eschapasse: Who is your style icon?
Ms. Avellino: A combination of my mom, Marilyn Monroe, Jackie O, and Ivanka Trump.
Ms. Eschapasse: What does having style mean to you? In other words, please define style.
Ms. Avellino: Style is a tangible, wearable, colorful expression of self, expressed in fabric. Style comes to life when it's worn with grace and elegance. Style is way more than an outfit, it's a sort of branding that begins with pure energy. A perfect example is an outfit worn by a mannequin versus the human spirit. Imagine a simple black T-shirt worn by a million women—it looks different on everyone. The point is, style is to wear it well, to uplift, to energize, and to flaunt it! Life is short, play hard in style!
Ms. Eschapasse: What is one purchase you're most proud of? 
Ms. Avellino: Buying the fitness center that I worked in as a teenager.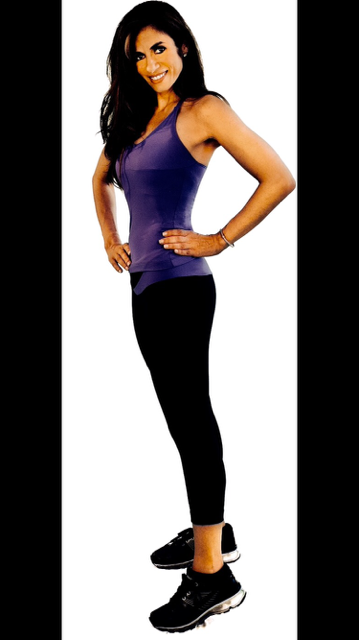 Ms. Eschapasse: What would you pay a lot of money for, and what would you never pay much money for?
Ms. Avellino: I would pay a lot of money for fitness equipment or a great wellness program like the B3H Reboot 15, the best juicer, and quality nutrient-dense food. It's what you value, not what you can afford—prioritize life, style, in a wellness way!
A perfect example: when you are healthy and fit, you can shop your closet because everything looks hotter, cooler, and stronger (as in bold, in a good way)! I would never pay much for… a trendy outfit! I call that "recyclables,"or WIT (Wear It once) side of the closet.
Ms. Eschapasse: When you go on the red carpet, how do you want your outfit to make you feel? 
Ms. Avellino: When I go on the red carpet, I want my outfit to make me feel like the strongest, fittest, and most glamorous. This can only be achieved with a tailored body-hugging look that you wear, but does not wear you. Often, it's a very fine line between elegant and sleazy. So, words of wisdom: make sure you work out before you get dressed up, less is more with bling, and never show too much—leave a little for the imagination.
Ms. Eschapasse: Which designers can achieve that?
Ms. Avellino: Versace, D & G, LV, Lanvin, J. Mendel, Stella McCarthy, Alexander McQueen, Chanel, Prada, and Gucci.
Ms. Eschapasse: What do you think of how others dress and what's your advice to people who would like to develop their personal style?
Ms. Avellino: I think everyone has their own body print, just like our finger prints. Only one of a kind. Perfection is in the process, so test and measure and know that your personal style should always be changing. Don't marry a single lipstick color or a one-size-fits-all look.
Perfection is in the process, so test and measure and know that your personal style should always be changing.
The best way to develop your personal style is in a few easy steps.
Clean out your closet. If you haven't worn it in a year, donate it, or give it to a friend, or have a sway and share party.

Get emotionally connected to your look but not emotionally attached—meaning if the shoe fits wear it. If it makes you smile and feel like dancing, it's a go! But don't limit your opinion to just one look—like don't just buy one in every color and rotate—that's soooo boring!

Mix patterns, but stay in the same color hues.

Get a mentor if you fear change.

Love yourself more, because when you take better care of yourself you get better results. Everything looks better on a fit and energetic, happy person.

Your opinion matters! Listen to your heart and express yourself! It's an opportunity to be an artist on your living sculpture. So go ahead adorn yourself with the best of the best! Life is short—dress fierce, focused, and fun!
Lisa's Favorites
Favorite color: Bright lilac
Favorite perfume: Kai
Favorite restaurant in NY: Dirt Candy, Le Bernardin, Chop't
Favorite drink: Hot lemon water first thing in the morning, everyday since I was a teenager
Favorite movie: "The Wizard of Oz," with the Wicked Witch edited out
Favorite book: "The Little Engine That Could"—because there is nothing you cannot do, be or have!
Favorite quote: "Whether you think you can or whether you think you can't, you're right." —Henry Ford
Sibylle's "Style Diary" is a column that explores style from the perspective of choices, and what that means for different people, with personal advice from some of the most stylish people in New York.
Sibylle Eschapasse is from Paris and now lives in Manhattan. She is a journalist and a contributing writer to various publications. Sibylle is also the author of a children's book, "Argy Boy a New York Dog Tale." She may be reached at sibylle.eschapasse@gmail.com