Shanwei Shootings: Photos from Shanwei
December 10, 2005 12:00 am Last Updated: September 11, 2015 9:53 am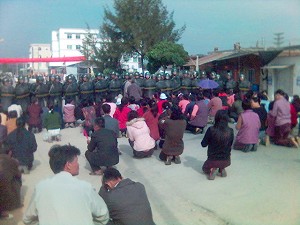 On December 6, CCP aauthorities in the rural Chinese village of Shanwei authorities sent 3,000 paramilitary police to use tanks and machine guns to suppress and kill protesting villagers. This is the first incident since the June 4 Massacre in Tiananmen Square that the Chinese Communist Party has publicly used military force and gunfire against civilians.
CCP authorities attempted to cover up the news by surrounding the village with tanks and several thousand soldiers. Martial law was comprehensively enforced and villagers were forbidden to leave the village. Large numbers of the victims' relatives kneeled before the military police and begged to be allowed to claim their relatives' bodies. Some of the villagers wore white clothes or white headbands and held incense and candles as they kneeled before the killers , crying out in their great grief.
Shanwei Enforces Martial Law, Relatives Beg to Claim Bodies
It is reported that the local government sent down a secret order to "damage the bodies and destroy the evidence, bodies are not allowed to be claimed." Villagers burned incense and knelt down before the police, begging to get the bodies of their family members back.
Currently, the armed police still surround the village. On December 7, 8, and 9, heavily-armed police entered the village to arrest people, badly frightening the surviving villagers, according to the villagers' reports.
The villagers revealed that, "The Shanwei city government is still lying about the incident. It claims that only three died and eight were injured, and the three who died killed themselves using explosives. The government also claims that no one opened fire, but these are all lies. It also told victims' family members not to tell the outside world that the victims were shot, and the city government will give them welfare, etc."
Sound of Hope radio interviewed local villagers and revealed that besides tanks in the village, machine guns will shoot at villagers on the street at any time. So far, about 70 people have been shot dead, most of them youths in their twenties.
The interview also revealed that villagers were isolated from each other, and no one dared to leave home to talk with neighbors. Phone service has been interrupted so all communication between the villagers is cut off.
These photos of Dongzhou village, Shanwei city, taken on the morning of December 9 at great risk by Epoch Times reporters in China, show a village in China grieving for its dead and the callous nature of the Communist Party that ordered the shooting that killed them.