The Chinese regime's leader is staying away from umbrellas, even when its pouring.
Journalists and onlookers were given raincoats and told to put away their trusty wet weather implements on a rainy Macau Friday, Dec. 19 when Xi Jinping arrived to celebrate the 15th anniversary of the city's return to China, Radio Television Hong Kong reports.
A Hong Kong journalist told Agence France-Presse that umbrellas were banned because it "would affect flights." Apparently, the authorities were concerned that unfurled umbrellas could fly out of loose grips, another reporter explained.
But the message couldn't be clearer: The Chinese communist leader is not about to let anyone catch him near the symbol of Hong Kong's recent pro-democracy protests.
International media dubbed the Hong Kong protests the Umbrella Movement after demonstrators opened umbrellas to shield themselves from tear gas and police batons on Sept. 28.
And in a remarkable quirk of fate, Xi Jinping ended up "joining" the protests.
A photograph of Xi Jinping with an umbrella won the National News Award — China's Pulitzer  equivalent — on Oct. 22, a week before the the first month anniversary of the Occupy protests.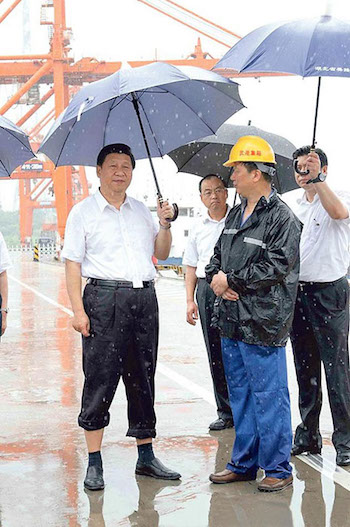 Netizens got hold of the photo, gave Xi a yellow umbrella (he originally held a navy blue one) and cropped him into numerous scenes of protest. The new images caught fire and broke the Internet, at least in Hong Kong.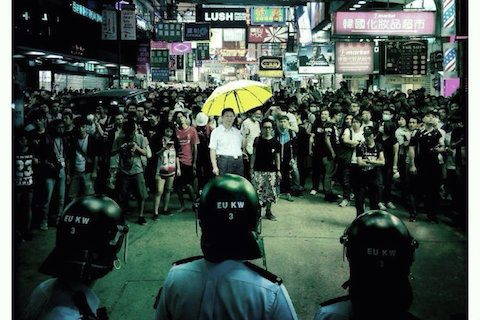 Umbrella protesters even made life sized cardboard cutouts of Xi and placed those at actual protest sites in Admiralty, Mong Kok, and Causeway Bay.
With Hong Kong police bringing the 79-day long student-led protests for fully democratic elections in Hong Kong to a close on Dec. 15, Xi could be excused for being a little paranoid and politically prudent when faced with a light rain.
How Xi and other Chinese officials remain dignified and stay dry in raincoats if the heavens open up a deluge at the next official event is a whole other issue.