News Analysis
The Politburo Standing Committee has been the Chinese regime's top decision-making body in recent history. Thus, Communist Party factions and powerful elders have strived to secure committee seats for their protégés before the National Congress, a crucial political meeting held once every five years during the fall season, where the Party's top officials are announced.
This fall, however, the committee might no longer be a key factor in elite Chinese politics.
Since the end of July, Chinese leader Xi Jinping has carried out several moves that appear to lend credence to speculation from earlier this year that he intends to break current leadership succession norms and even abolish the committee.
If Xi continues along the current trajectory of power consolidation, the Chinese regime is set to shift at the 19th National Party Congress from rule by a "collective leadership" to a rule of one.
'Unimaginable' Reform
Xi Jinping has spent the bulk of his first five years in office consolidating control over the Chinese regime, which had for nearly two decades been dominated by former Party boss Jiang Zemin and Jiang's powerful political faction.
Over 1 million Chinese officials and military officers have been purged under Xi's anti-corruption campaign, according to the Party's anti-corruption agency. Many of the purged officials are members or supporters of the Jiang faction. Xi's sweeping military reform was also partly aimed at ending Jiang's control over the People's Liberation Army (PLA).
By late 2016, Xi appeared to have arrived at a watershed moment when he took on the mantle of Party "core" leader, a symbolic title held by former paramount leaders (except for Hu Jintao). While official titles aren't always synonymous with a Chinese leader's power, Xi's "core" status at least suggested that he was "first among equals" on the Politburo Standing Committee.
This May, the reputable Hong Kong magazine Yazhou Zhoukan (Asia Weekly) ran an article about the Chinese regime's research into abolishing the committee. Citing a source close to high-level Chinese officials, Yazhou Zhoukan claimed that if Xi was able to resist internal Party pressure and control the appointment of top personnel, he would be able to push "reform that will seem unimaginable to outsiders," such as scrapping the committee, changing senior official retirement age norms, and ending the practice of allowing retired Chinese leaders to dictate a successor.
Since the publication of the Yazhou Zhoukan article, Xi appears to have made sizeable headway on reining in internal adversaries and regulating the reshuffle of personnel.
Following a rash of appointments of top provincial bosses and deputies in the first half of 2017, there are now slightly more elite provincial officers who are loyal to Xi than to Jiang. Xi has also replaced all provincial Political and Legal Affairs Commission chiefs who came to office with him in 2012. The commission is a small but powerful Party organ that oversees the domestic security and legal apparatuses, and was long controlled by the Jiang faction.
In late July, Sun Zhengcai, a former Politburo member thought by a number of observers to be the Jiang faction's de facto successor in the Chinese leadership, was suddenly investigated, stunning observers.
On Aug. 1, Xi promoted 138 generals, further weakening Jiang's lingering influence in the military while extending Xi's control. In a parade to mark the anniversary of the PLA's founding, the troops greeted Xi with "Hello Chairman" instead of "Hello Commander"—a curious title choice that emphasized Xi's political power.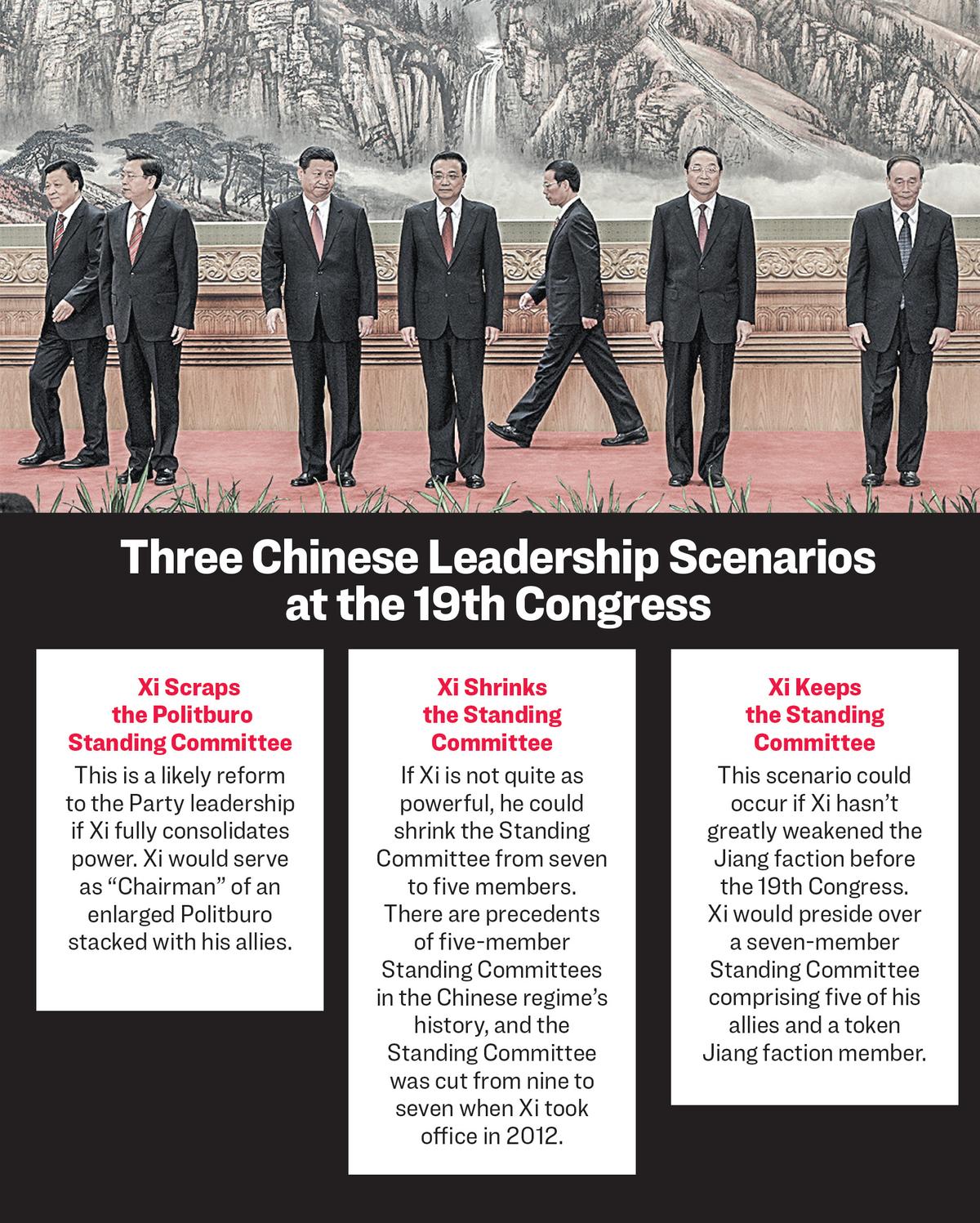 Power Consolidation
Leaked information from the corridors of the Party's headquarters in Zhongnanhai suggests that Xi has finally accrued enough power to revert the regime's leadership structure from the collective decision-making of the Politburo Standing Committee back to a single authoritarian figure.
There was no informal meeting at Beidaihe, the seaside resort where serving and retired Party elites gather every summer to decide on policy and personnel, according to two sources cited by the Hong Kong-based South China Morning Post. "Someone has already mustered full control and elders' politics has [sic] faded out," one of the sources said, which hints at Jiang Zemin's waning power.
A source close to the Xi leadership told The Epoch Times that Hu Chunhua, the only candidate in the current Politburo with the credentials to become successor of the Chinese leadership, has made an internal declaration that he has no ambitions for the top job. The source added that Xi has almost fully consolidated power.
Three paths are open to Xi once he brings back one-man rule, according to Ming Chu-cheng, a political science professor at National Taiwan University.
"The first path is Lee Kuan Yew's Singapore model, but that is nearly impossible in today's China," which suffers from intractable systemic corruption, Ming said. "The second path is that of [former Taiwan leader] Chiang Ching-kuo, and the third is that of [the last Soviet leader] Mikhail Gorbachev." Both Chiang and Gorbachev abandoned one-party rule for democratically oriented reform, albeit under very different circumstances.
Ming notes that Xi has made moves that set him apart from previous generations of Chinese leaders, but it is yet unclear which way he would go. The Xi leadership has banned Party cadres from having a religion, yet Xi himself said, "The gods are watching," in a speech to top Chinese officials—an uncharacteristic choice of words for the leader of the atheist Communist Party.
Ji Da and Wu Minzhou contributed to this report.