A legal advocacy group says the City of Ottawa's move to prevent Rolling Thunder biker convoy participants from accessing a designated downtown area with their vehicles this weekend is unconstitutional.
"We write to caution the City that its intention to enforce a 'motor vehicle exclusion zone' would be a gravely unjustified and unlawful restriction on Canadians' freedoms of expression, association, and peaceful assembly guaranteed under the Charter," writes lawyer Hatim Kheir of the Justice Centre for Constitutional Freedoms in an open letter to Ottawa Mayor Jim Watson on April 29.
The exclusion zone is designed to prevent a vehicle-based protest from getting close to Parliament Hill or blocking parts of the downtown core. Vehicles not affiliated with the event will be allowed access by driving past police barricades.
Kheir says the Justice Centre welcomes the enforcement of usual city bylaws, but blocking an area to vehicles has no legal basis.
"The 'motor vehicle exclusion zone' is an exercise of executive and police power that is not established by a by-law or any other statute. Therefore, it is not 'prescribed by law' as required by section 1 of the Charter, and therefore it cannot be justified."
The Justice Centre said it may take legal action if the city does not respect freedom of assembly.
The Epoch Times contacted the City of Ottawa for comment, but it was unable to respond by publication time.
The civil liberties legal advocacy group has lately been engaged in many litigation cases challenging COVID-19 restrictions, and its lawyers supported the organizers of the Freedom Convoy protest that took place in February.
The open letter was also sent to the Ottawa Police Service (OPS), the Ontario Provincial Police (OPP), and the Royal Canadian Mounted Police (RCMP).
Rolling Thunder
Watson said in a press conference on April 28 that he hoped to restore the residents' trust in the city and its police force with the management of the Rolling Thunder event, after some felt abandoned during the Freedom Convoy protest in Ottawa.
Hundreds of motorcycles are expected to participate, with additional support on four wheels, and they will roll along a planned route with no stopping or parking allowed. This will take place on Saturday.
Rolling Thunder organizer Neil Sheard says the goal of his event is to pay homage to veterans by "driving around and saluting" the National War Memorial, but the route designated by the city won't allow it.
Another group planning an event this weekend will hold a ceremony at the Memorial on Saturday morning.
Veterans for Freedom has planned what it calls "OP DIGNITY" to reclaim the monument after it says authorities desecrated it by erecting a fence around it during the Freedom Convoy protest and beating veterans during the police clearing operation.
A third group, Freedom Fighters Canada, has planned events on Parliament Hill Friday and Saturday.
Aggressive Stance
The city and the OPS have taken an aggressive stance in an attempt to minimize disruptions and deter unlawful activities.
The OPS wrote on Twitter on Friday afternoon that it is "aware of several vehicle convoys headed to the Ottawa area. Please be advised that your convoy will be diverted and you will not be able to stop or remain on area roadways."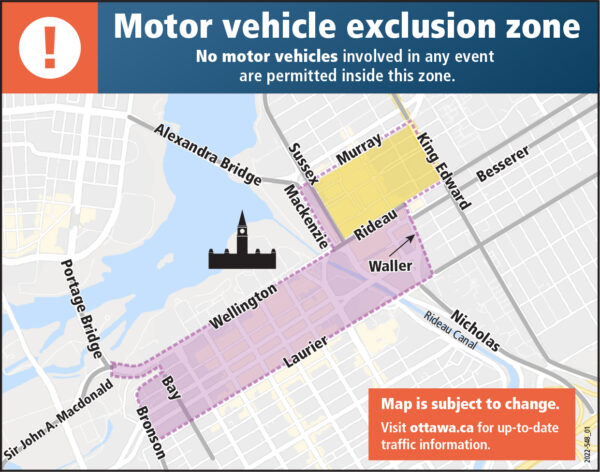 Hundreds of police officers from the RCMP and the OPP will also support the OPS.
"People certainly have the right to protest peacefully, and I want to emphasize that no illegal activity will be tolerated. We're stepping up enforcement and there will be significant consequences for people who break the law," said Watson on April 28.
Along with the vehicle exclusion zone, the OPS has stated that online communications will be monitored and that organizers would be "held accountable for their actions before, during, and after events."