Conservative lawmakers do not have sufficient power to counter legislative initiatives pushing for progressive policies because of the Democratic majority in Congress, Rep. Greg Steube (R-Fla.) told The Epoch Times.
Steube criticized recently passed bills such as the COVID-19 relief bill for including progressive measures unrelated to the pandemic and the progressive Equality Act for treating women unfairly in competitive sports.
He also pointed out that the Democratic domination of the House makes it difficult to pass a law promoting freedom, such as a bill countering social media censorship.
Steube encouraged state governments to take measures to prevent progressive and socialist policies from impacting people in their states.
COVID-19 Relief Bill
Steube called the COVID-19 relief bill passed by the House of Representatives "Pelosi's progressive giveaway" because only 9 percent of the $1.9 trillion spending included in the package is actually related to combating the CCP (Chinese Communist Party) virus pandemic.
All the rest are giveaways to progressive causes which have nothing to do with COVID-19, Steube said, such as the $15 minimum wage requirement, $15 billion bridge between New York and Canada, and many measures giving subsidies to illegal immigrants.
He added that the nonpartisan Congressional Budget Office (CBO) estimated that establishing the $15 minimum wage may result in a loss of 1.5 million jobs in the United States.
Steube also pointed out that the bill does not regulate how money allocated to individual states should be spent. It does not have to be spent on COVID-19-related causes, Steube said, so some states may use the funds to fix their financial problems resulting from budget mismanagement.
Moreover, there is still money allocated by the $900 billion pandemic relief package passed in December and other related programs that has not been spent yet, Steube said.
However, Democratic candidates, including President Joe Biden, campaigned on a promise to give $2,000 checks to everybody who voted for them, Steube said. Therefore the package passed in December included a $600 stimulus payment, and the relief bill passed in February included a $1,400 stimulus check, Steube explained.
The oversight of COVID-19 spending will be performed by the Biden administration, Steube said. Congress also has oversight power but Steube does not believe that it will be effective in a House dominated by Democrats. "If the Democrats are passing the bill, the Democrats are certainly not going to do oversight of their own bill," Steube said.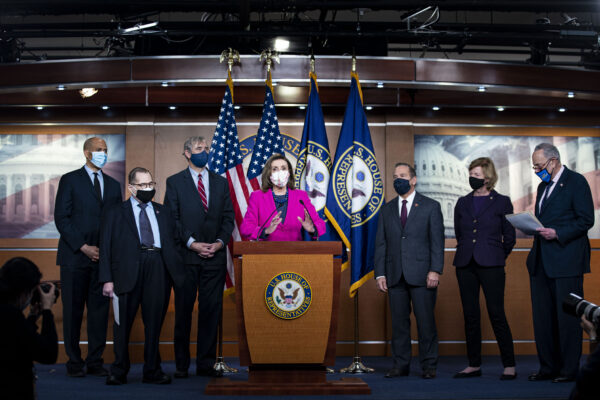 Women's Sports
Steube also expressed concerns over the recently passed Equality Act which allows biological men who identify as women to compete in women's sports.
"By forcing biological female athletes to compete against biological male athletes in competitive sports, we are taking away women's opportunities on and off the field," Steube said in a statement. "These unfair policies discount the hard work and determination put in by our female athletes and give biological male athletes an unfair advantage in joining teams, setting records, and earning scholarships."
This bill was the focus of Democrats, Steube said. He "thought there'd be some moderate Democrats that would see how atrociously progressive the bill is and vote against it, but they didn't."
Steube reintroduced his bill to protect women and girls in competitive sports by ensuring that a person's reproductive biology and genetics at birth will determine whether the person can participate in women's sport competitions and girls' athletics.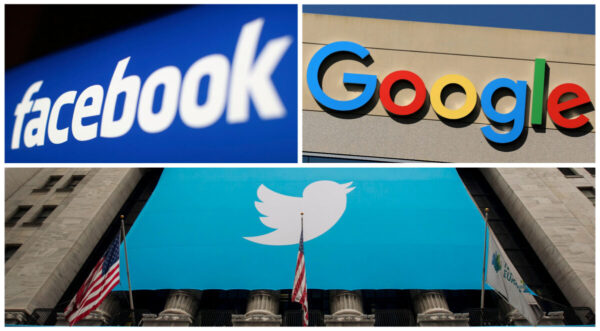 State Governments Can Help
In January, Steube reintroduced legislation in the House that will hold Big Tech accountable and promote free speech online, while protecting children from harmful content.
"This legislation would make Section 230 [of the Communications Decency Act] immunity conditional for market-dominant Big Tech companies—in order to receive the special government protection, these platforms would be required to adhere to a First Amendment standard for their content moderation practices," a statement from Steube said.
Steube thinks that if Big Tech companies "didn't have that protection under the law, then their behavior would change dramatically."
However, it might be difficult to pass such a bill with the Democratic majority in the House, Steube said. "When we are filing bills and fighting against Big Tech censorship, it's obviously falling on deaf ears, and the Democratic majority is not going to take it up," he added.
Steube said as a Florida congressman he is proud to see states like Florida take a stand against social media censorship. Florida Gov. Ron DeSantis announced a proposal that will allow tech platforms to be fined or sued for certain content-policing decisions.
Steube applauds state governments taking action on this issue because, at the federal level, conservatives do not hold the majority in Congress to pass similar legislation.
Agencies in the different states that have the ability to get involved in this should look at the example of what Florida has done and take similar action, Steube suggested.
The congressman said that he encouraged the attorney general in Florida to file lawsuits to contest Biden's executive orders related to immigration and the Keystone pipeline. They affect the business and the operation of immigration in the state and "are way outside the executive purview," Steube said, adding that these types of regulations should go through Congress.
Steube also hopes that Republican lawmakers in the states with election integrity issues will make legislative changes to fix the issues seen in this last election cycle such as mail-in ballots with no verification.
"Hopefully, [in] the states that had problems like Georgia, Pennsylvania, Michigan, and Wisconsin, their legislators will take action, which is their authority under the Constitution to do that, to ensure election integrity going forward," Steube said.
Petr Svab contributed to this report.