As Hurricane Nate gained strength over the Gulf of Mexico on Saturday, President Donald Trump said that preparations have been made.
"Our great team at @FEMA is prepared for #HurricaneNate," Trump wrote on Twitter. He called on people in Louisiana, Mississippi, Alabama, and Florida to "please listen to your local authorities & be safe!"
Our great team at @FEMA is prepared for #HurricaneNate. Everyone in LA, MS, AL, and FL please listen to your local authorities & be safe!

— Donald J. Trump (@realDonaldTrump) October 7, 2017
Trump approved a disaster declaration for Louisiana on Friday. The declaration authorizes the Department of Homeland Security and the Federal Emergency Management Agency (FEMA) to coordinate all disaster relief efforts.
"FEMA is authorized to identify, mobilize, and provide at its discretion, equipment, and resources necessary to alleviate the impacts of the emergency," the declaration states.
Under the declaration, 75 percent of emergency protective measures are covered by federal funding.
Hurricane Nate is threatening to hit the U.S. central Gulf Coast as a Category 2 storm after it killed at least 25 people in Central America.
The outer bands of the hurricane were expected to batter parts of the U.S. Gulf Coast with tropical storm-force winds on Saturday evening, with the center of the storm forecast to make landfall overnight, said U.S. National Hurricane Center spokesman Dennis Feltgen.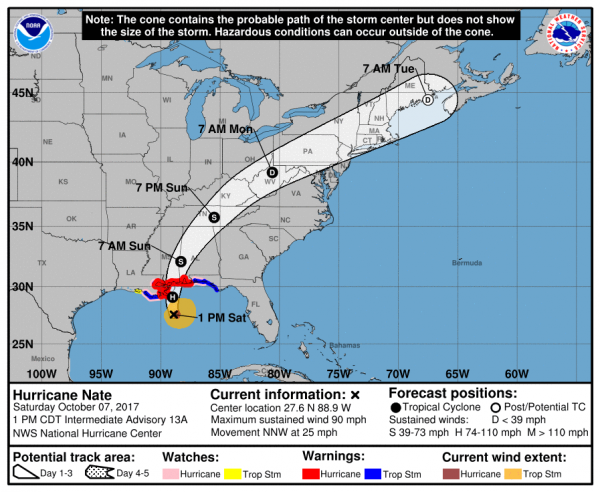 Major shipping ports across the central U.S. Gulf Coast were closed to inbound and outbound traffic on Saturday, as Nate intensified and storm surges of up 11 feet were expected at the mouth of the Mississippi River.
The U.S. Coast Guard ordered the closures beginning at 8 a.m. local time for New Orleans; Gulfport and Pascagoula, Mississippi; Mobile, Alabama, and Pensacola and Panama City, Florida.
The Category 1 hurricane, the weakest on a five-category scale used by meteorologists, was expected to strengthen to Category 2, with winds in the range of 96 to 110 mph, before making landfall, according to the National Hurricane Center (NHC).
It was expected to strike between Slidell, Louisiana, and Alabama's Mobile Bay, Alabama Governor Kay Ivey said in a message on Twitter.
It was forecast to veer to the northeast after hitting the coast, a path that would cut through Alabama. Ivey urged residents in areas facing heavy winds and storm surges to take precautions, saying Alabama could be the worst-hit.
As Nate approached, New Orleans, which is 30 miles southwest of Slidell and is the largest city in Louisiana, evacuated some residents from areas outside its levee system.
The winds could cause significant power outages in New Orleans, and storm surges are projected to be 6 to 9 feet high, Mayor Mitch Landrieu said.
Central American Deaths
The storm doused Central America with heavy rains on Thursday, killing at least 12 people in Nicaragua, nine in Costa Rica, two in Honduras, and two in El Salvador.
Thousands were forced to evacuate their homes and Costa Rica's government declared a state of emergency.
Costa Rican President Luis Guillermo Solis urged residents to remain vigilant, noting rains would likely resume.
In Honduras, residents wondered whether they would have to flee.
Reuters contributed to this report