During his visit to Japan, President Donald Trump met with relatives of Japanese citizens who have been abducted by the North Korean regime.
President Donald Trump said that he and Japanese Prime Minister Shinzo Abe are trying to get the abductees back.
Most of the abductions took place between the late 1970s and early 1980s. The abductees were kidnapped from Japanese coastal areas by North Korean agents intending to use them to teach spies Japanese language and culture.
North Korea has admitted to having carried out at least 13 such abductions. Tokyo believes at least 17 Japanese citizens have been abducted.
In total, Trump met with 16 family members of abductees, and one former abductee.
"It's a tremendous disgrace," President Trump said after hearing their stories. "And I just met some really wonderful people who have gone through a lot."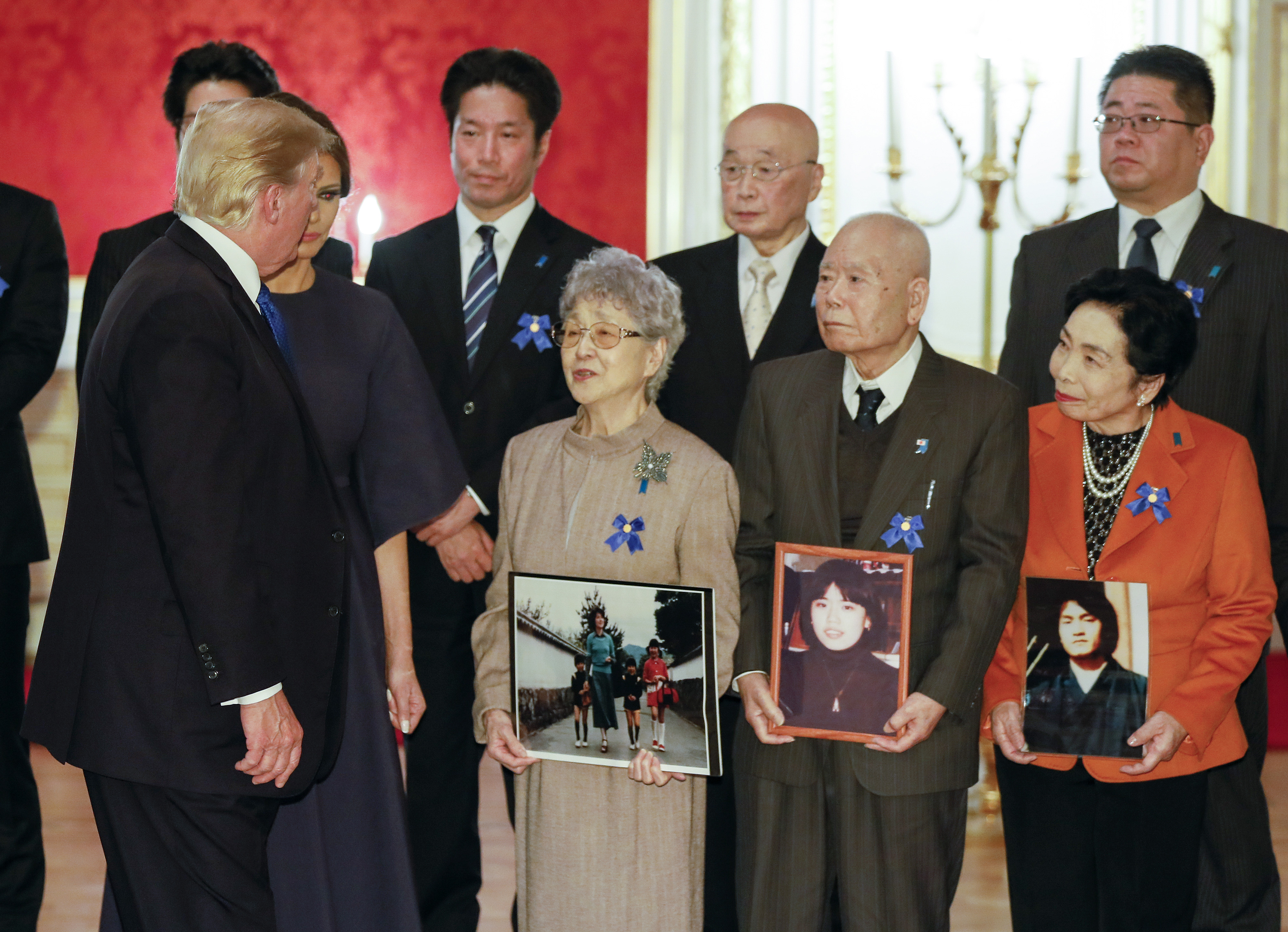 Japanese Prime Minister Abe thanked Trump for his concern for the families.
"I'm particularly grateful for President Trump and Madam First Lady, who kindly spent their time with a former abductee and the family members of those who had been abducted by North Korea," Abe said.
Abe also thanked Trump for bringing up the issue of Japanese abductions during his speech before the United Nations General Assembly in New York on Sept. 19.
"The speech by the American President on the occasion of the U.N. General Assembly is something that the entire world would pay attention to," Abe said.
In his speech before the U.N. General Assembly on Sept. 19, Trump talked about one of the victims, a 13-year-old Japanese girl.
"We know it [North Korea] kidnapped a sweet 13-year-old Japanese girl from a beach in her own country to enslave her as a language tutor for North Korea's spies," Trumps said in his UN speech.
Megumi Yokota was kidnapped by North Korean agents while on her way home from school in 1977. She was only 13 years old at the time.
According to a 2014 report by the United Nations Human Rights Council, North Korea is estimated to have kidnapped over 200,000 foreigners since 1950.
Most of the abductions and disappearances happened during the Korean War. In addition, there was an organized movement of ethnic Koreans from Japan to North Korea that started in 1959.
Among the foreigners are women from Europe, the Middle East, and other parts of Asia who "were abducted in order to be given as wives to foreigners already present in the DPRK."
"The DPRK used its land, naval and intelligence forces to conduct abductions and arrests. Both Korean War and post-war operations were approved at the level of the Supreme Leader," the U.N. report states.
In one such a case, former North Korean dictator, Kim Jong Il, directly had contact with abduction victims. South Korean film director Shin Sang-ok and actress Choi Un-hee—both abductees—were used to make several North Korean propaganda movies for which Kim was the executive producer.