President Donald Trump said he has signed an executive order imposing sanctions on the North Korean regime.
Under the new sanctions the U.S. Treasury has the authority to target businesses and financial institutions that finance or facilitate business with North Korea.
"For much too long, North Korea has been allowed to abuse the international financial system to facilitate funding for its nuclear weapons and missile programs," Trump said during a meeting with the leaders of Japan and South Korea.
"Our new executive order will cut off sources of revenue that fund North Korea's efforts to develop the deadliest weapons known to humankind," he said.
Trump also said that China's Central Bank has instructed its banks to stop providing financing to North Korea.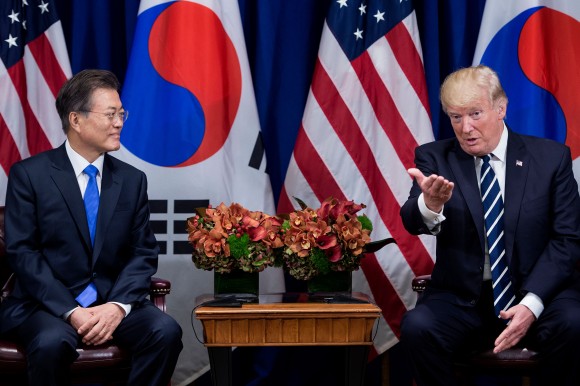 The new sanctions come just 10 days after the U.N. Security Council approved new sanctions on the regime in response to its most recent nuclear test.
Those sanctions primarily targeted the North's oil and gas supplies. Under the agreement, all natural gas supplies to the North would cease, and refined and crude oil products can only be sold in limited quantities.
The Trump administration had wanted a full ban on oil sales to North Korea, but received pushback from Russia and China, the North's biggest backer.
Throughout his presidency, Trump has called on China's communist authorities to help address the North Korean problem. China is North Korea's main trading partner and a vital lifeline both financially and for basic goods.
The new sanctions point to a stronger collaboration between President Trump and his counterpart Chinese leader Xi Jinping.
China's close relationship with its communist neighbor had primarily been cultivated by former Communist Party chief Jiang Zemin. But since Xi Jinping came to power he has stopped high-profile visits by Chinese officials, and seemingly been willing to help Trump.
However, given Jiang's ongoing control over parts of the Chinese regime, Xi has been limited in his ability to execute on this. There are signs however that Xi is getting rid of Jiang's influence. This is mostly through Xi's anti-corruption campaign which has seen thousands of corrupt officials purged, many of whom were involved in severe human rights abuses under the Jiang regime, such as the persecution of practitioners of the spiritual discipline Falun Gong.
North Korea's regime has fired two ballistic missiles over Japan in a time span of less than a month. It also tested a nuclear weapon underground earlier this month, which experts say was several times stronger than the atomic bombs used by the United States in World War II.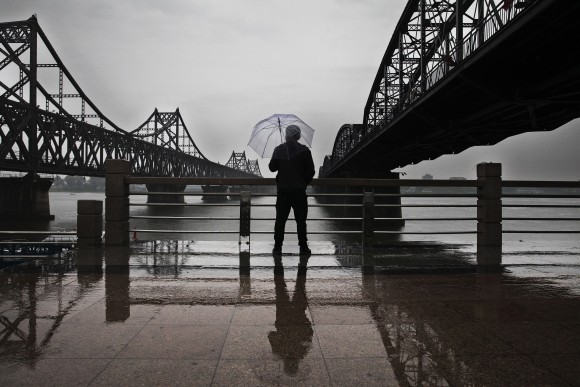 Secretary of State Rex Tillerson said on Wednesday that the UN sanctions on North Korea are starting to work.
He said that evidence is emerging of fuel shortages in the country as a result of the cut supplies. However, the North has stocked up on fuel over the past year in anticipation of such an event, he said, meaning the full impact would probably not be felt until later.
The UN sanctions also ban exports of North Korean textile products such as fabrics and apparel products.
South Korea's Prime Minister Moon Jae-In praised the US  response to the North Korean crisis during a bilateral meeting with Trump on Thursday.
"North Korea has continued to make provocations and this is extremely deplorable and this is angered both me and our people. But the United States has responded firmly and in a very good way," he said.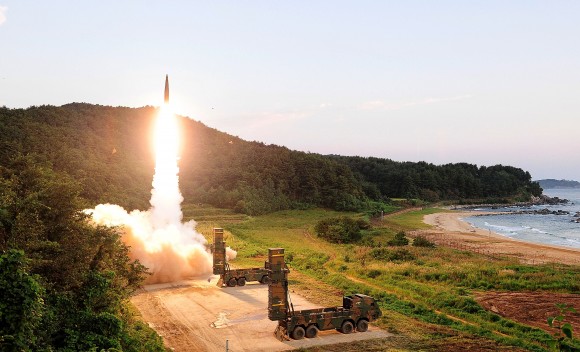 Moon also praised Trump for his speech at the UN General Assembly on Tuesday.
"You made a very strong speech and I believe that the strength of your speech will also help to change North Korea," he said.
In his speech, Trump called on world leaders to do more to counter the threat of North Korea and other rogue regimes such as Iran. He said that while the United States has great patience it has the ability to completely destroy North Korea if the United States or its allies are threatened.