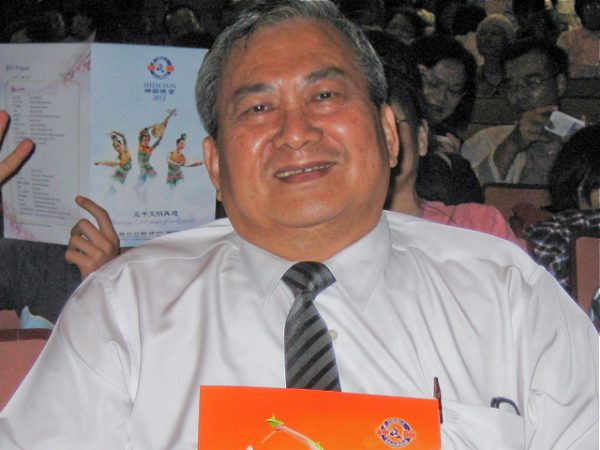 KAOHSIUNG, Taiwan—Locals with tickets to the last Shen Yun Performing Arts New York Company performance in Kaohsiung were queuing up outside Sun-Yat-sen Hall on March 17. After successful shows in Kaohsiung, the New York-based company next continues its Taiwan tour to Taipei.
After the show, Rong-Xian Deng, Chairman of the Performing Artists Union of Kaohsiung and the Southern Training Center, applauded the performance saying it was world-class.
Mr. Deng said: "Shen Yun Performing Arts is carrying on the glory of the 5,000-year [Chinese] traditional culture. Dances that originated from different dynasties came alive in a thoroughly organized manner. The whole production was beautiful."
A first-time viewer of Shen Yun's digital backdrop, Mr. Deng commented, "The performance was quite unique in style, including the use of a technologically advanced backdrop. This was simply very well done."
Mr. Deng, a former screenwriter for theater plays, said: "I think the overall production was remarkable. … Because of my previous experience in theater, I paid special attention to the sequence of the performance. These performers were wonderful between scenes, making rapid entry and exit from the stage."
Mr. Deng elaborated: "There is usually a limit of what a performer can do physically. But these performers have simply gone beyond what is normally capable. It was simply outstanding."
Shen Yun Evokes Emotions and Tears
Ms. Xuefeng Hong, an associate professor in the Department of Beauty Science, Meiho University, was in the audience with her son and daughter. As she recalled the performance, she burst into tears. While wiping the tears, she said, "Even though I have watched the performance four or five times, I am still moved to tears very time."
Ms. Hong noted, "The costumes and backdrops were very unique, and are different every year. In addition, accompanied by the beautiful music, the performance was really fabulous and great!"
A regular favorite among audience members is the stirring melodies of the two-stringed erhu, also known as the Chinese violin.
"The performance of the erhu was heart-touching … really great!" she said.
"From Mu Guiying Commands the Troops to the final program Before Disaster, the Divine Is Rescuing my heart was deeply touched. I am very excited, and it is hard to express in words," she added.
Folk Song Lyricist Sees Hope in Shen Yun Performance

"If I had come to see the [Shen Yun] performance earlier, my life would be more than this," said Bao Tsyy-Lin, a folk song lyricist, after seeing Shen Yun Performing Arts New York Company's last performance in Kaohsiung on March 18. Ms. Bao regretted that she hadn't seen the show earlier, saying that she "saw hope" in the performance.
Ms. Bao was a folk song composer in the 1980s and currently works at the Wanluan Middle School. She said of the performance, "It has the power of kindness and compassion, and lets me see hope."
Shen Yun's presentation of the divinely inspired traditional Chinese culture inspired Ms. Bao, who promotes life education in the school system. "I can feel the strength of beings wanting to ascend. In our society, there is struggling between righteousness and evilness. We see some people have morally degenerated. However, Shen Yun lets me see that there is still a group of people with hope and who are trying to ascend. We should not give up because righteousness does exist and there is hope. We should not be discouraged," she said.
Ms. Bao was overwhelmed by the exquisite performance and the world-class dance, music and dynamic backdrop. "They have exceeded the realm of art. I can't describe it as art. It is a feast of soul."
Ms. Bao later described her experience of Shen Yun as "full harvest."
Reporting by Xiu-E He & Frank Fang and Li-E Huang & Joseph Wu and Wang Jing-Yu & Lin Hsin-Yi.
Shen Yun Performing Arts, based in New York, tours the world on a mission to revive traditional Chinese culture. Shen Yun Performing Arts New York Company will perform in seven cities in Taiwan until April 8 and then continue to top venues in Australia and New Zealand.
For more information visit ShenYunPerformingArts.org
Read the original Chinese article
Read the original Chinese article
Read the original Chinese article