PepsiCo Breakup May Be in the Works
April 23, 2013 5:44 pm Last Updated: April 24, 2013 9:17 am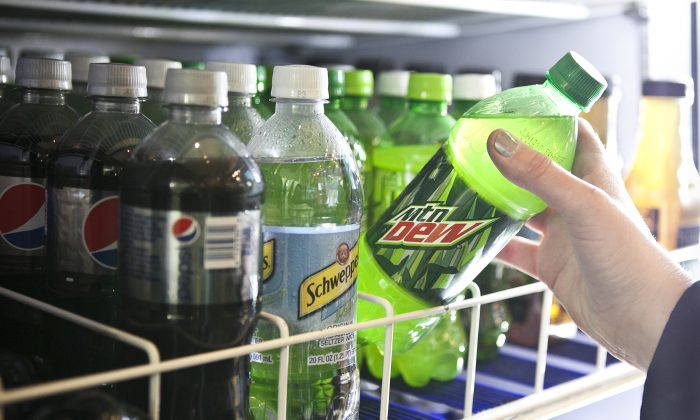 The traditional rivalry between PepsiCo Inc. and The Coca-Cola Co. could take an interesting turn if certain activist investors have their say.
Shares of PepsiCo (PEP) popped last week on a positive quarterly earnings report, and as was the case in recent quarters, analysts were quick to dissect and compare strengths and weaknesses of its two main segments—beverages and snack foods.
Overall the company reported fiscal first-quarter net income of $1.08 billion, or 69 cents per share, numbers which largely met analysts' expectations.
Digging into its business lines, sales volume and revenue in its North American foods segment increased 3 percent and 5 percent respectively, largely based on the strength of its snack foods division, Frito-Lay North America, which saw volume and net revenue both increasing by 4 percent. On the other hand, its North American beverages segment underperformed—volume declined by 3 percent and net revenue dropped by 1 percent.
PepsiCo has an array of portfolio brands, counting Pepsi, Gatorade, and Mountain Dew among its beverages and Frito-Lay, Doritos, Quaker foods, and Ruffles potato chips among its food brands. But its recent fortunes have largely come on the back of stellar growth of its foods and snacks business.
The Purchase, N.Y.-based company is in the middle of a review of its beverage and bottling business, after a boost in marketing and brand spending—including enlisting the help of pop icon Beyoncé—in recent years failed to jump-start demand for its namesake Pepsi-Cola drink. CEO Indra Nooyi said on a conference call with Wall Street analysts last week that the market for its soda and cola products has been tough, especially in recent months, as consumer tastes have drifted away from sugary soft drinks.
Extracting Value
PepsiCo and Nooyi have long called for a dual-pronged approach in growing its foods and beverages businesses in tandem, especially in its emerging-markets growth strategy and recent efforts to streamline operating costs and share business services between segments.
But recent weakness in the North American beverage market has galvanized activist investors to push for changes to PepsiCo's beverages unit, which has become a drag on company earnings in recent quarters. One popular proposal has been to break up the company and spin off the beverages unit into a separate company. Hackneyed phrase "unlocking shareholder value" has been used to describe such a move, which analysts say would benefit both resulting companies as respective managements can focus their energies and resources to grow and manage distinct businesses with different outlooks.
Activist investor Nelson Peltz of Trian Fund Management LP disclosed last week a stake in PepsiCo of 3.93 million shares as of Dec. 31, 2012, worth $269 million at the time. PepsiCo subsequently announced that it has held talks with Trian to drive earnings growth.
"In recent weeks, we have held meetings with Trian to discuss and consider their ideas and initiatives as part of our ongoing evaluation of all opportunities to drive long-term growth and shareholder value. Trian is a respected investor, and we look forward to continuing constructive discussions with them," PepsiCo announced in a statement on its website on April 19.
While specifics of the discussions between Trian and PepsiCo were not disclosed, a breakup of PepsiCo's beverage and snack foods businesses was likely part of the discussions. One clue lies in that Trian also disclosed, in its April 19 Securities and Exchange Commission filing, a sizable holding in Mondelez International Inc. (19.4 million shares worth $494 million, as of Dec. 31, 2012), the snack foods maker, which was spun off from Kraft Foods in 2011.
Peltz could be angling to merge PepsiCo's snacks business with Mondelez, creating one of the biggest snack food manufacturers in the world. While a merger isn't probable, Peltz has likely already achieved his goal—the value of his holdings in both companies is now worth far more. Since he bought into both companies, shares of Mondelez have risen 24.5 percent, and shares of PepsiCo have gained 21 percent.
A spinoff was also pushed by Ralph V. Whitworth of hedge fund Relational Investors, which amassed a large position in PepsiCo last year and met with company management in an effort to bring forth additional restructuring following slowing sales and massive layoffs at PepsiCo in early 2012. The talks did not amount to much, however. Relational disclosed that as of Dec. 31, 2012, it owned 7.6 million PepsiCo shares, but has since sold off some of that stake, albeit at a gain.
A Possible Hint From Nooyi
Nooyi said on last week's conference call that PepsiCo is exploring "sensible opportunities to unlock incremental value through meaningful structural alternatives." While the exact meaning of Nooyi's statement is unknown, the tone of the sentence—especially the phrase "to unlock incremental value through meaningful structural alternatives"—suggests that the above proposal is at least an option on the table.
If true, Nooyi's new sentiments are a departure from her past stance. Regardless, any change will likely have to wait until we get a clearer sense of where the financial markets are headed. PepsiCo Chief Financial Officer Hugh Johnston said on the call that the company would update investors in early 2014 regarding decisions on the restructuring of its beverage business.
Breakup Precedence
PepsiCo can look at a recent example of company spinoff for guidance.
The closest company to PepsiCo, in terms of industry benchmark, might be Kraft Foods Inc., which spun off its snacks business as the aforementioned Mondelez. Its grocery and beverage unit was renamed Kraft Foods Group Inc. The two companies retained different management, boards of directors, and were able to refocus their energies at growing their respective business lines—the high-margin, low-growth grocery business separate from the low-margin but high-growth snack business.
The same could also work for PepsiCo. The corporate entity PepsiCo Inc. is essentially a holding company—as are Mondelez and Kraft—and its core consumer products and brands would remain unchanged. As such, sales impact would be minimal, but the separate companies would fund their own infrastructure, support, and operations.
The Kraft transaction resulted in an immediate windfall for existing Kraft shareholders. Since the split, however, results have been somewhat mixed. Kraft Foods Group Inc. has seen its shares rise by 10.5 percent (since Oct. 1 2012), while shares of Mondelez gained 11.5 percent in the same span. Those results are respectable but trail the performance of the S&P Food & Beverage Select Industry Index, which has soared 20.3 percent as of April 19.
For now, PepsiCo has time on its side. The company's share price has risen almost 21 percent year-to-date and last week reached an all-time high. But if recent beverage industry trends continue, the drumbeats of activist investors could grow loud in a hurry.