Pattern of Harsh Prison Sentences Emerging in China
August 10, 2010 2:15 am Last Updated: August 10, 2010 5:40 pm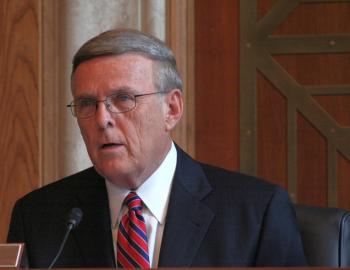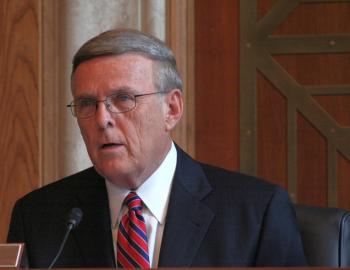 WASHINGTON—The Chinese regime has been notorious for using detention to stifle dissent and advance the state's agenda. Over the last two years, these abuses have worsened, with more detentions and longer sentences being meted out.
Testimony before the Congressional-Executive Commission on China (CECC) discussed both high profile cases of dissenters being imprisoned and lesser known cases of persons not particularly critical of the regime—such as a Uyghur journalist and a geologist who happens to be a U.S. citizen employed by a U.S. company.
"What is the trend towards the greater imprisonment of people for exercising their right of free speech?" asked Senator Byron Dorgan (D-ND), who chaired the hearing held on Aug. 3 on Capitol Hill. He expressed concern for those sending an "innocent e-mail" through the Internet being arrested and put "in some dark cell for 10 or 20 years."
Sen. Dorgan said he was concerned secondly for the lawyers and human rights defenders inside China whom the regime is clamping down on for defending "house church people, AIDS activists, Falun Gong practitioners, Uyghurs, and Tibetans."
Dissidents Jailed
Sen. Dorgan expressed particular indignation at the way the regime has handled Gao Zhisheng, saying it was perhaps the "most outrageous" and "cruel" example of physical and psychological abuse of one of China's greatest human rights lawyers.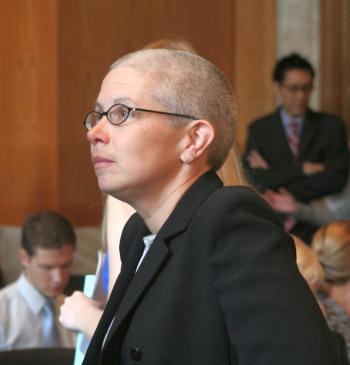 Gao's disbarment, torture, imprisonment, and then a long time disappearance, his reappearance last spring for two weeks and then his abduction again by security police "revealed a complete disregard for his individual rights and the rule of law."
The senator said he has personally written the Chinese government as well as the embassy in Washington about the status of lawyer Gao, but has not received a satisfactory answer.
The recent increase in detentions has seen an increase in the state's use of the charge "endangering state security" (ESS).
Last December, prominent writer Liu Xiaobo was sentenced to 11 years for "inciting subversion of state power"— Joshua Rosenzweig from the Dui Hua Foundation said at the hearing that this was the longest sentence known to have ever been handed down in China in the category of ESS.
An advocate for human rights and democracy in China since Tiananmen protests in 1989, Liu's case shows the concerns the regime has for the use of the Internet to distribute writings critical of the regime.
Liu's harsh and lengthy sentence is representative of a trend, according to Rosenzweig.
"The most recent official statistics suggest that as many as 1,500 Chinese were convicted on state security charges in 2009—more than three and a half times the number convicted for ESS in 2004," said Rosenzweig. More arrests and indictments for ESS were carried out in 2008 and 2009 than in the 5-year period from 2003 to 2007.

Furthermore, official court statistics reveal that individuals convicted of the "crimes" above are being punished more harshly, said Rosenzweig. He said there has been a 20 percent increase of sentences of 5 years or longer in 2009.
Professor of Law Jerome A. Cohen, New York University, expressed concern for the blind "barefoot lawyer" Chen Guangcheng. Chen exposed to the world the forced abortions and sterilizations in Linyi, Shandong province, by officials enforcing China's one child policy.
On trumped up charges—"damaging property and organizing a mob to disturb traffic," according to the BBC, Chen was sentenced to 4 years and three months. Chen's sentence is completed in September, and Cohen worries that Chen will continue to be confined to his home, be harassed by police, and in effect, become a prisoner for life.
In Cohen's verbal testimony, he said that Chen's 5-year old daughter is not allowed to enroll in school.
New Type of 'Political' Prisoner
Dr. Xue Feng is a petroleum geologist and naturalized American citizen who was born in Shaanxi province. In 2001, he allegedly helped his employer, a U.S. energy consulting company, purchase a database containing information on the locations of oil wells. Dr. Xue "disappeared" in China in Nov. 2007, according to an article by Professor Cohen, cited by CECC.
On July 5, 2010, a Beijing court sentenced Dr. Xue to 8 years in prison and a fine of 200,000 yuan (US$29,850) for "trafficking state secrets," said the CECC, citing a Wall Street Journal report.
The CECC documents Dr. Xue's case and notes that China officials did not declare the database a state secret until after the transaction occurred, and that they allegedly attempted to coerce Dr. Xue into confessing to the crime by the use of torture. U.S.-China consular agreement was violated in Dr. Xue's case in that authorities did not notify American officials of Dr. Xue's detention, and access was restricted.
A yet more severe sentence is the 15 years that Uyghur journalist Gheyret Niyaz received on July 23, 2010, for "endangering state security." His "crime" was granting an interview with foreign media after the July 2009 ethnic violence in Xinjiang, said Sophie Richardson, Human Rights Watch and also mentioned by Sen. Dorgan. Niyaz was sentenced 15 years in prison even though in the interview, he cited outside instigators in the unrest, which is the regime's line as well.
Raising Individual Cases

Richardson said that "all senior Obama administration officials should commit to raising at least one individual case in each meeting with their Chinese counterparts."
Rosenzweig said that the U.S. government needs to hold China accountable for responding to requests for information about prisoners "in a sincere and timely manner."
The Dui Hua Foundation maintains a prisoner database of persons imprisoned for the nonviolent expression of their political and religious beliefs. Currently, Rosenzweig said that 5,800 are placed in an "active registry," from which his organization raises individual cases to the Chinese regime to request humane treatment and early release.
The Dui Hui database forms the basis of the CECC's political prisoner database. Members of Congress need to take better advantage of the Commission's political prisoner database, said Rosenzweig. Members of Congress should hand over lists derived from the CECC database to Chinese officials, which was done for the very first time in 2008 by Reps. Chris Smith (R-N.J.) and Frank Wolf (R-Va.).
The CECC was created by Congress in October 2000 to monitor human rights and the development of the rule of law in China and presents an annual report to the President and Congress.