WASHINGTON—Practitioners and supporters of Falun Gong observed the 20-year anniversary on Thursday to mark the date when the Chinese Communist Party launched a brutal crackdown on July 20, 1999. This year, protesters were heartened by the increased worldwide awareness of the persecution as well as the desire to do something about China's appalling human rights situation.
About 1,000 protesters gathered at the West Lawn adjacent to the Capitol building at noon, July 18, to hear speeches from two Members of Congress, a U.S. commission, and several human rights and faith affiliated NGOs.
The host of the rally, Executive Director of Friends of Falun Gong Alan Adler struck an optimistic tone: "Already in the last six months, we have seen unprecedented attention on China's human rights situation. Mainstream media and the American public is finally waking up to the seriousness of a world where the CCP is allowed to flourish."
While the persecution of religious minorities in China is nothing new, this year the patience for its misdeeds is wearing thin, and the desire to take action is much stronger. The exposure of China's repression and wanton killing of Falun Gong practitioners is bringing a fresh look at the China state and its criminal behavior. At the same time that the rally was unfolding, Secretary of State Pompeo said at the State Department's Second Ministerial to Advance Religious Freedom, "Everyone in this room knows, too, that the Chinese faithful need our support. In September of last year, Chen Huixia, a member of the Falun Gong, was sentenced to three and a half years in prison simply for practicing his faith."
The day before, Yuhua Zhang met with President Trump in the Oval office with 27 survivors of religious persecution, and told him that her husband is imprisoned in China for practicing Falun Gong. Zhang is also a practitioner and had been persecuted in the past. This encounter is the first time that President 
Trump
 at the White House has officially met with a
Falun Gong
practitioner who has been persecuted by the CCP. The president asked where her husband was imprisoned and she replied that he was held at Suzhou Prison in Jiangsu Province. She also said that Falun Gong members have been subjected to forced organ harvesting.
"We should take action," Zhang said to the President. "Just words doesn't work. How do [we take] action against the Chinese communist regime?" according to the report of The Christian Post on July 19.
Zhang's sentiment for action is occurring in communist China too. Dr. Wang Zhiyuan, chairman of World Organization to Investigate the Persecution of Falun Gong, said, "The movement of the Chinese general public against the [Falun Gong] persecution has begun." He called for bringing forth the evidence of its culpability.
David Kilgour, former Canadian Secretary of State (Asia-Pacific), also spoke of the importance of the evidence and independent research in exposing the mass killing of innocents and coverup. Kilgour with human rights attorney David Matas has been engaged in researching China's organ harvesting for years and wrote "Bloody Harvest" (2009, following upon a report of the same name released in 2006). He said, "The Chinese party-state has no credible factual answers to the work of independent researchers." Unfortunately, the transplant professionals in the West have largely accepted the CCP propaganda, he said. He expressed the need for a willingness to confront the truth about the organ pillaging and the killing of innocents with these professionals.
Congress Members Stand With Falun Gong
Congresswoman Sheila Jackson Lee (D-Texas) gave a rousing speech to the protesters who were enduring intense heat in one of Washington's hottest days. Lee, who is a member of the Tom Lantos Human Rights Commission and the Helsinki Commission, was moved by the photos of victims of the persecution that many protesters held facing the speaker. She said that we must stand for them, "honor and fight" for them. "I do believe that there must be a response for those people who die or [are] missing because of only what they believe. Twenty years is too long! We must stop the crimes against decent and loving people," she said.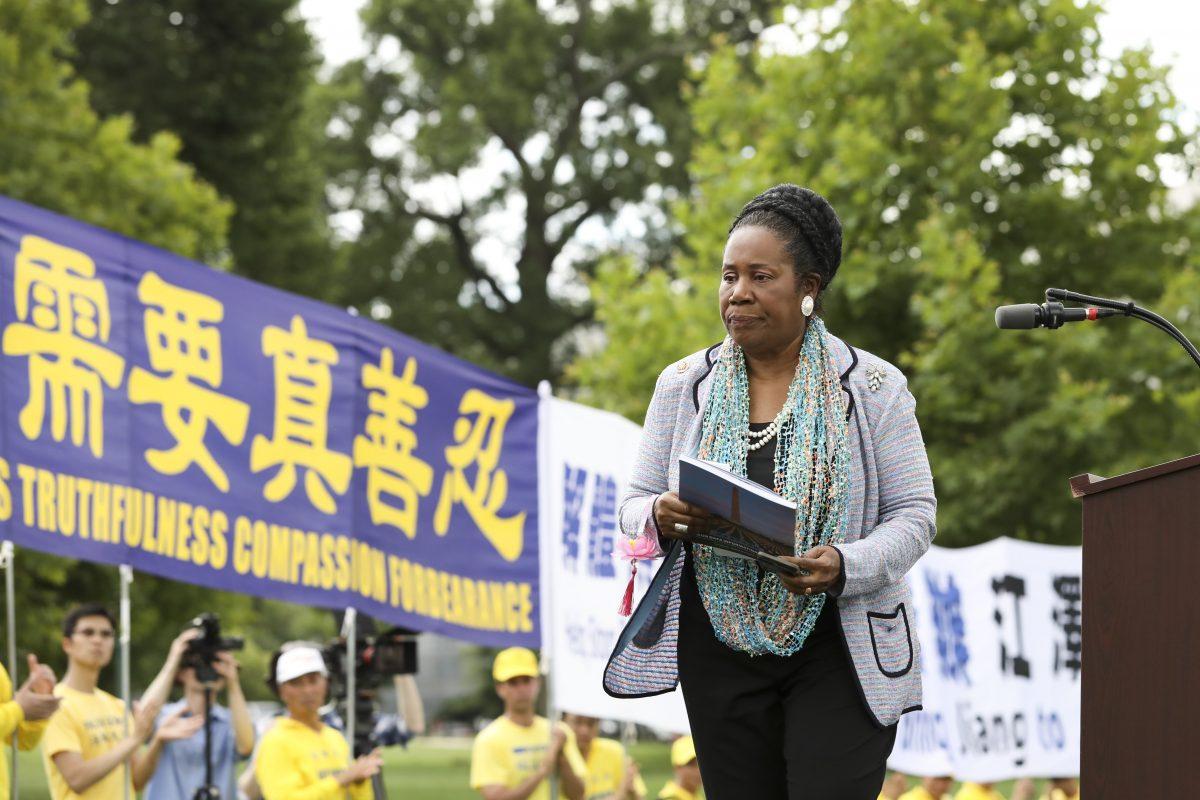 Another member of Congress who devotes a lot time to strengthening human rights and is a longtime supporter of Faun Gong is Steve Chabot (R-Ohio), who said, "The Chinese Communist Party is truly barbaric. Wrongful imprisonment, reeducation—brainwashing (really torture), and forced organ harvesting… Now they are doing the same things to the Uyghurs in Xinjiang. Such tactics have no place in a civilized society."
Optimistic Mood at the Rally
Hovering over the annual rally was the State Department's Second Ministerial, which was ongoing during the week. It was largest freedom of religion event in world. Several side events to the Ministerial occurred as well. These meetings and news conferences buoyed the protesters and speakers at the rally, who frequently cited from the conclusions of the reports. One of these was the "2019 Fact-Finding  & Analysis Report" by the China Organ Harvest Research Center (COHRC), which had held a news conference three days before the rally.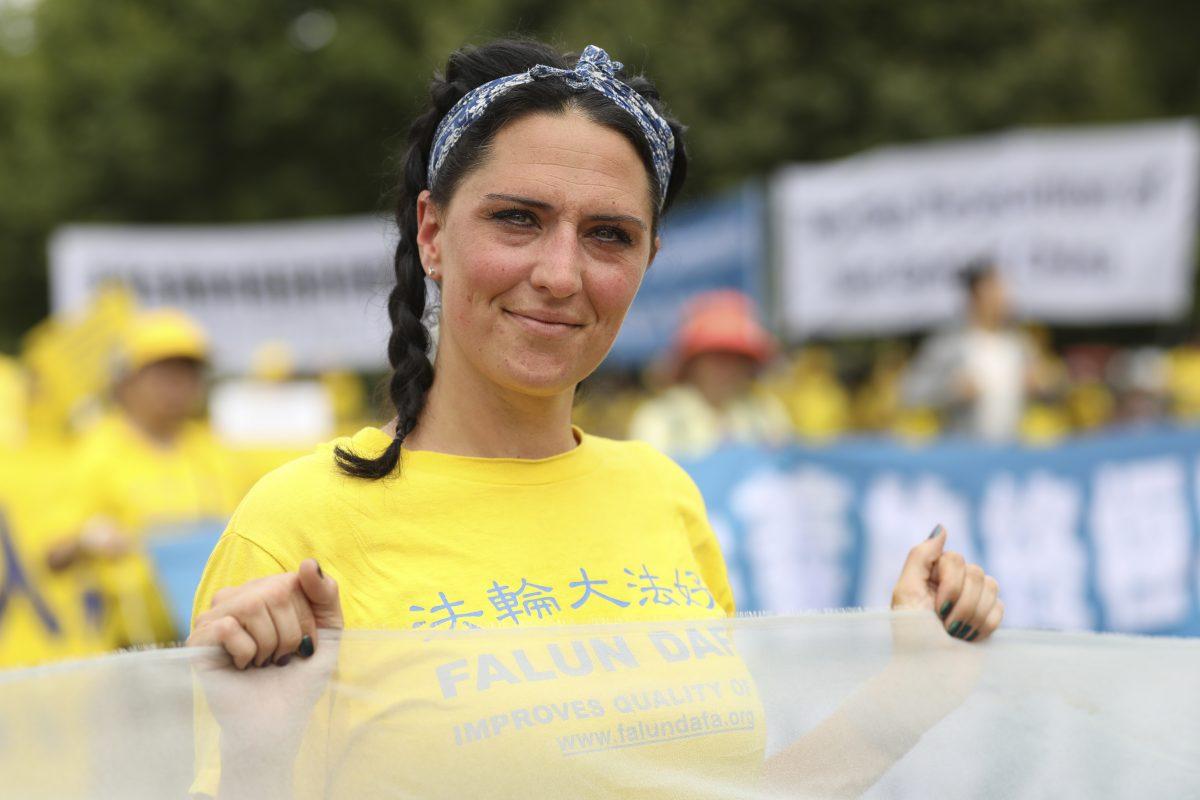 "Unlike black market organ trafficking operations elsewhere in the world, the on-demand killing of prisoners of conscience for organs in China is driven by the state, run on an industrial scale, and carried out by both military and civilian institutions," stated a COHRC press release on July 15.
One of participants at this news conference was ETAC, or International Coalition to End Transplant Abuse in China. ETAC held a people's tribunal in London that heard testimony on organ harvesting in China. Esteemed legal analysts heard the testimony of 15 Falun Gong witnesses along with experts and researchers. Dubbed the China Tribunal, it presented its two chief conclusions on June 17.
The first conclusion stated, "Forced organ harvesting has been committed for years throughout China on a significant scale and that Falun Gong practitioners have been one—and probably the main—source of organ supply."
Treating China as a 'Criminal State'
Benedict Rogers, who is the East Asia team leader for Christian Solidarity Worldwide, spoke regarding the second conclusion. Rogers said he also serves on the advisory board of ETAC and was involved in the discussions that created the Tribunal. He stated in his own words the second conclusion: "Anyone in light of the evidence…found, anyone who interacts with the China State—not the China as a country  and not China as a people—but China as the Communist Party State—must be aware that you are interacting and engaging with a criminal state." He added, "that word must go around the world. It is time to stand up to the Chinese Communist Party."
"I call upon governments around the world to take that [ETAC] report seriously and act upon it."
The Tribunal and its judgment had a profound global effect. Adler noted that media attention on the organ harvesting "reached unprecedented levels," with news outlets publishing at least 100 reports.
For their work in organizing the Tribunal, Adler awarded ETAC on behalf of Friends of Falun Gong as the winner of the Second Annual Human Rights Award.
Another action taken to defeat the CCP was raised by Executive Director of Save the Persecuted Christians Dede Laugesen, who spoke of a letter signed by faith leaders that calls upon the American law firms that are lobbying on behalf of evil regimes, including the PRC, to drop their effort. She said such lobbying should not be legitimated.
'Until China is no longer Communist'
All the speakers at the rally called for the Chinese state to cease its suppression of Falun Gong and allow members to practice freely and without fear. Victims of Communism Memorial Foundation's Executive Director Marion Smith took it a step further. He said that the situation of religious suppression will never be tolerable "until China is no longer Communist," asserting that as long as the Party holds power, "the Chinese people will live in tyranny," and Falun Gong will not be able to practice in freedom.
Smith cited the China Tribunal that concluded what he said practitioners already knew that the Communist Party murders them and harvests their organs. He said this was a "massive industry" overseen by the state. "This gruesome system runs day and night, claiming tens of thousands of victims every single year." And it proves that the regime in Beijing is not only cruel but also evil.
In the same vein, Falun Gong commentator Wang Youqun spoke of the CCP's legacy of killing more than 80 million Chinese. He said that its development of large-scale live harvesting of organs of Falun Gong practitioners constitutes a "horrific crime." He laid the blame on the CCP's destruction of traditional culture. "Its ultimate goal is to turn descendants in the divine land of China into Marxists who follow dishonesty, wickedness, and violence, and commit all kinds of outrages at home and abroad, which in turn will destroy the entire Chinese nation," he said.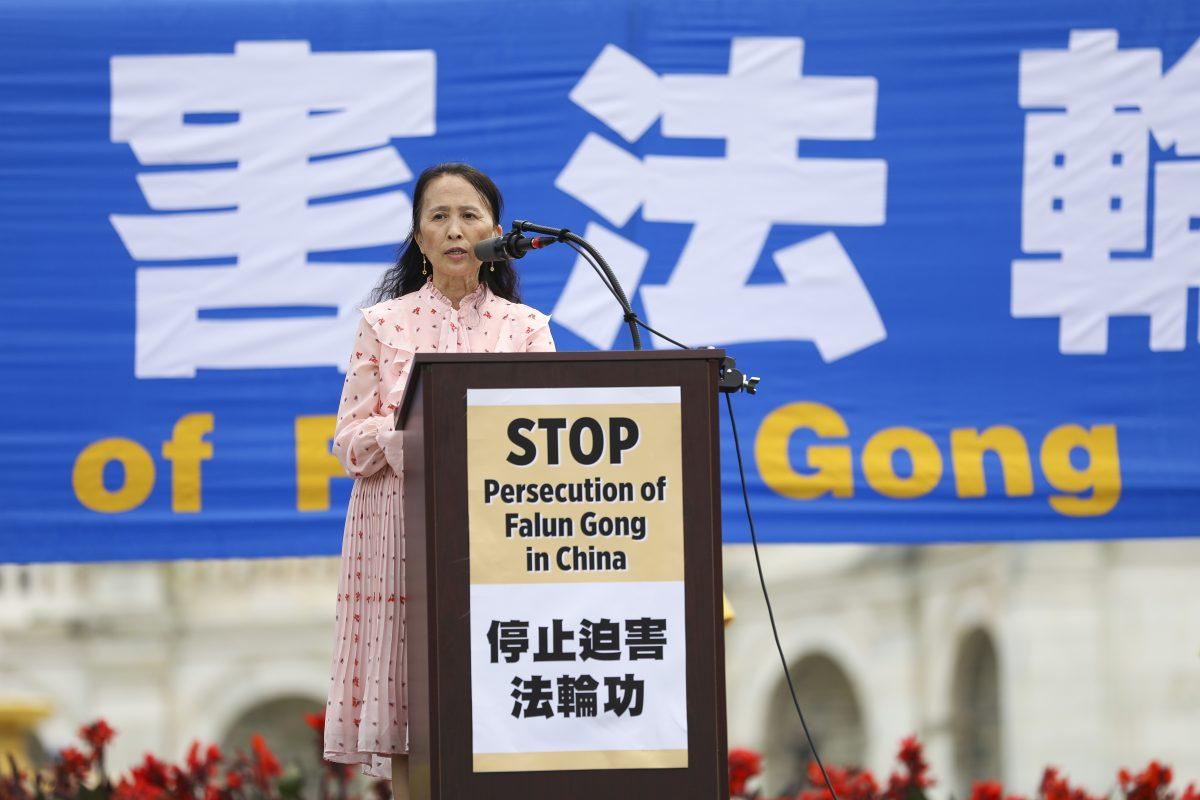 Bringing about a peaceful end to the CCP is the aim of the Tuidang movement, said Yi Rong, president of the Tuidang Center. Her organization provides a mechanism for people to withdraw from the Communist Party and its affiliated organizations. Yi reported that 337 million had quit. Nearly every CCP officer knows that the Chinese Communist regime is collapsing, and many are sending their families and money abroad, she said.
 NGOs Stand in Solidarity with Falun Gong
 The offerings of spokespersons for the many NGOs who prepared heart-felt comments were well received and aligned well with the tone of the rally.

Laugesen said, "We stand together united as individuals pushing back against evil regimes that seek to quiet the voice."

Suzanne Scholte, president of Defense Forum Foundation, "It has taken too long for our government and the international community to respond to the gross violations of human rights the CCP is committing against the Falun Gong every day and all who suffer under the tyranny of the CCP." As she completed her remarks, she offered a verse that provides solace from the Creator to those who engage in human rights work and refuse to be silent when we see evil.
Dr. Linda Lagemann, who is a Commissioner of Citizens Commission on Human Rights, specializes in the role that psychological and psychiatric torture plays in the campaign to eradicate Falun Gong. "[The] unconscionable atrocities could not occur without the intimate participation of psychiatry." This means that there are psychologists and psychiatrists behind the torture who need to be held accountable.
"[Practitioners] are forcibly injected with psychotropic drugs, receive massive amounts of electro-shock through acupuncture needles, endure forced sleep deprivation and are tied up for long periods of time. Psychological coercion and psychiatric drugs are used to weaken and force Falun Gong practitioners to recant Falun Gong," Dr. Lagemann related to The Epoch Times by email.
Gayle Manchin, vice chairman of the United States Commission on International Religious Freedom (USCIRF), said, "USCIRF calls on the U.S. State Department to use its authority to the fullest extent to sanction Chinese officials and agencies responsible for religious freedom violations." Similarly, Freedom House's Director of Advocacy Annie Boyajian called upon the U.S. government to "impose Global Magnitsky sanctions on Chinese officials involved in repression and human rights abuses in China, including those persecuting Falun Gong practitioners."
USCIRF is a U.S. government commission, whose commissioners are appointed by the president and the Congress. Freedom House is a renowned independent NGO that receives funding from the U.S. government. It researches and advocates for democracy and human rights.
Wendy Wright, president of Christian Freedom International, seeks to criminalize all are who are involved in some capacity in the forced organ harvesting. Not only are the doctors and hospital personnel criminals, she said, but so is any person involved, however indirect. Those coming from other countries to get a new organ means that "travel agents, brokers, medical tourism, and a whole network" need to be held accountable, she said.
Faith McDonnell, director for Religious Liberty Programs at the Institute on Religion and Democracy, spoke about the recent China reports that provide "undeniable evidence" of the "harvesting of people's organs while they are still alive—the evil that the Chinese Communist government has perpetrated against Falun Gong." She thanked the Falun Gong and the protesters she was speaking to for being "witnesses of truth when people were mocking the idea that there was organ harvesting going on."
Members of Congress Send Letters of Support
The rally received letters from U.S. Senators and U.S. Representatives. On the Senate side was John Cornyn (R-Texas), Chuck Grassley (R-Iowa), Ron Johnson (R-Wis.), Ted Cruz (R-Texas), Patrick Toomey (R-Pa.), and Mike Braun (R-Ind.).

From the House of Representatives, letters of support were received from the following: Jim Sensenbrenner (R-Wis.), David Price (D-N.C.), Carolyn Mahoney (D-N.Y.), Ken Calvert (R-Calif.), Mike Doyle (D-Pa.), Elijah Cummings (D-Md.), Sam Graves (R-Mo.), Gwen Moore (D-Wis.), Rodney Davis (R-Ill.), Blaine Luetkemeyer (R-Mo.), Gerald Connolly (D-Va.), Bill Foster (D-Ill.), Paul Tonko (D-N.Y.), Steve Stivers (R-Ohio), Vicki Hartzler (R-Mo.), Steve King (R-Iowa), Jamie Herrera Beutler (R-Wash.), Mark Pocan (D-Wis.), Glenn Grothman (R-Wis.), Dean Phillips (D-Minn.), and Delegate Eleanor Holmes Norton (D-D.C.).