Pro-democracy activist and photographer Otto Yuen is widely known in Hong Kong for his large hand-painted graphics on "Lennon walls."
Currently in exile in the UK, Yuen told The Epoch Times that he wants to use his paintings to tell the Western world what is happening in Hong Kong.
"I want to highlight the Hong Kong spirit," Yuen said, which is, "We won't give in, even facing death."
Lennon Walls
The original Lennon Wall began in Prague as a place where young people could graffiti messages and images to express their political grievances. It took off after the assassination of singer John Lennon in 1980, with an image of his face appearing on the wall, and later became a symbol of anti-communist sentiment in then-Czechoslovakia.
Hong Kong's Lennon walls, which started out as a mosaics of messages written on colorful sticky notes during the 2014 umbrella movement, became ubiquitous after reappearing in 2019.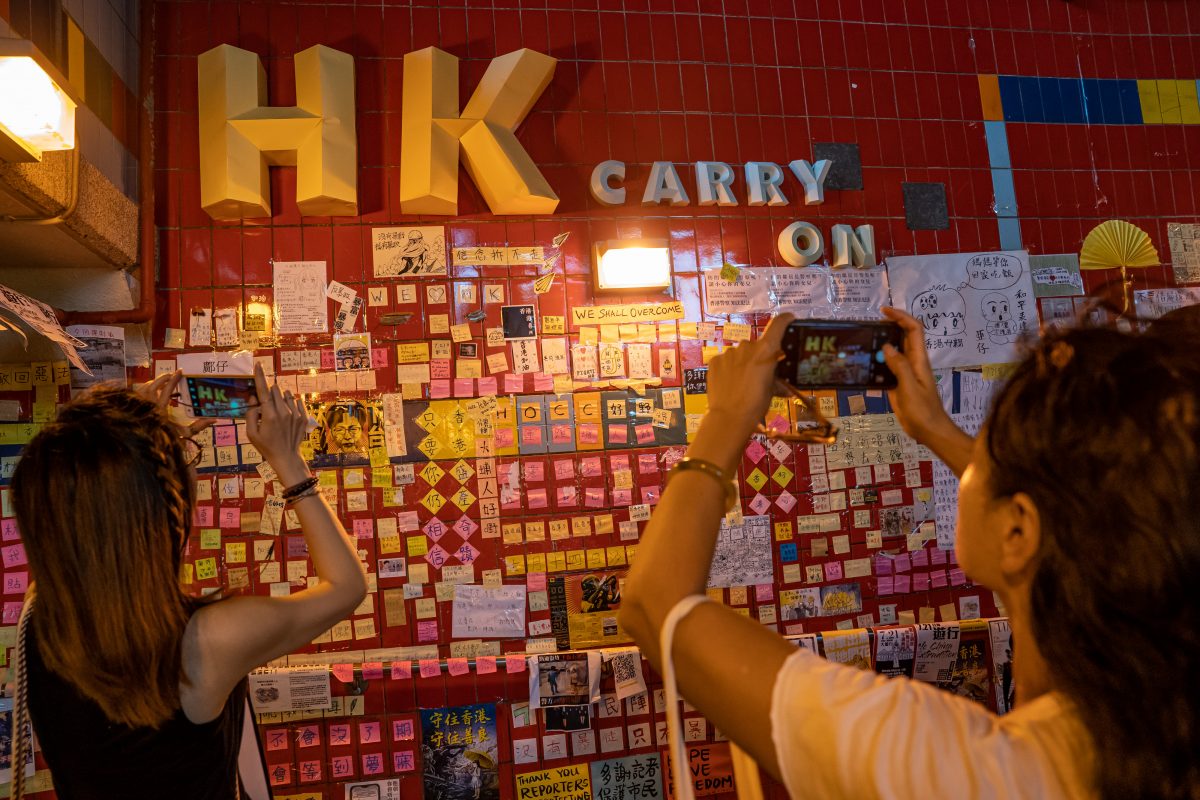 Alongside the notes are larger illustrations, often with inspirational messages. Many people are creating graphic design images in the pro-democracy movement, but "nine in ten [posters] were printed digital drawings," Yuen said.
Ranging from half a meter (1.6 feet) to 4 meters (13 feet) long, Yuen's handmade paintings are a unique sight in the movement.
"Very few people would do hand drawings on Lennon walls, because they get damaged or removed by police very quickly, so very few people think it's worth the effort," Yuen said.
But Yuen sees it differently.
"Stroke by stroke, hand paintings would give the spectators a unique feeling," he said.
Yuen took what he hoped was "the first step" to inspire more artists to express their desire for freedom in this way. But so far, he's still one of a kind.


'This Is Why We Fight For Hong Kong'
We met Yuen at an artist meet-up event at Hackney Wick, east London, where he displayed a 10-meter-long (33-foot) painting to Hongkongers who had admired his work and came to know him for the first time.
The artist looked quiet, down-to-earth, blending in well among the Hongkongers at the event, which was small and intimate, due to the government's restrictions to curb the spread of the CCP (Chinese Communist Party) virus.

The painting he displayed was for an event in Manchester marking the one-year anniversary of the Aug. 31 Metro station attack, during which Hong Kong Police stormed subway stations in an attempt to arrest protesters, injuring unarmed passengers.
On the left of the painting, written in English, is "This is why we fight for Hong Kong," and the answer, written in Japanese, set the tone of the painting.

"The reason I made this painting," inspired by real stories in Hong Kong in the past year, Yuen said, "is to tell British people why we are fighting in Hong Kong."
The answer written in Japanese is the popular slogan "Liberate Hong Kong, the revolution of our times." Yuen wrote it in Japanese, hoping to protect people sharing photos of the painting from being charged under the Beijing-imposed national security law.
"I don't want them [those who share it] to be penalized under the national security law," Yuen said.
The three figures beside the title are characters of a manga series he is working on, which tells stories of the fight for freedom in Hong Kong.

Umbrellas Versus Teargas
The next section, beside the words "When Freedom is declared Illegal, then there's Nowhere else to go," written both in Chinese and English, shows a cluster of umbrellas, with layers of white brush strokes on top representing tear gas.
Umbrellas, which protesters use to deflect teargas, is yet another symbol of Hong Kong's fight for freedom.
"The police would deploy a lot of tear gas. Between June and December, 2019, they used 15,927 rounds of tear gas on the youngsters in Hong Kong. The youngsters only had their umbrellas to defend [themselves] against the poisonous tear gas," Yuen said.
In early November 2019, Hong Kong police started to use a new type of hand-thrown, explosive tear gas canister against protesters, paramedics, and journalists.
By the end of the month, many Hong Kong residents complained that they had contracted skin diseases and their children suffered a variety of discomfort from the toxic fumes of tear gas. In addition, dead birds have been found in many places, including at the two universities that were heavily assaulted by Hong Kong police.
Hong Kong residents grew increasingly concerned that the police's continued dispersal of tear gas could have long-term negative health and environmental effects.

The Price of Freedom
The last section, themed "Against the beast it's Kill or be Killed," tells stories that "capture Hong Kong's fight for freedom." Yuen said "every frame is a story of sacrifice."
The centerpiece features the besieged Chinese University of Hong Kong (CUHK), Polytechnic University (PolyU).
The police siege on the Hong Kong college campus in November 2019, which lasted for about two weeks, was one of the most violent episodes during the anti-extradition bill movement that started in June last year. Hundreds were at one time trapped inside as police bombarded the school with tear gas, water cannons, and projectiles. Many students wrote their wills while trapped.


Yuen painted this picture "to represent [how] CUHK and PolyU were being swallowed" by the CCP's tyrannical rule, he told The Epoch Times.
Other parts of the section include tiny pieces of paper representing sticky notes, flyers, and posters, with "a story behind every one them"; and a figure of Chan Yin Lam (also known as Christy Chan), a 15-year-old Hong Kong girl whose naked body was found floating in the sea on Sept. 22, 2019.
While the cause of Chan's death was still to be determined, the police quickly ruled out suspicious activity and said that the school swimming athlete committed suicide.
Following many protesters' suspicion that foul play, possibly by police, was involved, the Coroner's Court on Aug. 24, 2020, started an investigation into the cause of her death.
A jury of five on Sept. 11 unanimously decided that the "cause of [her] death was suspicious."

After the Hong Kong pro-democracy protests began, the number of alleged suicide cases in the city soared. Many of the victims are young protesters, and the circumstances of their deaths are suspicious.
Leaving Hong Kong
"I think everyone has a role to play in this movement," Yuen said, "my choice is hand painting."
Having pro-government parents, Yuen had to be discreet. He would often hide in a dirty staircase to paint for a long time and remain anonymous. He persisted.
At one time, at least a dozen of his 2-meter paintings were on the Lennon Walls. His paintings were also displayed in "yellow shops," a synonym for  "pro-democracy shops" in Hong Kong.

However, the new national security law and online threats prompted Yuen to leave.
"I never thought about giving up," Yuen said, "until this April," when "a bunch of strangers" online, along with "CCP affiliated publications such as Ta Kung Pao and Wen Wei Po" started accusing him of using his paintings to ensnare protesters for sexual purposes, an accusation Yuen said is "ridiculous."
The protesters were so agitated and protective of each other, that "not to mention assaulting a female protester," one would "probably get beat up just for damaging a sticky note on the Lennon Walls," Yuen said.
Simon Cheng, another Hong Kong activist, said in January he was forced by Chinese authorities to admit to soliciting prostitution, an allegation with which the Chinese authorities also accused Xu Zhangrun,  a 57-year-old professor at elite Chinese university Tsinghua known for his unsparing public criticism of the ruling regime.
Online mobs threated Yuen using "fake Instagram accounts," he said. "On the worst days I received over 100 messages saying 'You are an enemy of the people. Do not go out, or you will be killed.'"
He stayed in a safe house a friend provided for about a month. However, "I can't hide all my life," he said.
The shops displaying his paintings faced intimidation as well.
"At that time I was painting for the yellow shops, they would flock to the shops to smear them, accusing them of harboring a criminal. They tried to discredit me by any means necessary."

Most shops supported him despite the accusations, Yuen said.
"I was dismayed by the vilification, and went to each and every shop to explain myself, " he said, "but luckily the shop owners understood. Not one of them flinched."
He asked one shop owner in Taipo, where a group of people who were targeting him are based, to take down his painting to avoid conflict.
"Shop owners elsewhere never took down the paintings no matter what, until the national security law [passed]," Yuen said.
"Because of the national security law, (the yellow shops) can no longer display [the paintings], [which] they returned to me," he said, "I have two choices, throw away the paintings or preserve them. I chose to leave Hong Kong to preserve the paintings."
Yuen said he needed to preserve the paintings, which have become one of the symbolic sights of the movement.
"They have a lot of historical value," he said.
Since the passing of the national security law, Lennon walls have been stripped by police.

Almost Gave Up
Yuen hesitated for a while due to the online abuse that came after the accusation.
He used to teach young protesters to draw posters through live sessions, during which he received abusive comments.
"Many kids were upset … A few girls volunteered to argue with those people," he said.
"But they are only kids," he said, and the girls were "exhausted after replying [to] 2 or 3 thousand messages" on one night.
"It was impossible," the girls told him.
Yuen said he didn't want to give in to the abuse. He kept his teaching sessions going, until one day when he showed a drawing of Chan Yin Lam, the 15-year old girl who died.
"I told the kids not to argue with those people, just let them be," he said, "but they actually said I was probably masturbating while painting her, they would stoop so low just to besmirch me.
"I was in tears. After that I gave up streaming altogether, to spare the kids [from being exposed to online abuse]," he said.
Yuen was disheartened. He announced on Instagram for people to consider him dead.
"I said in May that I would stop being a Lennon Wall painter," He said.
"I posted on Instagram, saying I won't bother you anymore. … I will disappear, consider the Lennon Wall painter dead."
He had been writing such posts until he decided to preserve his works and to leave Hong Kong for the UK.
New Journey Ahead
Yuen had an advertising business in Hong Kong. When he left Hong Kong in late July, he had to let go of all his investment, including most of his camera equipment, worth about 600,000-700,000 Hong Kong Dollars ($77,000- 90,000).
As soon as Yuen arrived, he found out at a meet-up of Hongkongers about the planned event marking the one-year anniversary of the Aug. 31 Metro station attack, for which he volunteered to paint the 10-meter poster.

At the meet-up, some parents asked him to teach their children painting. Yuen said he was delighted with the offers and the recognition.
However, after "the same people" messaged every single of his followers on Instagram, calling him a pervert, the parents disassociated with him.
"I had to plan my meal for the next day, to make sure it's cheap and filling. After paying rent and bills, I had 7 pounds ($9) left on me at one point, and had to ask around for donations to buy paints and materials," he told The Epoch Times, rather hesitantly.
"I didn't really want to mention this though," he added, "many are worst off than me."
Yuen said his supporters helped him collect evidence, including photos of those who accused him. "I don't want to publish them yet, I want to see how far they are willing to go, then I will publish the evidence altogether."
'We Won't Give In, Even Facing Death'
"I'm showing my face now, so people would know I'm not furtive," Yuen said, "I hope Hongkongers will come to the realizations that I was being vilified, as they get to know me in person."
View this post on Instagram
Yuen said he doesn't feel right to stop fighting out of fear.
"I was not scared facing riot police in Hong Kong, and will not be scared in the UK. [I] will never give in to fear and stop fighting," Yuen said, because "fighting for freedom and protecting Hong Kong is every Hongkonger's responsibility. [We] can not retreat because of fear."

The mid-autumn festival, a day of family reunion for generation after generation, landed on Oct. 1 this year. The same day 71 years ago, the CCP took power in China and established The People's Republic of China.
But "recently, 12 fellow protesters were arrested and shipped to the mainland," Yuen said. "We are really worried about them."
Yuen spent seven days on another painting, featuring a young protester under the barrel of a gun, for an Oct. 1 rally in Manchester, demanding the immediate return of the 12 Hong Kong protesters.
"In Hong Kong today, we don't even have the freedom to commemorate loved ones," Yuen said. "I want to highlight the Hong Kong spirit, We won't give in, even facing death."
Yuen said he really wants to find a wall in the UK that's 4-5 stories high, on which he can paint the spirit of Hong Kong.
Olivia Li, Annie Wu, Eva Fu, Nicole Hao, and Jane Werrell of NTD, an affiliate of The Epoch Times, contributed to this report.