An Ohio woman woke up from a 10-day coma to discover that her limbs had been partially amputated due to an infection from dog saliva.
Marie Trainer of Canton told Fox8 Cleveland that sometime after one of the two dogs in her household licked a small scrape on her arm, she began to feel sick.
According to the July 31 report, she had symptoms of nausea and back pain. She and her husband, Matthew Trainer, became alarmed when her temperature suddenly fluctuated.
"Her temperature went up then went down to about 93 degrees, that's when we rushed her to the hospital," Matthew Trainer told the news outlet.
"That evening she was sent to Aultman Hospital MICU," her husband said on a campaign page. "She was in and out of consciousness and complaining of excruciating hand and leg pains."
Matthew Trainer said that a day after being admitted to the hospital "she could no longer breathe on her own and was put on life support and placed into a medically induced coma."
Despite aggressive treatment, her limbs began to get necrotic and gangrenous.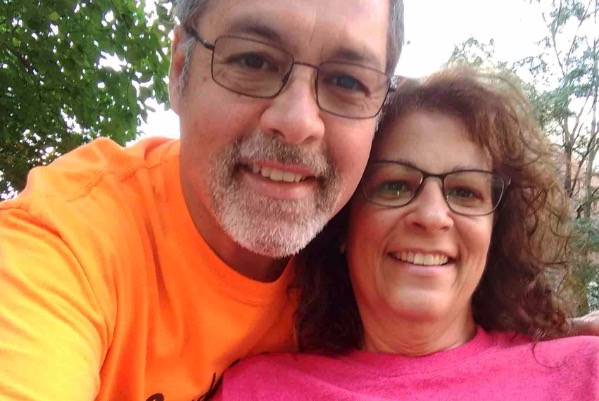 "On Monday, May 13th, the family received the devastating news that the unknown source of her illness had attacked the small vessels in her arms, hands, legs, and feet," her husband said. "The mysterious infection had yet to reveal its self and her organs were shutting down." He added that "the following morning the family was given the same grave news that to survive Marie would have to have amputations of her arms and legs."
The Stark County woman woke up ten days after she had been placed in the induced coma to find her limbs had been partially amputated.
"When I opened my eyes I didn't know where I was," Maria Trainer told Fox8. "It was very hard to find out that they had to remove my legs and my arms … very hard to cope with."
Testing revealed that Trainer was diagnosed with capnocytophaga. The bacteria are found in the saliva of dogs and a smaller percentage of cats. It can be transmitted through a simple bite.
"Fairly common in the oral flora or the mouth of a dog and it can be transmitted through a bite or sometimes just contact with saliva," Dr. Kobe told Fox8. "That organism is very virulent. It has the ability to induce your immune system to do some pretty horrible things."
"It was just a random and rare occurrence that caused the perfect storm within her body resulting in the devastating illness," Matthew Trainer said.
In all, Marie Trainer has gone through 6 surgeries and spent around 80 days in the hospital, going through what her husband called "the fight of her life."
A GoFundMe campaign has been set up to help with medical costs.
'Dog Bite Lady' Who Lost Limbs to Sepsis Raises Awareness of Disease
The story follows the case of a Canadian woman who lost three limbs due to sepsis caused by a dog bite, and who is now sharing her story in hopes of raising awareness of the condition.
"In 2013 I became known as the 'dog bite lady' after I suffered the life-altering effects of sepsis," Christine Caron said.
She was 49 years old when her little Shih Tzu—named Buster—accidentally gave her a small nip.
"Not even a full-on bite," Caron told CTV News. "But I didn't realize that my immune system was already compromised and I went into septic shock."
Caters News Agency reported that after the bite, Caron began to feel ill and vomit.
"Three days after the dog bite I started to experience a few dizzy spells and became more unwell from there," she said, according to the Daily Mail.
A week later, she was in the hospital in a coma.
Mom who lost arm, legs after dog bite raises awareness on dangers of sepsis https://t.co/HpS0Zfod2g

— Eric Vanderburg (@evanderburg) April 16, 2019
'Amputated My Arms and Legs'
The Ottawa mother-of-four woke up from a coma three weeks later to discover she was battling sepsis.
"The next thing I knew I was in the hospital being awoken from an induced coma on June 13," Caron told Caters News Agency. "This is when I was told that I had suffered from sepsis and the only way they would be able to save me was if they amputated my arms and legs."
The sepsis initially affected all four of Caron's limbs. After regaining circulation in her right arm, however, she was told she would be able to carry on using it.
"I was initially told that I would have to have all four limbs amputated, but by some miracle the circulation came back in my right arm," she told the Daily Mail, adding, "and this provided me the little glimmer of hope I so desperately needed to survive."
She told CTV that knowing she needed to be there for her children is what kept her going.
"I had to make decisions, move forward and change my perspective in life," she told news outlet.
Caron has since had several more surgeries and has learned to function with the help of artificial legs.
"Over the years I have been working on becoming active again after the mental impacts of surgery stopped me, and now I even have a yoga arm now—which helps my mental health massively," she told the Caters News Agency.
'Nothing Out There'
Caron told the Canadian Broadcasting Corporation that back in 2013 there was no support to speak of available for victims of sepsis.
"I left the hospital being told there is no information, you will have to do research when you get out, there is nothing out there," Caron told the CBC.
"Apparently some patients have put together some support groups," she added. "This is what I was told leaving the hospital."
Since then, Caron has been working to raise awareness about sepsis and offer support to others who have suffered as she has.
"It's a comfort to know you're not the only one suffering this type of thing," Caron told the CBC.
Caron set up a Facebook page @christinecaronsmiles, where she wrote in 2016, "I am a Sepsis Survivor and I'm taking my life back! If my story helps one person step out of the darkness into the light. If my story brings awareness and helps to save even one person from Sepsis then my journey will have been worth it."
She posts on the page regularly, including photographs and updates on her condition.
Caron told CTV she hopes her story can help others persevere in the face of hardship.
"There is a way. There's always a light. You've just got to find it," Caron told the news outlet.
What Is Sepsis?
According to the Centers for Disease Control and Prevention (CDC), sepsis is the body's extreme response to an infection.
Sepsis comes about when an infection triggers a chain reaction throughout the body, potentially leading to rapid tissue damage, organ failure, and death.
Around 1.7 million adults in America develop sepsis each year, according to Sepsis Alliance, resulting in an estimated 270,000 deaths.