NYC Council Pushes Free School Lunch, De Blasio Hesitates
April 23, 2014 8:09 pm Last Updated: April 23, 2014 8:11 pm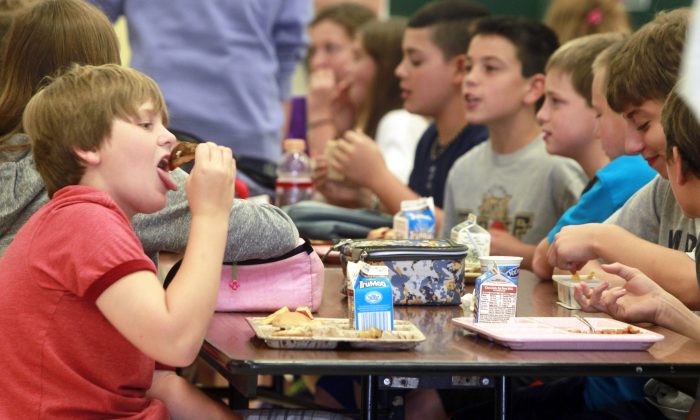 NEW YORK—City Council wants all public school children to eat lunch for free, a change that would cost the city about $24 million a year.
The Council made the proposal in its city budget announced Wednesday. Council and the mayor have just a couple of weeks to hash out an executive budget.
The mayor's response Wednesday was to say his office was looking into the federal free lunch funding requirements for the city, as well as the feasibility of adding dollars to the budget for the proposal. "There's a couple of wrinkles here," he said at an unrelated press conference.
New York City public schools serve about 860,000 lunches every day. Each costs $1.75, but 530,000 children eat for free thanks to the federal National School Lunch Program, plus state and city subsidies. Free lunches are distributed based on income level. A family of three, with income up to $36,000 would be eligible, for example.
Still, there are some 250,000 students who should eat lunch for free, but don't, according to Liz Accles, executive director of Community Food Advocates, a nonprofit that helps improve access to federally funded child nutrition programs for NYC students.
Social Stigma
Accles argues many students are embarrassed to have their parents fill out the form telling schools about their financial straits. It is "because of the poverty stigma," she said. "Students, especially as they get older, stop participating even though they can really use the food."
Only 38 percent of the city's high-schoolers eat free lunch, compared to 81 percent of elementary school children.
Another reason for declining the benefit may be that undocumented families are afraid to submit the paperwork. Others may not want the food the schools provide.
Districts that put free lunch in place for all students found the participation rate increased by about 20 percent. That would translate to 120,000 more city children to feed every day, according to Accles.
Even though such a hike would bring in almost $60 million in additional federal funding, the city would lose about $14 million that it now collects on lunch fees. The city would also need to chip in an additional $10 million due to the increased demand.
De Blasio didn't appear to be fully on board with the idea. "It's a good thing to invest in, but it's a major expenditure," he said Wednesday.
He put the free lunch proposal in the context of "tough choices" about the budget. "You know, some things are going to move fast, some things are going to have to wait," he said.
The mayor also mentioned that free lunch forms are used to request federal school aid, and it may not be possible to discard the forms.
Accles believes the city can still request the income information in a less intrusive way, so as to get the funding without creating social stigma for the students. She believes parents would be motivated to provide the information if it would help their schools to get the federal dollars.