After a CCP virus outbreak in Qingdao city, eastern China, authorities are scrambling to contain infections by locking down neighborhoods and requiring COVID-19 testing for all residents.
On Oct. 12, the government locked down residential compounds where diagnosed patients live. It also designated the neighborhood where the Qingdao Chest Hospital is located as a "medium-risk region" for virus spread.
Six million residents who live in the Shinan, Shibei, Licang, Laoshan, and Chengyang districts were required to take COVID-19 nucleic acid testing. On the evening of Oct. 12, residents began lining up. The city had announced 12 CCP virus infections earlier in the day, but gave no other details about the outbreak.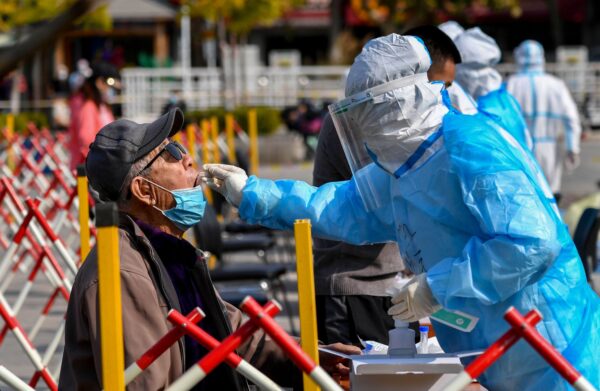 While the true scale of the current outbreak is unclear, as local authorities are known to underreport cases in order to downplay crises, the city has closed off at least three hospitals in anticipation of an uptick in COVID-19 infections.
And, although the city didn't announce a full lockdown, air flights were canceled at Qingdao's only airport. State-run newspaper Beijing Daily reported that 26 flights were canceled on Oct. 12, and more than 110 flights were canceled on Oct. 13. The report alerted travelers that more flights were expected to be canceled.
Qingdao, a coastal city in Shandong Province, is home to about 9.5 million people, according to the city's official statistics.
Outbreak
Authorities required each testing site in the city to operate from 7 a.m. until at least 10 p.m.—as the provincial government has asked the city to complete testing on all urban residents by Oct. 16, according to local media reports.
The city government held its first press conference on the recent outbreak on Oct. 12. It had abruptly canceled a presser originally scheduled for the day before.
State-run media Xinhua reported that Chen Wansheng, deputy director of the Qingdao government's office, announced at the press conference that the 12 infections—six diagnosed patients and six asymptomatic carriers—were related to the Qingdao Chest Hospital.
Ten were patients treated at the hospital or medical aides who were taking care of patients. The other two were relatives of an infected patient or medical aide.
Chen also said authorities closed down restaurants and markets that the 12 infected people had visited recently, as well as the residential compounds where they live.
After the Qingdao Chest Hospital was closed on Oct. 11, the Qingdao No. 3 Hospital announced on Oct. 12 that it would be converted to a COVID-19-only hospital and no longer receive any new patients. All non-COVID-19 patients would be transferred to other hospitals as soon as possible.
Qingdao Chest Hospital would also treat only COVID-19 patients in the near future.
The Qingdao Central Hospital said it closed emergency services, but will continue treating other patients as usual.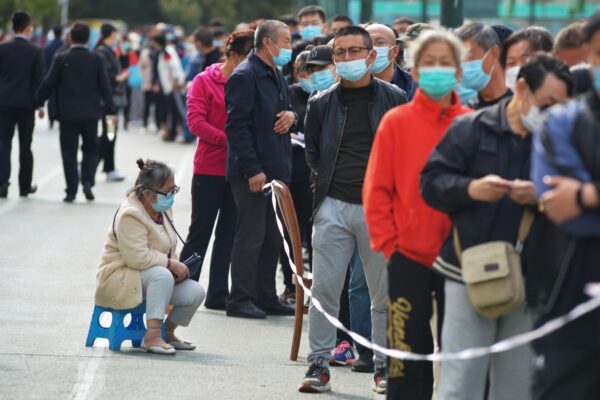 According to their websites, the Qingdao No. 3 Hospital has 800 patient beds, and the Qingdao Chest Hospital has 320 patient beds.
Worries
On Oct. 11, Shandong Province's capital of Jinan announced that any resident who had visited Qingdao after Sept. 23 must take nucleic acid tests at least twice, one antibody test, and do a seven-day self-quarantine.
The Jinan regulation spooked visitors to Qingdao, as it is known as a major tourist destination. During the most recent National Day holiday from Oct. 1 to Oct. 8, authorities claimed the city was safe for visiting.
Chinese netizens questioned whether the city is actually safe.
State-run newspaper Health Times, citing official data, said that 4.48 million tourists visited Qingdao from Oct. 1 to Oct. 8. About 2.83 million tourists bought tickets for sightseeing destinations in Qingdao during the holiday. Qingdao also organized a two-day Phoenix Music Festival, which attracted thousands of tourists and local residents.