McDonald's shares have climbed to record highs as the company delivers on its promise to cut costs and improve services. Part of the deal is its installing self-order kiosks in 2,500 restaurants by the end of 2017 and in thousands more by 2021.
Still, the company says it doesn't intend to fire all its soon-to-be-superfluous cashiers.
McDonald's has struggled with a shrinking customer base for the past decade.
On March 1, it released a plan to use new upgrades to better serve its customers. It's called the "Experience of the Future," including installing kiosks with touch screens where people can order, customize, and pay for their meals. In the future, one could even store one's favorites in a McDonald's app that the kiosk can recognize. That means one wouldn't have to tell the cashier every time that one wants that Big Mac with light mayo and extra lettuce.
The company aims to have 2,500 restaurants equipped with the kiosks by the end of 2017 and most free-standing U.S. restaurants by the end of 2020.
That would make thousands of cashiers expendable. But the company stated it doesn't plan to fire them.
It plans to "transition back-of-the-house positions to more customer service roles such as concierges and table service where they are able to truly engage with guests and enhance the dining experience," McDonald's spokeswoman Lauren Altmin told The Epoch Times in an email.
That means there may be a former cashier helping a customer with operating the kiosk and another former cashier delivering the dish straight to the table.
"It's kind of been a net wash," CEO Steve Easterbrook said in November 2016 at a New York event, pointing to the effect of the kiosks on employment in Canada, where most McDonald's restaurants already have them.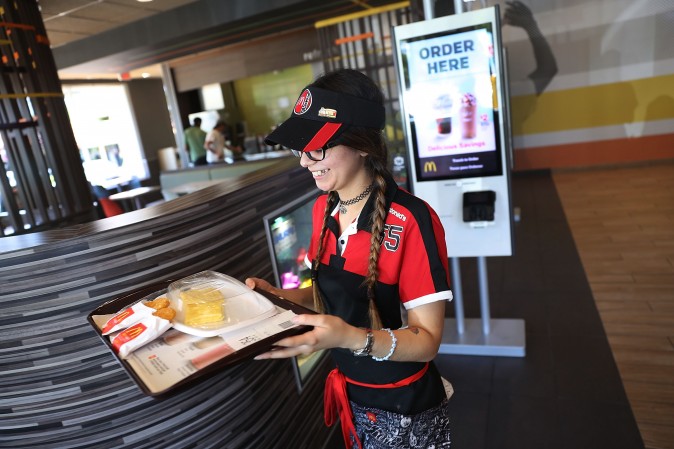 The company plans to cut costs by $300 million by the end of 2018 and by another 5-10 percent the year after. But those savings should come from franchising out its own locations, revamping organization structure, and a "more stringent discipline around spending throughout the company," the company's Chief Financial Officer Kevin Ozan said at March 1 investor meeting.
Update: The article has been updated with a response from McDonald's.